Harikrishna defeats Hou Yifan in nail biting sixth game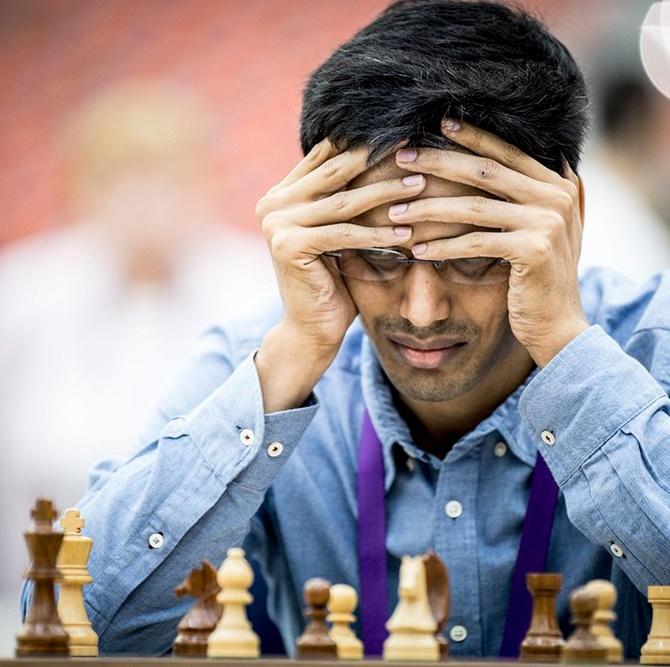 IMAGE: Pentala Harikrishna reacts. Photograph: Twitter.
Indian Grandmaster Pentala Harikrishna came back strongly to defeat the former three-time Women's World Champion Hou Yifan of China in an enthralling sixth-round encounter at the 50th Biel International Chess Festival, in Biel, Switzerland.
After a much-needed rest day, the World No 20 Indian, playing with white pieces, started the game wary off his opponent's attacking prowess.
However, he gradually started shifting gears and forced the Chinese Grandmaster to commit mistakes, and as soon as she did, Harikrishna capitalised on it.
At the end of six rounds, Harikrishna has registered two wins and four draws to remain undefeated and moved up to joint second with four points, half a point away from Frenchman Etienne Bacrot, currently on first position.
Harikrishna will be up against the top seed of the tournament, David Navara, for his seventh-round game.
Even though Navara is down the pecking order in the points tally, Harikrishna will be wary off his attacking prowess after the defeat in the final of the Rapid Tournament against him.
Heena, young Bhaker shine at shooting meet
Young Manu Bhaker of Haryana registered a sterling double even as former world number one Heena Sidhu easily clinched the women's pistol gold medal at the XVII Kumar Surendra Singh Memorial Shooting Championship in New Delhi on Monday.
The 15-year-old Bhaker, on either side of Heena's win, shone in both the women's 10m air pistol youth and junior competitions.
On the penultimate day of the championship being held at the Dr. Karni Singh Shooting Range, Heena, who had topped the qualification with a score of 384, started strongly for a wire-to-wire effort.
Representing ONGC, she shot 238.9 in the final while Malaika Goel of Haryana managed 238.6 to finish in second place. Shri Nivetha of Tamil Nadu finished third with an effort of 217.4 in the final.
The performance of the day, however, belonged to the young and talented Bhaker, who beat quality fields in both the 10m air pistol women youth and junior sections to win a double gold.
India U17s to participate in four-nation tournament in Mexico
With less than 100 days to go for the FIFA U-17 World Cup, the Indian squad is gearing up to take part in the Torneo de 4 Naciones Tournament in Mexico City, as part of its preparations for the mega event.
The tournament which features four teams, including India, will see the Indian colts square off against the U-17 teams of Mexico, Colombia and Chile.
The Indian squad will be locking horns against Mexico on August 3 before facing Colombia on August 4 and Chile on August 6.
In an effort to build a strong team, the All India Football Federation (AIFF) has provided the Indian squad an exposure trip to Europe where it faced Serbia, Macedonia and Benfica SL among other club and national teams.
© Copyright 2020 PTI. All rights reserved. Republication or redistribution of PTI content, including by framing or similar means, is expressly prohibited without the prior written consent.