Mercedes have discussed Ferrari move with Hamilton: Wolff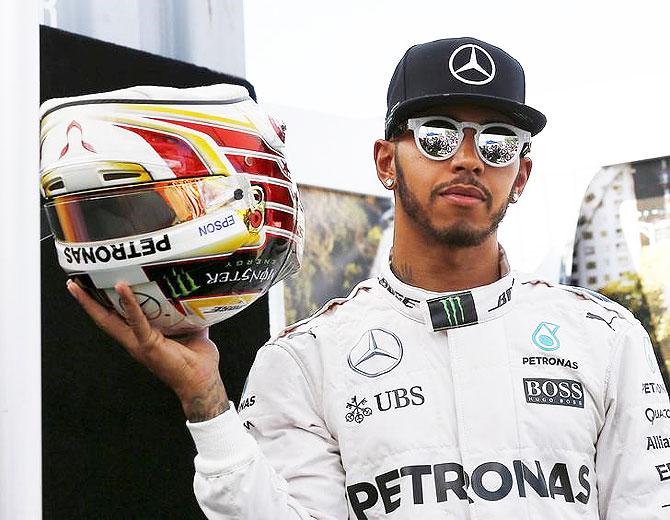 Lewis Hamilton and Mercedes have discussed the possibility of the five times Formula One champion one day racing for Ferrari and such a move would be no drama, team boss Toto Wolff has said.
Hamilton, 34, has a contract with Mercedes until the end of 2020, by which time he could have equalled Ferrari great Michael Schumacher's unprecedented seven titles and broken other records.
"You have to simply acknowledge that probably it's in every driver's head to drive at Ferrari one day," Wolff told reporters at the Spanish Grand Prix.
"It's the most iconic, historic Formula One brand out there and I totally respect if a driver has the desire to drive at Ferrari.
"Even within the team we have discussed it and with Lewis we have discussed it and we have agreed on the topic," added the Austrian.
"We had the discussion when we negotiated the last contract and I think that you just have to be open-minded and understand that drivers will explore opportunities that exist and benchmark themselves."
Wolff said there was no suggestion at present that the Briton wanted to move.
Hamilton has won four of his titles with the German manufacturer after his first, in 2008, with McLaren.
"I think we are providing him with a car that is capable of achieving his objectives. If we continue to have a car that is performing on that level I think there is no reason to go and we would really love him to stay," said Wolff.
"And if one day ways part, it will be very positive and each of us will try to achieve success with a different setup. So no drama."
Hamilton's boyhood idol Ayrton Senna, the Brazilian triple champion who died 25 years ago, had expressed a desire to race for Ferrari but never felt they could offer a winning car.
Ferrari last won a drivers' title in 2007 with Kimi Raikkonen, and have been eclipsed this season by Mercedes, who have racked up one-two finishes in the first four races after winning both championships for the past five years.
Asked about any Mercedes interest in Ferrari's four times champion Sebastian Vettel, Wolff said: "Why not Sebastian?"
"I think you need to consider there are probably six or seven drivers out there that have the skill and the intelligence to deserve to be in a race and championship-winning car," he added.
"Two of them are with us and I hope it goes forever. There are a few others that we really enjoy watching perform. And Sebastian is definitely one of them."
Wolff's own future has been the subject of speculation, with sources linking him to a future role at Formula One's owners Liberty Media or the governing FIA.
The Austrian, who has been talked of as a possible replacement for Formula One chairman Chase Carey post-2020, acknowledged there was a lot of talk but said he was relishing his role at Mercedes.
"I am in a super situation...I'm a shareholder in the team, I love to be with the people, the relationship matters to me. I am in a happy place and motivated every single day I do this," he said.
"I think with all the other discussions you are having, with drivers for example, you need to be 100% with your head in your role. This is what I am. I haven't contemplated any change beyond 2020."
Brazil stun US in 4x100m final on day of upsets at IAAF World Relays
Paulo Andre Camilo de Oliveira powered Brazil to victory in the men's 4x100m event at the IAAF World Relays in Yokohama, Japan, on Sunday as they finished ahead of a strong United States quartet and world champions Britain.
Brazil clocked 38.05 seconds, 0.02 seconds ahead of U.S., who had Justin Gatlin in their ranks, in what was the smallest ever margin of victory in the competition.
Two hundredths of a second also separated the top two teams in the women's 4x100m event, with the U.S. edging out Jamaica to qualify for the World Championships in Doha later this year.
The U.S. men went slower in the 4x200m final than they did in the heats earlier on Sunday, but still proved too good for their rivals to finish first in one minute and 20.12 seconds on a cold evening at the Yokohama International Stadium.
Poor baton exchanges cost pre-meeting favourites U.S. and Jamaica in the women's 4x200m, allowing France to claim victory in one minute and 32.16 seconds with China finishing second while setting an Asian record of 1:32.76.
Machel Cedenio helped Trinidad and Tobago win the men's 4x400m event in 3:00.81 seconds, narrowly in front of the U.S. who were later disqualified. Jamaica were elevated to second.
European champion Justyna Swiety-Ersetic steered Poland to a surprise win in the women's race ahead of the U.S., who missed the chance to make it four victories in the 4x400m event in as many editions of the World Relays.
The team of My'Lik Kerley, Joanna Atkins, Jasmine Blocker and Dontavius Wright gave the U.S. victory in the mixed 4x400m race, finishing ahead of Canada and Kenya.
The U.S. finished on top of the overall standings with 54 points. Jamaica were behind them with 27, the same as Japan.
Ankita makes semifinal exit from Luan ITF event
Ankita Raina recovered from a slow start but could not carry forward the momentum and crashed out of the $ 60,000 ITF women's event in Luan, China.
The second seed Indian lost 3-6 6-1 2-6 to local girl Ying-Ying Duan in the semifinals of the hard court tournament.
Nevertheless, it was one of better results for the Indian this season.
Ankita has entered two finals this season, winning a $ 25k event in Singapore and ending runner-up in a USD 60k tournament in Istanbul.
"I am very upset. I thought I had the match after the second set. I had good rhythm in the second and in the third as well but I don't know what went wrong. Since I knew I had the match I was more upset. I will go home and then leave for the French Open, so looking forward to that," said Ankita.
Her effort, earned Ankita, ranked 175, a total of 29 ranking points.