Study reveals overall number of fouls have fallen in the English Premier League.
Last season saw the fewest dismissals since 1993-94.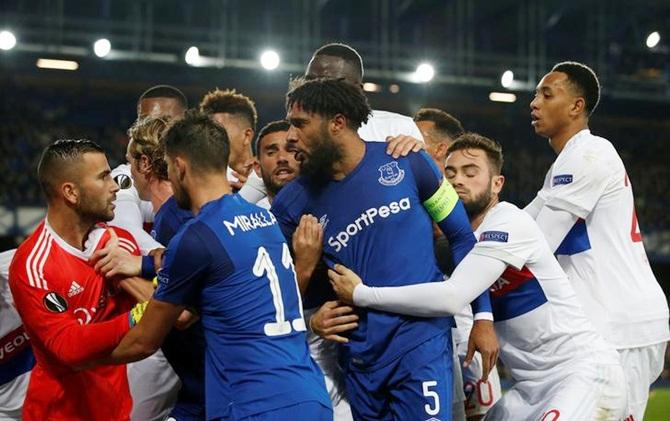 IMAGE: Everton's Ashley Williams (centre) clashes with Olympique Lyon's goalkeeper Anthony Lopes as teammates intervene during the Europa League match at Goodison Park, Liverpool, England. Photograph: Andrew Yates/Reuters
Everton have been handed the dubious distinction of being the 'dirtiest' Premier League team after a study on the all-time cards and fouls by www.dirtyteams.co.uk.
The website used a points system to rate clubs for transgressions on the pitch since the start of the Premier League in 1992.
Teams collected 25 points for a red card, five for a yellow card and one for each foul.
The Merseyside club have accumulated 21,211 points in 962 games to top the list while Swindon Town are at the bottom with 486 points, although their tally is calculated after 42 games in the inaugural season which featured 22 teams.
Everton are one of only six teams to have contested every season of the Premier League along with Arsenal, Chelsea, Liverpool, Manchester United and Tottenham Hotspur. All six teams were in the top ten for total 'dirty' points.
Derby County are the dirtiest team on average with nearly 26 points per game. They also have more yellow cards (2.02) and fouls per game (14.28) than any other team.
Blackburn Rovers' 1998-99 season was the dirtiest in Premier League history as they racked up eight red cards and 80 yellow cards with 725 fouls while Coventry City had the cleanest campaign in 1993-94 with only 12 yellow cards.
The study also revealed that the overall number of fouls have fallen since the league began and last season saw the fewest dismissals since 1993-94.
Everton ban fan, police probe Goodison Park brawl; UEFA opens proceedings
Merseyside Police are investigating the brawl that broke out on the pitch between players from Everton and Olympique Lyon in the Europa League on Thursday.
Everton have banned one individual after reviewing footage of the incident and would also register a formal complaint against him with Merseyside Police, the Premier League side said in a statement on Friday.
Everton captain Ashley Williams sparked off the incident in the 64th minute when he shoved Anthony Lopes into the advertising hoardings after the Lyon goalkeeper had collected the ball from a corner.
An all-out melee ensued with players from both sides getting involved, while at least one fan behind the goal was caught on video throwing punches at the Lyon players before stewards intervened.
"Merseyside Police can confirm officers are investigating following a disturbance on the pitch during a football match between Everton and Lyon at GoodisonPark last night, Thursday 19th October," the force said in a statement on Friday.
"Detectives will be reviewing footage and speaking to witnesses to establish what, if any, offences have been committed."
Everton manager Ronald Koeman blamed poor refereeing for the scuffle near the Gwladys Street End stand and the Merseyside club are likely to face disciplinary action by UEFA after the incident.
"I think the irritation grows in the game for our players and in my opinion that was the problem by the referee," Koeman, whose team lost 2-1, said after the match.
"The referee was Dutch but he didn't do anything against the theatre of some of the Lyon players. (Lyon captain Nabil) Fekir in the first half dived 10 times.
"I understand with my players, that comes out of frustration. I don't know what happened but I can understand it."
Defender Williams, who scored an equaliser for Everton minutes after the incident, and Lyon striker Bertrand Traore, who scored the winner for his side, received yellow cards.
The loss increases scrutiny of Koeman, whose team sit bottom of their group with no wins in three Europa League games and on a two-game winless streak in the Premier League, where they are 16th in the standings.
Everton host top four contenders Arsenal in the league on Sunday.
European soccer's governing body (UEFA) has opened disciplinary proceedings against Everton after one of the club's fans tried to punch an Olympique Lyon player in a melee that broke out during Thursday's Europa League game at GoodisonPark.
"Disciplinary proceedings have been opened following the UEFA Europa League group stage match between Everton FC and Olympique Lyonnais (1-2), played on 19 October in England," UEFA said in a statement on Friday.
The governing body added that the English club had been charged with "Aggressions by supporters against players" under Article 16 (2) (H) of its disciplinary regulations.
Everton issued a statement saying they had banned an individual from future matches after reviewing footage of the incident and would be making a formal complaint to Merseyside Police.
The force said its detectives would review footage and speak to witnesses to establish what, if any, offences had been committed.
Roma charged by UEFA over monkey chants in Chelsea match
AS Roma have been charged with racist behaviour by UEFA after a section of their supporters directed monkey chants at Chelsea defender Antonio Ruediger during their 3-3 Champions League draw in London on Wednesday.
European soccer's governing body said in a statement on Friday that it had opened proceedings against the Italian side under Article 14 of its disciplinary regulations.
UEFA's Control, Ethics and Disciplinary Body will deal with the case on Nov. 16.
Roma were not immediately available for comment.
Dimitrov down Zvarev, to face Fognini in Stockholm semis
Bulgaria's Grigor Dimitrov moved closer to qualifying for the ATP World Tour Finals with a 6-3, 6-4 victory over Germany's Mischa Zverev to reach the semi-finals of the Stockholm Open on Friday, setting up a clash with Fabio Fognini.
Dimitrov needed six match points to complete the victory which maintains his challenge for a debut at the season-ending championships in London next month.
He is currently sixth in the Race to London rankings with the top eight qualifying. Rafael Nadal, Roger Federer, Dominic Thiem and Alexander Zverev have already claimed their spots.
"It's nice to get through that match in straight sets," Dimitrov said.
"I knew it was not going to be easy but at the same time I thought I kept a very good intensity throughout."
Italian Fognini beat Jack Sock 6-7(3), 7-6(2), 7-5.
South Africa's Kevin Anderson, another player with hopes of qualifying for London, plays later against Spaniard Fernando Verdasco.
India eves enter final of compound women's team event
The Indian team got the better of Germany 232-227 in the compound women's team semi-finals, to set up a gold-medal match against Colombia at the World Archery Championships in Mexico City.
The Indian team comprising Trisha Deb, Lily Chanu Paonam and Jyothi Surekha Vennam defeated their German rivals quite comfortably.
Deb, Paonam and Vennam scored matches of 232, 233 and 232 points as they beat Russia, Denmark and Germany in the elimination matches.
Paonam and Vennam both finished in the top-10 individually at these championships, while Deb came 17th after losing in the third round.
"We are so proud of ourselves, it's amazing to make the final," Paonam said.
Vennam added: "We will shoot the same as today and try to win the gold. It will be our first time shooting against Colombia and they are good, so we are excited about it."
The Indian squad had the highest per-match average of any team in the field in Mexico.
Basketball: Nets' Lin set to miss season with knee injury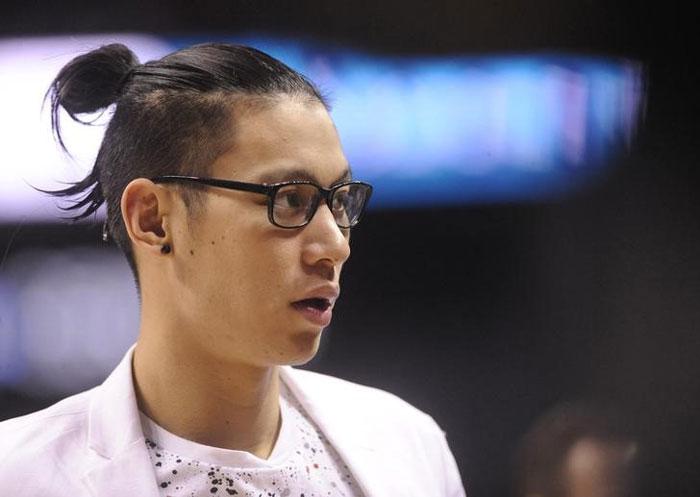 IMAGE: Brooklyn Nets guard Jeremy Lin. Photograph: Sam Sharpe-USA TODAY Sports
Jeremy Lin's 2017-18 NBA season looks to be over after the Chinese-American suffered a knee injury that left him writhing in pain on the court in his team's season-opening loss, the Brooklyn Nets said on Thursday.
Lin, who was diagnosed with a ruptured patella tendon of the right knee, landed awkwardly and crumpled to the floor after driving to the basket for a layup in the fourth quarter of the Nets' 140-131 loss to the host Indiana Pacers on Wednesday.
The 29-year-old guard, who had 18 points and four assists in 25 minutes, immediately clutched his knee and said "I'm done" before bursting into tears and being helped off the court.
"Jeremy worked tremendously hard during the off-season and in training camp and was excited for the prospects of the team this season," Nets General Manager Sean Marks said in a statement.
"We feel awful that the injury will cost him the season, however our entire organization will be there to support Jeremy in every way possible throughout his recovery. Jeremy remains an important part of this team and will continue to contribute in a leadership role."
Lin, the first American of Chinese or Taiwanese descent to play in the NBA, went from an unknown professional basketball player to an overnight sporting sensation in 2012 when he led a winning turnaround for his former New Knicks team.
He averaged 20.9 points and 8.4 assists per game in February of that year while leading the Knicks to 10 wins in a 13-game stretch that overwhelmed New York City and caught the imagination of Knicks fans.
Lin went on to appear on the covers of numerous magazines, and replicas of his No. 17 jersey soon became a top seller amid a media and fan frenzy around him nicknamed "Linsanity".
Lin, who was benched later in that breakout season after suffering a knee injury, left the Knicks a few months later after they refused to match a restricted offer sheet in free agency.
He went on to play for the Houston Rockets, Los Angeles Lakers and Charlotte Hornets before signing a three-year, $36 million contract with Brooklyn last year.
No Premier League games on Christmas Eve
Christmas Eve will be free of Premier League football after broadcasters agreed not to schedule any games for that day.
Arsenal's home clash with Liverpool had been earmarked for a potential switch from its original Saturday (December 23) slot to the Sunday, prompting criticism from Liverpool manager Juergen Klopp and fans' groups.
The match will now take place on Dec. 22 with the other nine games kicking off on Dec. 23, starting with Everton v Chelsea at 1230 GMT and finishing with Leicester City v Manchester United at 1945 GMT.
Premier League chairman Richard Scudamore said the timing of the Christmas holiday this year had made scheduling complicated. "We appreciate this is the peak time for supporters attending and watching the Premier League," he said in a statement.
"With matches scheduled on Christmas weekend for the first time in 11 years, the process of selecting games for live broadcast has been a more complex one than usual."
The Premier League is the only top European league with games over the Christmas period and it is a tradition deeply ingrained in British football.
Until 1958 matches were played on Christmas Day itself.
Scudamore defended both Sky Sports and BT Sport from criticism. The two broadcasters share the Premier League domestic rights package having paid a combined 5.14 billion pounds ($6.8 billion) over three years.
"Sky Sports and BT Sport do a fantastic job and their investment in our game has transformed football on and off the pitch at all levels," he said.
"When selecting matches, the broadcasters are using the rights that we the Premier League and the clubs have sold them, and they should therefore not be criticised for doing so."
FA to investigate England women's goalkeeping coach Kendall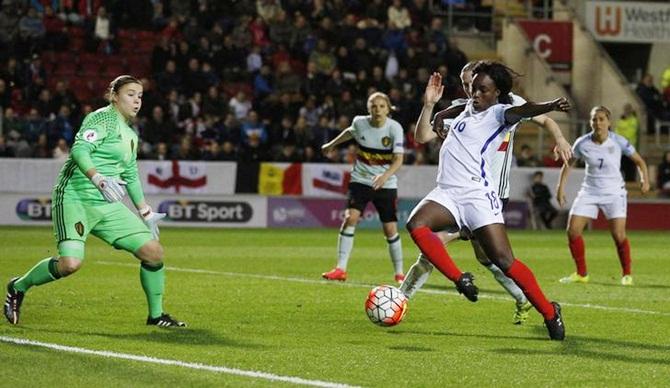 IMAGE: England's Eniola Aluko goes close to scoring in the UEFA Women's Euro 2017 qualifying match against Belgium. Photograph: Action Images/Craig Brough/Livepic
The Football Association is to investigate England women's goalkeeping coach Lee Kendall over alleged unacceptable behaviour towards striker Eniola Aluko, the ruling body said on Thursday.
The FA apologised to Nigerian-born Aluko on Wednesday for racially discriminatory remarks by former England manager Mark Sampson.
"The FA can confirm we are investigating England Women goalkeeping coach Lee Kendall following new evidence that came to light on Wednesday alleging unacceptable behaviour towards Eniola Aluko during an England camp," the ruling body said in a statement.
Aluko said the 36-year-old Kendall, who took the job in 2014, had spoken to her in a fake Caribbean accent.
"I don't think he meant it maliciously," Aluko said in evidence given to the Department of Digital, Culture, Media and Sport select committee on Wednesday. "He may not have been aware of how annoying it got.
"I'm not Caribbean, I'm of African descent. I thought it was another example of an ignorant mindset and behaviour towards me."
FA officials later admitted to failings as they came under fire from MPs at the four-hour parliamentary inquiry in which they were also accused by experienced international Aluko of having had an agenda to protect Sampson and their reputation.
Sampson was sacked by the FA last month for "inappropriate and unacceptable" behaviour in a previous job. He has denied the allegations and been cleared of discrimination by two inquiries.
FIFA to look into changing nationality rules
FIFA is considering an overhaul of the rules which govern players' eligibility for national teams, including a proposal which would allow them to switch allegiance in certain circumstances.
Victor Montagliani, head of FIFA's stakeholders' committee, said there were issues regarding the rules, which are aimed at preventing players from switching between national teams or representing countries they have no connection with.
"There are so many issues that have popped up over the years because the world is changing, immigration is changing," said the Canadian, who is president of the North, Central America and Caribbean federation (CONCACAF).
"There are nationality issues that pop up all over the world, in Africa, there are issues in Asia and CONCACAF, so its a good time to have a look at this and see if there are solutions, without hurting the integrity of the game."
At present, players who have played a competitive international for one team cannot switch to another national side even when they hold dual nationality.
The Cape Verde football federation has proposed this rule be relaxed in cases where the player has played only one or two games for his original national side but has no realistic chance of a recall.
Players are only allowed to represent a country with which they have no blood connection if they have lived and played there for five years, but Montagliani said his committee would look into changing that period and possibly increasing it.
World soccer's ruling body could also look into a compensation scheme in cases where a player goes through the training system of one country and represents it a youth level before switching to another.
Goerges, Kasatkina reach Kremlin Cup semi-finals
German Julia Goerges and Russian Daria Kasatkina enjoyed straight-sets wins on Thursday to reach the Kremlin Cup semi-finals, where they will be joined by Irina Begu and Natalia Vikhlyantseva.
Kasatkina, 28th in the world rankings, beat Aliaksandra Sasnovich 6-4, 6-3.
Kasatkina will face Romanian Begu, who saved a match point in the third set before beating Belarusian qualifier Vera Lapko 6-3, 4-6, 7-5.
After losing the first two games of the match, seventh seed Goerges, the highest-ranked player left in the tournament, defeated Lesia Tsurenko 6-3, 6-4.
She will next meet Russian Vikhlyantseva who upset Frenchwoman Alize Cornet 4-6, 7-5, 6-3.