A summary of sports events and persons who made news on Sunday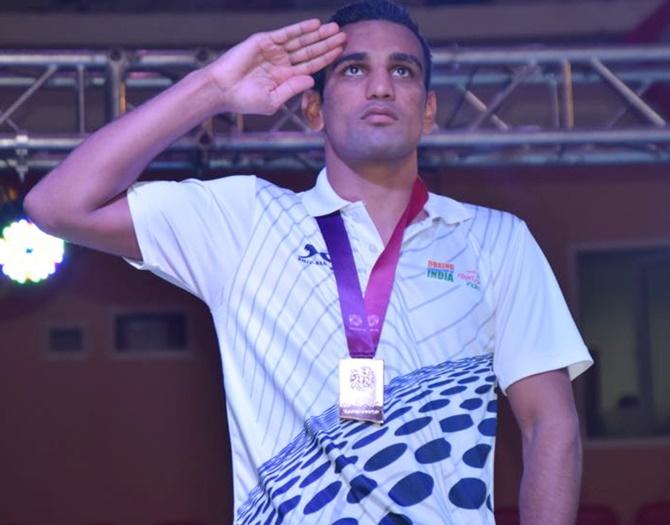 Mandeep Jangra (69kg) was the lone Indian boxer to claim a gold medal among the five finalists but the country's contingent gave a fine account of itself in the summit clashes of the Ulaanbaatar Cup in Mongolia on Sunday.
"I have won an international gold medal after a long time and I hope it would count for something in getting me selected for the Asian Games," Mandeep, a former Commonwealth Games silver-medallist, said.
The silver medals went to both the women finalists Sonia Lather (57kg) and Lovlina Borgohain (69kg) and Himanshu Sharma (49kg) and Etash Khan (56kg). All the four boxers fought their hearts out but failed to find favour with judges.
India ended the tournament with one gold, four silver, and four bronze medals.
Sonia, a former World and Asian championships silver-medallist, added another second-place finish to her tally despite a strong performance against home favourite Tumurkhuyag Bolortuul.
Lovlina was out-witted by Chinese Taipei's Nien Chen Chen in a bout that lacked spark for the most part and had very few impact punches on display.
Himanshu was up against a very aggressive Iranian in Omid Ahmadisafa and although the Indian kept his composure, the ferocity of his rival's attacks tilted the scales. Ahmadisafa won on a split verdict.
Etash was simply unlucky to end up on the losing side against another local favourite Kharkhuu Enkh-Amar. The Indian was the more dominant of the two boxers, connecting cleanly and powerfully.
However, the judges thought otherwise and the gold medal landed with Enkh-Amar in a split verdict.
Ending with bronze medals were Shiva Thapa (60kg), debutant Vanhmlimpuia (75kg), Ashish (64kg), and Bina Devi Koijam (48kg), a direct entrant into the last-four stage owing to the small size of the women's draw.
Praggnanandhaa becomes world's second youngest Grand Master
India's R Praggnanandhaa has become the country's youngest and the world's second youngest Grand Master at the age of 12 years, 10 months and 13 days after reaching the final round of the ongoing Grendine Open in Italy.
The Chennai-based player was paired with Grand Master Prujjsers Roland in the final round, which ensured that he would achieve the feat. After beating GM Moroni Lica Jr in the eighth round, he needed to play an opponent above rating of 2482 in the next round to make his third GM norm.
Ukraine's Serget Karjakin remains the youngest ever GM, having achieved the feat at the age of 12 years and seven months in 2002.
In 2016, Praggnanandhaa became the youngest International Master at the age of 10 years, 10 months and 19 days.
Five-time world champion Viswanathan Anand, the country's first GM, congratulated Praggnanandhaa on his achievement.
"Welcome to the club & congrats Praggnanandhaa!! See u soon in chennai," he tweeted.
Praggnanandhaa's father A Ramesh Babu said he was overjoyed with Pragga's achievement.
"I am overjoyed. He has put in a lot of hard work. Credit goes to my wife, who accompanies him to tournament and is very supportive. Due must be given to coach (Ramesh sir)," he added.
Praggnanandhaa's sister Vaishali is also a WIM and has won the world under-14 and 12 titles previously.
Meanwhile, V Kameswaran, India's first international arbiter, said Praggnanandhaa had developed consistently and a bright future lies ahead of him.
"Becoming India's first youngest and world's second youngest GM is not all of a sudden. Though he missed becoming the World's youngest GM, his relentless chess pursuits for high honours are simply outstanding. The credit definitely goes to his parents, sister Vaishali and coach GM R B Ramesh," he said.
Jeevan and Austin win Ilkley Challenger title
Indian tennis player Jeevan Nedunchezhiyan finally won his second Challenger-level doubles title of the 2018 season after an easy victory with partner Austin Krajicek in the final of the Ilkley event in the UK.
The unseeded Indo-American pair beat the giant-killing German team of Kevin Krawietz and Andreas Mies 6-3 6-3 in just 57 minutes to clinch the trophy at the Euro 127,000 grass court tournament.
They earned 110 ranking points, each splitting the prize money of Euro 7,870.
The left-handed Jeevan has been consistently producing good performances this season, making as many as six finals, including the one this week in Ilkley.
He had won his first title of the season early in the year at Dallas with Indonesian partner Christopher Rungkant, beating Leander Paes and Joe Salisbury.

Siril Verma, Ashmita Chaliha win in badminton tourney
Siril Verma and Ashmita Chaliha overcame stiff competition from their respective opponents to finish on top of the podium at the Yonex Sunrise All India Senior Ranking Badminton Tournament at the Pullela Gopichand Academy.
Siril, the 2015 world junior championship runner-up who took on Sourabh Verma in the men's singles final, winner of 2016 Chinese Taipei Masters, went down in the opening game 18-21 but came back to pocket the second game 21-16.
With the scores levelled, Siril stepped on the gas in the decider and gave no chance to his more fancied opponent and took the game 21-8 to win the match in 51 minutes.
The 16th seeded Ashmita scored a pulsating victory over third seeded Sai Uttejitha Rao to emerge winner in the women's singles event.
Sai, who came into the tournament at the back of a title win in Bangalore last week started the match as clear favourite but could not overcome a spirited challenge from Ashmita.
Individual honours for Neha, Anmol, Devanshi as India bag 5 medals in Junior World Cup
Neha, Anmol Jain and Devanshi Dhama won individual honours as India claimed two gold, one silver and two bronze medals on the opening day of competition to lead the table in the ISSF Junior World Cup in Suhl, Germany.
In total, India won five medals (two team gold, two individual bronze a silver) in the two events -- 50m junior men's pistol and 50m junior women's pistol.
In the men's junior individual pistol competition, Anmol finished third with a score of 549 over six series, behind Russia's gold medallist Mikhail Isakov (553) and silver winnerZhehao Wang (550) of China.
Arjun Singh Cheema (548) was and Gaurav Rana was fifth with 546. The trio's combined score of 1643 helped them win the team gold medal ahead of Russia and Italy.
Abhishek Arya was placed 20th in the competition.
In the women's 50m individual pistol competition, India's Neha won silver with 528 and Devanshi Dhama bagged bronze with 527. The gold medal was claimed Yulyana Rohach of Belaurus, who shot 530.
Anushka Patil was eighth with 510. India won the team gold with a total of 1565 ahead of Russia and Ukraine.

Lahiri sizzles on back nine to climb to tied 3rd at Travelers
A back-nine eagle elevated Indian golfer Anirban Lahiri to five-under 65 in the penultimate round for a share of the third spot in the Travelers Championship.
Lahiri, thus, puts himself in contention for the title though England's Paul Casey was on fire during his eight-under 62 that gave him a four-shot lead over second placed Russell Henley (67).
Casey was at 16-under 194 to Henley's 12-under at TPC River Highlands.
Lahiri, JB Holmes, with whom the Indian plays his final round, and Brian Harman (69) are at 11-under in tied third position.
Lahiri scored three birdies and an eagle on the back nine and a bogey and a birdie in the front nine.
"Well, it (a win) is obviously one of my goals. It's something that I set out to do when I moved base here two-and-a-half years ago. It hasn't been a special season so far, so obviously there's never a bad time to win. I've got to keep doing what I'm doing and if I keep moving in the right direction, it will come sooner rather than later," Lahiri said about his chances of winning the title here.
Lahiri termed his performance on the penultimate round as a contrasting one.

Jason Day (66) and Bubba Watson (67) are among those at 10-under for a share of tied sixth position, while Rory McIlroy (69), whose opening tee shot was delayed because a squirrel sat in front of him at the tee box, is tied 15.