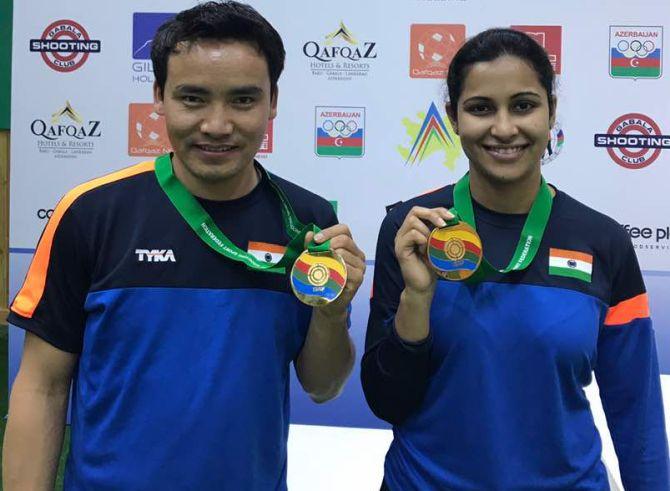 IMAGE: Jitu Rai, left, with Heena Sidhu. Photograph: Heena Sidhu/Twitter
Jitu Rai and Heena Sidhu combined to give India their first gold medal of the ISSF World Cup Final in New Delhi, clinching the top honours in the 10m air pistol mixed team event on the opening day of the competition, on Tuesday.

Rai, a Commonwealth and Asian Games gold-medallist, and Sidhu, also a former Commonwealth Games gold-winner, picked up their third gold together in the mixed team event, being held
officially for the first time at an ISSF World Cup.
The mixed team competitions were organised as test events in the World Cups held earlier this year and will be making their Olympic debut in the Tokyo 2020 Games.

Rai and Sidhu qualified for the finals as top of the table and comfortably claimed the gold by pipping France, who secured the silver medal.

China settled for the bronze medal in the event.
Giggs throws hat in ring for Everton, Leicester jobs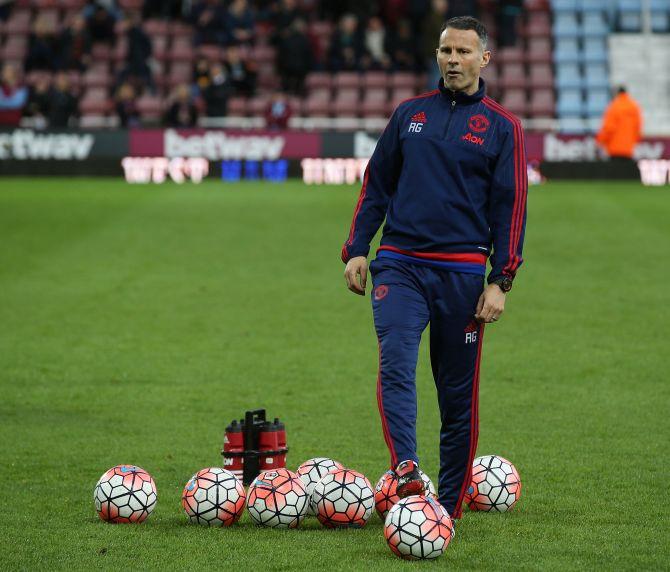 IMAGE: Former Manchester United player Ryan Giggs. Photograph: Ian Walton/Getty Images

Former Manchester United winger Ryan Giggs has expressed his interest in the vacant managerial positions at English Premier League sides Leicester City and Everton.

Everton sacked manager Ronald Koeman on Monday after they dropped into the relegation zone following Sunday's humiliating 5-2 home defeat by Arsenal.
The Dutchman became the third managerial casualty of the season after Crystal Palace fired his compatriot Frank de Boer four league games into the season and Leicester parted ways with Craig Shakespeare last week.

"For me these are clubs I would be interested in," Giggs told Sky Sports, referring to 18th-placed Everton and Leicester who sit four places above them.

"I think you look at those two teams, Leicester being champions two seasons ago, Everton being a fantastic club with a fantastic history.

"However, there are a lot of coaches out there who would be interested in those positions."

Giggs won 13 Premier League titles and made a record 963 appearances for United before managing them for four games on an interim basis following the sacking of David Moyes in 2014.

The Welshman worked as assistant manager under Louis van Gaal but followed the Dutchman out of Old Trafford after being offered a reduced role under Jose Mourinho.

The 43-year-old has in the past suggested that there are too many foreign managers in the Premier League and little opportunity for local talents.

The Welshman said he was also open to managing in the lower divisions.

"I've said all along that I'd be open to clubs which share the ambitions of myself," Giggs said.

"I want to improve clubs and players, to enjoy working for them and for players to enjoy the challenge.

"There are clubs in the Premier League which would be good jobs but also in the Championship and League One. It's more about the philosophy for me than the stature of the club."

WADA to investigate claims of systematic doping in China
IMAGE: The head office of the World Anti-Doping Agency (WADA) in Montreal. Photograph: Christinne Muschi/File Photo/Reuters

The World Anti-Doping Agency (WADA) will investigate allegations by a retired physician that systematic doping took place in Chinese sport during the 1980s and 1990s, the international anti-doping agency said in a statement.

In a programme on German channel ARD at the weekend, Xue Yinxian, who worked with several Chinese national teams, called for all medals awarded to the nation's athletes during that period to be withdrawn.

The 79-year-old, who made similar allegations in 2012, said "medals were showered in doping" and claimed around 10,000 Chinese athletes had used banned substances.

Xue, who is claiming asylum in Germany, alleged that she was sacked after refusing to administer banned substances ahead of the 1988 Seoul Olympics.

"The Agency will ensure that, if action is warranted and feasible under the World Anti-Doping Code, the necessary and appropriate steps will be taken," WADA said.

"As a first step, the Agency has asked its independent Intelligence and Investigations (I&I) team to initiate an investigative process in order to collect and analyse available information in coordination with external partners."

Chinese athletes regularly failed dope tests after the country returned to the Olympic fold in the early 1980s but there was concerted effort by the government to crack down on the use of banned substances ahead of the 2008 Beijing Olympics.

Russia's athletics federation, Paralympic committee and anti-doping agency (RUSADA) remain suspended after reports commissioned by WADA alleged state-sponsored doping.

F1: Toro Rosso replace Kvyat with Hartley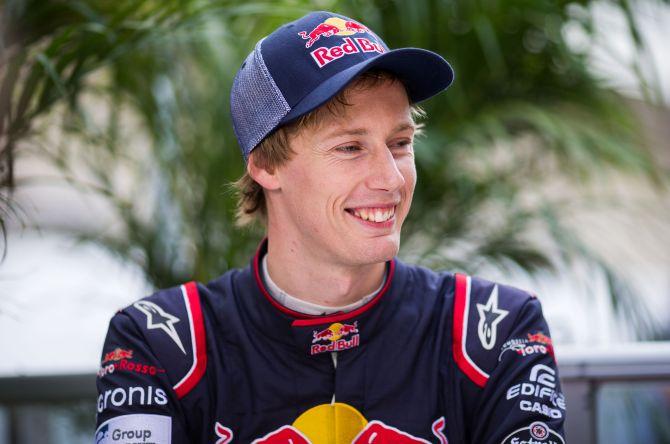 IMAGE: Brendon Hartley of Toro Rosso. Photograph: Peter Fox/Getty Images

Toro Rosso have dropped Russian Daniil Kvyat for Sunday's Mexican Grand Prix and handed Brendon Hartley a second chance after the New Zealander made a strong debut in Texas at the weekend.

Frenchman Pierre Gasly will return to the lineup after missing the US Grand Prix to compete in the final round of the Japanese Super Formula championship that was ultimately washed out by bad weather.

Hartley, who finished 13th at the Circuit of the Americas, impressed with his calm approach to stepping in at the last moment and made no major mistakes in the race.

"Scuderia Toro Rosso's driver lineup for the upcoming 2017 Mexican Grand Prix will be formed by ... Pierre Gasly and Brendon Hartley," the team said in a statement.

Gasly competed for the Red Bull-owned team in Malaysia and Japan alongside Spaniard Carlos Sainz, who has now moved to Renault.

It is the third time that Kvyat has been dropped by Red Bull and it remains to be seen whether he returns, with the 23-year-old Russian seemingly no longer in the company's long-term plans.

Toro Rosso serves as a feeder team to the main Red Bull Racing outfit, bringing on young drivers, and Kvyat was always operating on borrowed time having been promoted and dropped from the former champions.

However, Hartley is 27 and was dropped from the Red Bull programme entirely after testing with Toro Rosso in 2009.

His return to the fold is unprecedented for a team that has cast many drivers aside over the years, but he has won the Le Mans 24 Hours and world endurance championship in the intervening years.

The New Zealander, his country's first Formula One driver in 33 years, also has a reputation as a very quick driver from his time with the Porsche endurance team.

Kvyat meanwhile has accumulated only five points from 15 races this season, finishing 10th in Austin, and was completely eclipsed by Sainz in the early part of the year.

He was dropped from the Red Bull senior team four races into the 2016 season to make way for Max Verstappen, a Dutch teenage prodigy who is now 20 and a two times race winner.

Toro Rosso are still evaluating their options for 2018, with Gasly looking sure to be one of the drivers and Hartley clearly in the frame.