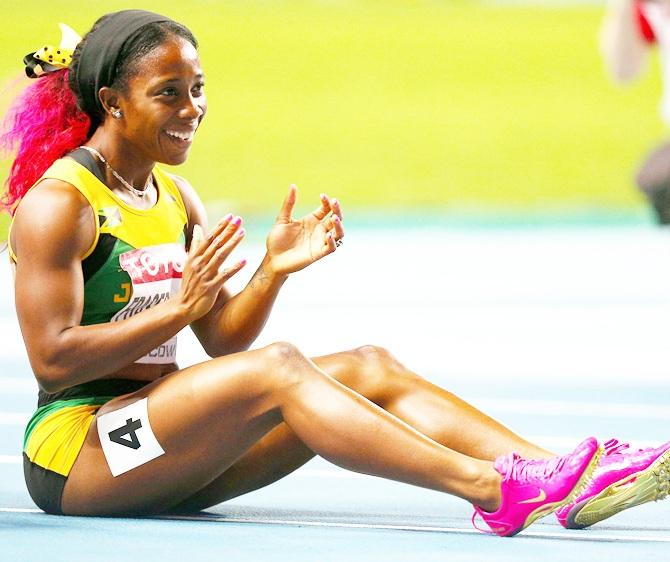 IMAGE: Shelly-Ann Fraser-Pryce of Jamaica. Photograph: Cameron Spencer/Getty Images
Jamaican sprinter and reigning 100 metres world champion Shelly-Ann Fraser-Pryce announced on Wednesday that she is pregnant and will miss the world championships in London this August.
The two-times Olympic 100m gold medallist and three-times world 100m champion said she will return to competition in 2018.
"All my focus heading into training for my 2017 season was on getting healthy and putting myself in the best possible fitness to successfully defend my title in London2017." Fraser-Pryce, 30, said on Facebook.
"But life is filled with many blessings with God. So here I am thinking about being the greatest mother I can be with my biggest blessing and the promise God made me.
"Moving forward on this journey, I look forward to seeing you all in 2018 when I return to competition on the tracks and around the World."
Former Paraguay defender Caceres banned for doping
Asuncion: Former Paraguay defender Julio Cesar Caceres has been suspended for four years after testing positive for a banned substance, his country's anti-doping organisation said on Wednesday.
The 37-year-old, who played at three World Cups and won the Copa Libertadores with Paraguay's Olimpia in 2002 and the Argentine league title with Boca Juniors in 2008, tested positive for octopamine in August.
Caceres was handed a two-match ban for that offence and had it doubled for refusing to take a test after a Paraguayan league match in December.
His club Guarani, the Paraguayan champions, said they would appeal against the ban.
Argentine players end strike, league to resume
Buenos Aires:Argentina's professional soccer players have ended their strike and the league is set to resume, the Argentine Football Association (AFA) said on Wednesday.
The first division championship, which had been scheduled to restart a month ago but was held up over financial issues, gets going again with Velez Sarsfield's home match against Estudiantes on Thursday.
"We've reached a balanced agreement in which we've managed to resolve the conflict so that (playing) activity can start," the AFA and players' union boss Sergio Marchi said.
The players called a strike because many, especially in the lower divisions, were owed up to five months in salaries.
The 2016-17 season went into a summer recess in December with Boca Juniors top of the standings and the only teams with match practice since then are those taking part in the South American Copa Libertadores and Copa Sudamericana.