...But funding for 2022 Asiad, CWG to continue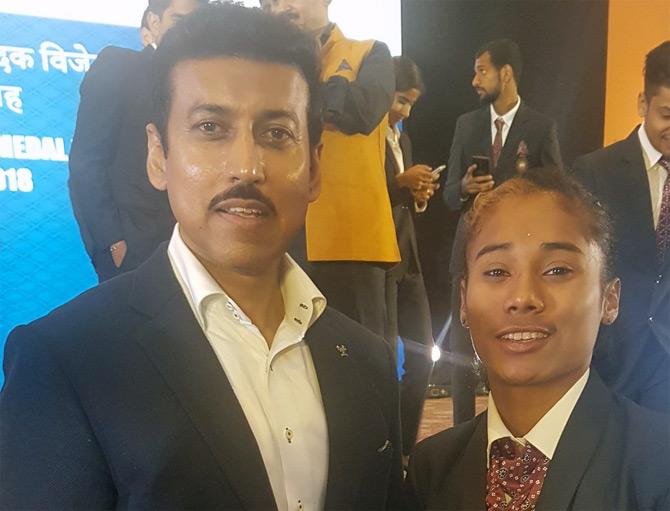 Sports Minister Rajyavardhan Singh Rathore, on Sunday, promised continued support to medal prospects for the 2022 Asian and Commonwealth Games even though the focus has now shifted to 2020 Olympics in Tokyo.
"I know in the next two years players will focus on 2020 Olympics but there are a lot of them who are not an immediate medal prospects in the coming Olympics. They are potential medal prospects for the next Asian Games and Commonwealth Games," Rathore said.
"Earlier the funding for these players used to be stopped but we are changing it. It is a big challenge for me that the funding for the medal prospects for the next Asian Games, Commonwealth Games continues. I am trying my best, talking to corporates who are passionate about sports to raise funds," he said.
Rathore, speaking at a felicitation ceremony for the Asian Games medallists by the Indian Olympic Association, also assured the players that there will be no bureaucracy from the ministry's side and no call for help will go unanswered.
"Things will change, I'm not saying it will be fast but I can assure the speed of change will be the best as we can do. You have already noticed the differences you will see many more differences ahead. Stay focussed on your sport."
Match against China kind of game we need, says Constantine
India football team head coach Stephen Constantine is upbeat about his side's international friendly against China next month, saying a match against a strong side would help them prepare well for next year's Asian Cup.
India are scheduled to clash with China in an international friendly on October 13 at the Suzhou Olympic Sports Centre Stadium at Suzhou City, Jiangsu province.
"China are a strong team and the match will be a tough test for us. But we need to play these sort of games right now. Getting to play under pressure is important and an away fixture in China is exactly the kind of game we need," Constantine said.
"Hopefully, everyone stays free from injury as it's going to be an important game for the build-up to the AFC Asian Cup in January," he added.
This is the first time ever that an Indian senior national team will be travelling to China. The two nations have till now faced 17 times, all on Indian soil -- the last being 21 years ago for the Nehru Cup in Kochi in 1997.
India are yet to win a match against China. Out of the past 17 matches, 12 have gone in favour of China while the remaining five were drawn.
All India Football Federation (AIFF) General Secretary Kushal Das said that they are looking forward to a "long bilateral footballing relationship with China".
"Globally, India and China are now being looked up to as two of the fastest emerging football markets. The match will usher in a new era in Asian football as this is the first-time ever that the Indian national team will be travelling to play in China. We look forward to a long term bilateral footballing relationship with China in near future," he said.
"Playing against China in China is a perfect way to gear up for the AFC Asian Cup UAE 2019. China are a supremely talented side and it will provide us an opportunity to further gauge ourselves where we stand prior to the Continental Championships."
India are currently ranked 97 in the September FIFA Rankings while China are placed 76th.
Joshua retains heavyweight crowns with Povetkin TKO
Britain's Anthony Joshua delivered a devastating technical knockout in the seventh round to defeat Russian Alexander Povetkin at Wembley Stadium on Saturday and retain his WBA, IBF, WBO and IBO world heavyweight championship belts.
In front of about 80,000 fans, Joshua moved on to 22 fights unbeaten in his professional career by handing the 39-year-old Povetkin only his second defeat but his first by TKO.
Joshua, returning to the arena where he knocked out Ukrainian Wladimir Klitschko in April, 2017 to become a unified heavyweight world champion, was given a hero's reception by the almost capacity crowd.
However, early on it was the smaller challenger who appeared the more inspired by the occasion, despite the constant boos and jeers from the partisan crowd, and he caught the Briton late in the first round with an uppercut on the nose.
Both men had won Olympic gold medals, but it was the youthful energy of the 28-year-old Joshua which proved decisive as Povetkin visibly tired halfway through the contest.
Joshua began dictating with his movement from the fourth round and started to find his range with his right hook.
That was what did for Povetkin, the WBA mandatory challenger, in the seventh when a fearsome right-hander from Joshua landed square on his jaw and sent the Russian to the canvas.
He got back to his feet but not for long as an onslaught of punches from the champion led referee Steve Gray to intervene one minute and 59 seconds into the round and give Joshua his 21st win by knockout.
"Povetkin is a very tough challenger, he proved that tonight with good left hooks and counter punches," Joshua said from inside in the ring.
India ends junior worlds without gold, Deepak wins silver
A gold medal remained elusive for India at the junior world wrestling championship as Deepak Punia settled for a silver after losing the 86kg free style final to Turkey's Arif Ozen, in Trnava, Slovakia.
Deepak, who won junior Asian gold in New Delhi, lost 1-2 to Ozen, scoring the only point with just three seconds to go.
India ended the championship with six medals, including three silvers and as many bronze medals. Greco Roman grapplers delivered three medals while the women's won two bronze.
Much was expected from Sachin Rathi but he was outwitted in the 74kg bronze medal match, which he lost by technical superiority to Canada's Devid Betanov.
In the 92kg, Sanjeet could not reach the medal round losing his repechage round6-7 to Erhan Yaylaci.
In Greco Roman, Vijay (60kg) and Sajan (77kg) won a silver each while Vijay (55kg) won a bronze.
In the women's events, Mansi (57kg) and Anshu Malik (59) won a bronze each.
Deepak's silver was only medal for free style wrestlers.
Indian cyclists finish with six golds at Track Asia Cup
Indian cyclists produced an impressive performance finishing on top with six gold, five silver and two bronze medals at the Track Asia Cup that concluded.
India were followed by Indonesian team with 4 gold, 3 silver and 1 bronze while Hong Kong came third by winning 4 gold and 2 bronze.
In the men' junior 200 Mts sprint, India's Esow Alben won gold pipping Kazakhstan's Dimitry Rezanov. India's Jemsh Singh won bronze medal.
"It was a tough fight with Kazakhstan's rider but I was confident that I can win the gold medal," Esow said after the race.
The second gold for the hosts came in the women's junior 200 Mts sprint where Mayuri Lute from Maharashtra clocked 12.263s to grab the pole position. Thailand's Kanyaral Hnokacw won silver by clocking 12.871s. Alyona Abramchok from the Kazakhstan team got bronze.
In the women's 'Elite Keirin' final, India's Sonali Chanu missed the bronze medal by a whisker. Hoi Yan Jessica from Hong Kong, Crismonita Dwiputri from Indonesia and Fatchah Mnstapa from Malaysia won the first three places respectively. The celebrated Deborah finished sixth in this event.