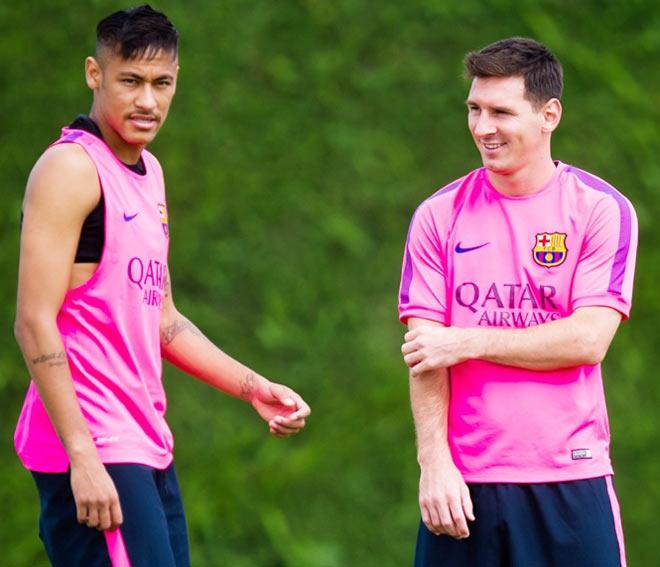 Neymar, left, and Lionel Messi look on during a FC Barcelona training session. (This image is used for representational purposes only) Photograph: Alex Caparros/Getty Images
Soccer's governing body FIFA has agreed to ban the third-party ownership (TPO) of players, its president Sepp Blatter said on Friday, seven years after first promising to outlaw the practice.
Blatter said a working group would be set up to implement the ban which would come into effect following "a transitional period".
"We took a firm decision that TPO should be banned but it cannot be banned immediately there will be a transitional period," Blatter told a news conference following a meeting of the executive committee.
The World Players Association FIFPro said they were "delighted" with the decision but were still waiting for details of its implementation.
Blatter's announcement followed pressure from European soccer's governing body UEFA, which had said it would ban TPO unilaterally if FIFA did not act.
TPO is when the transfer rights of players are wholly or partially owned by the footballer himself or a company, instead of just the player's club.
It is widespread in Brazil and Argentina, and is also present in some European countries such as Portugal, but banned in others including England, France and Poland.
FIFA secretary general Jerome Valcke said the working group would decide how long the transitional period would be and would submit a proposal to the next executive committee meeting in December.
"The ban cannot be implemented immediately and we are discussing the number of transfer windows we have to wait for this ban (to come into affect).
"It's a matter of whether we are talking about six transfer windows, meaning three years, or eight, meaning four years, this is what we will be discussing in this working group," he said.
Earlier this month, Sporting Lisbon president Bruno de Carvalho launched an outspoken attack on investor funds who buy players' economic rights, describing them as a "menace" and a "monster" that undermine clubs' finances and football's integrity.
Blatter previously said in October 2007 that the practice would be banned but FIFA failed to follow up on the promise.
FIFPro general-secretary Theo van Seggelen said that TPO was the result of failures in the transfer system.
"FIFPro is delighted that after months of intense negotiations...that FIFA have finally heard our call to ban TPO," said Van Seggelen in a statement.
"Although the agreement is the first step towards achieving our goal, we now await with interest the details of implementation," he added.
"While there must be a transitional period for the ban to take effect it must be implemented as soon as possible.
"A ban must also ensure that no similar practice is allowed to appear in any way, shape or form, that all loopholes are closed and that the transition process has to start immediately," he said.
"The damage to football is so great that every day without the prohibition of third party ownership is a day lost...
"It is an urgent priority and we strongly urge FIFA that by the end of the year we need to see very clear measures on how to make the transitional period as short as possible.
"FIFPro reiterates that the emergence of TPO has only been possible because of the fundamental abuse of the player transfer system."
Murray toils to reach Shenzen final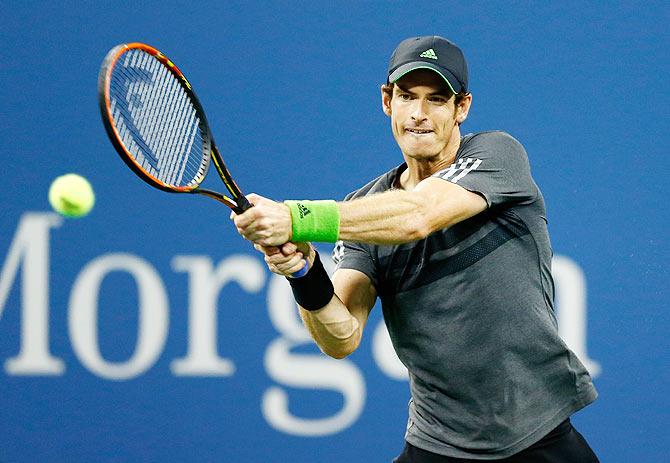 Andy Murray. Photograph: Julian Finney/Getty Images
Andy Murray is one step away from ending his 15-month title drought after he fought from a set down to pip Juan Monaco in the semi-final of the Shenzen Open on Saturday.
Murray took an hour and 42 minutes to beat his Argentine opponent 2-6, 6-3, 6-0 and set up a title clash with Tommy Robredo in the Briton's first final since winning the Wimbledon title in July 2013.
Spaniard Robredo beat Santiago Giraldo of Colombia 6-1, 6-4 in the other semi-final.
Murray, who needs a strong finish to his season to qualify for the ATP World Tour Finals, dropped the first set and was 3-3 when he reeled off nine straight games to surge ahead.
"He started the match well," said Murray.
"I was struggling a little bit with my timing. Obviously, the conditions were very hard today. But I feel good and I'm into my first final for a while.
"Hopefully it'll be a good match. Robredo's been playing some good tennis this year, so it'll be tough. I'm enjoying myself here and winning always helps," said Murray who underwent a back surgery last year.
Murray, who will need to move three spots up from his current 11th place in the Race to London to qualify for the eight-man finale, dropped just four points on serve in the third set while converting all three break points.
"It's been a tough year for me. The first few months coming back from surgery were hard, then I lost a bit of confidence. But I've felt better the past few months and hopefully I can have a strong end to the season," added Murray.
THE RACE TO LONDON:
1 Novak Djokovic 8150-qualified
2 Roger Federer 7020-qualified
3 Rafael Nadal 6645-qualified
4 Stanislas Wawrinka 4795
5 Marin Cilic 3935
6 Kei Nishikori 3675
7 David Ferrer 3535
8 Tomas Berdych 3510
- - - - - - - - - - - -
9 Milos Raonic 3440
10 Grigor Dimitrov 3335
11 Andy Murray 3155
12 Jo-Wilfried Tsonga 2650
Nishikori crushes Matosevic in Malaysia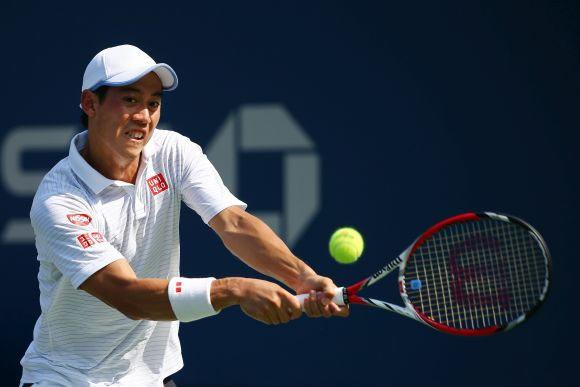 Kei Nishikori of Japan. Photograph: Matthew Stockman/Getty Images
Kei Nishikori outclassed Australia's Marinko Matosevic 6-3, 6-0 in little more than an hour to reach the semi-finals of the Malaysian Open on Friday.
The US Open runner-up sprayed winners past the big-serving Matosevic to book a last four clash with Finnish veteran Jarkko Nieminen who eased past seventh seed Pablo Andujar.
In the bottom half of the draw Ernests Gulbis, who already has two titles this year, beat Germany's Benjamin Becker and will face fourth-seeded Frenchman Julien Benneteau.
"Today was much better," second seed Gulbis said after his 6-3, 7-5 victory.
"When I broke him in the second set, I played three unbelievable points. I'm finding my game."
Nishikori remains the favourite, however, after a dazzling performance against Matosevic.
Already sixth in the ATP Race standings for the eight-man season-ender in London in November, the Japanese player can seriously boost his chances of a debut appearance if he goes on to take the title in Kuala Lumpur.
The winner of the title receives 250 Race points.
Kvitova books Singapore berth with Wuhan title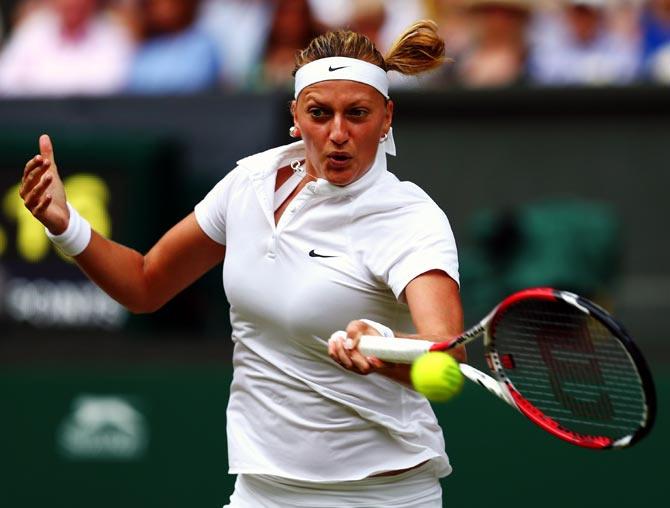 Petra Kvitova of Czech Republic. Photograph: Clive Brunskill/Getty Images
Wimbledon champion Petra Kvitova became the fourth player to qualify for the season-ending WTA Finals in Singapore after beating Eugenie Bouchard 6-3, 6-4 to win the Wuhan Open on Saturday.
The Czech World No 3 took an 80 minutes to tame her Canadian opponent and join Serena Williams, Maria Sharapova and Simona Halep who have already booked their places in Singapore.
"From the beginning my season was really tough," Kvitova said after qualifying for her fourth successive WTA Finals.
"If somebody told me at the Australian Open that I would win Wimbledon and still be fighting for Singapore, I'm not sure I would have believed them."
"But I've had a great second part of the season. It all started a little bit at the French Open, and from there I just kept improving.
"I think early on I was expecting too much of myself, and it was really difficult to take the loss in my first round in Australia, but I kept working hard, and now I'm here."
The winner of the re-match of this year's Wimbledon final was assured of a place in Singapore and Kvitova prevailed again, breaking early in both sets and hanging onto those breaks to win in straight sets.
Bouchard was not too unhappy with her performance.
"She's beaten me in two finals this year, so I will have to figure out what to do to beat her now," she said.
"I felt like I played really well this week and the crowd really made me feel at home. Also, this was the first year of this tournament, but it felt like you've been doing this for 100 years.
"It was my first time in Wuhan and I loved it. I kind of want to come back in my off-season."
Randhawa tied 14th in Asia-Pacific Open in Japan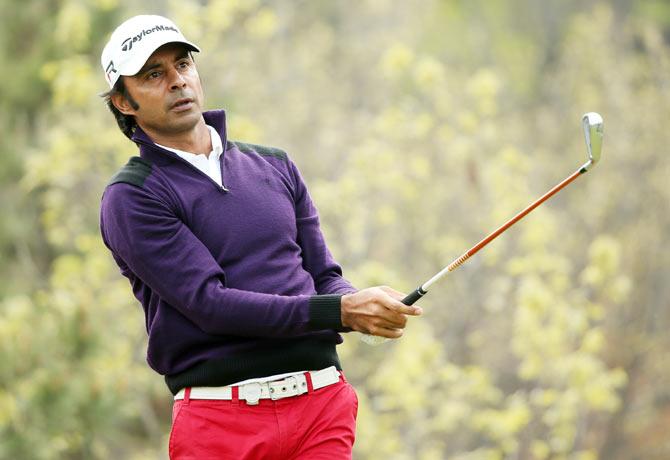 Jyoti Randhawa of India. Photograph: Andrew Redington/Getty Images
Jyoti Randhawa overcame two late bogeys and a double bogey earlier on to bring in a card of one-under 70 and move to tied 14th place with one more round to go in the 150 million Yen Asia-Pacific Open Golf Championship Diamond Cup, in Ibaraki Prefecture, Japan, on Saturday.
Randhawa was one-under 215 for 54 holes and was the best Indian as Arjun Atwal added a one-over 72 to slip to tied 24th place at even par.
Anirban Lahiri suffered two double bogeys, one on each side of the course to shoot 72 and be tied at 38th at two-over 215 while SSP Chowrasia, five-over after 12 holes, picked two late birdies to finish at 74 and is tied 40th at three-over 216.
Meanwhile, China's Liang Wen-chong snatched the third round lead with a two-under-par 69. The 2007 Asian Tour Order of Merit champion heads into the final round in pole position after compiling a three-day total of five-under-par 208 but will have a host of Japanese players hot on his heels at the Asia-Pacific Diamond Cup which is sanctioned by the Asian Tour and Japan Golf Tour.
Kazuhiro Yamashita will be among the Japanese players who can threaten Liang's grip on the lead as he trails the Chinese by one shot after carding a 68 to take second place at the Ohtone Country Club.
Yoshinobu Tsukada, Yoshitaka Takeya and Yusaku Miyazato are a further shot back in third place on 210 while Philippines' Juvic Pagunsan fired a 70 to take a share of sixth place with seven players that includes Thailand's Namchoak Tantipokakul and EurAsia Cup star Kim Hyung-sung of Korea.