Summary of sports events and persons who made news on Thursday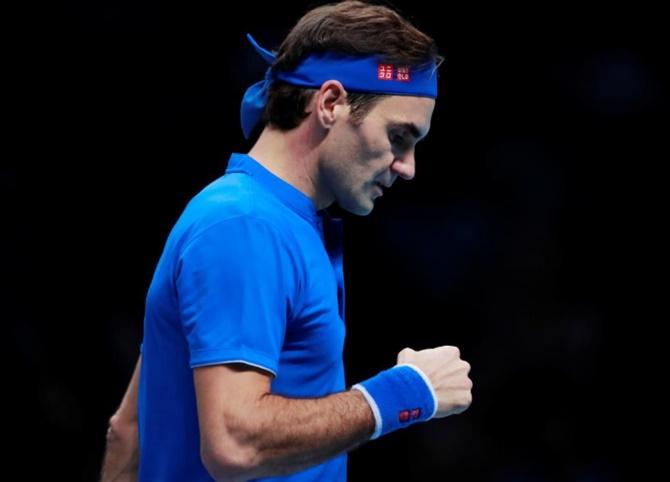 Roger Federer said beating Greek youngster Stefanos Tsitsipas in Thursday's Hopman Cup clash felt like a win over his son but the joke may well serve as a reminder of his powers as the Swiss prepares to defend his Australian Open crown this month.
The 37-year-old survived an early scare before outperforming Tsitsipas, 17 years his junior, during a 7-6(5) 7-6(4) victory that sent Switzerland into Saturday's title clash against Australia or Germany.
Victory gave world number three Federer, the oldest player in the top 10, three wins from three singles matches in Perth as he geared up for the season's first Grand Slam as a favourite alongside Novak Djokovic, Rafael Nadal and Alexander Zverev.
"He could be my son," 20-times major winner Federer joked about the age between him and Tsitsipas, before praising the world number 15.
"He did a nice job. I think we both played well without too many mistakes. I learned about his game. From my game, I didn't learn anything.
"For me, it's about maintaining a good level of play. I'm happy where my game is at. And I was impressed with what I saw from Stefan."
Greece, who needed a 3-0 win to progress at the expense of Switzerland, finished with a 2-1 consolation victory. The Swiss topped Group B having already beaten Britain (3-0) and the United States (2-1).
Maria Sakkari beat Belinda Bencic 6-3, 6-4 before Greece claimed the mixed doubles match.
Earlier, Serena Williams notched up another singles win but could not prevent the US from losing 2-1 to Britain for their third defeat that left them bottom of the standings.
Following wins over Sakkari and Bencic, Williams made it three from three with a 6-1, 7-6(2) victory over world number 97 Katie Boulter.
The 37-year-old will resume her quest for a record-equalling 24th major in Melbourne and was pleased with her preparations in hot and humid Perth.
"It was perfect. It's just like this in Melbourne. It's the exact same sun and it gives me so many problems," Williams, who competed in her first tournament since losing the U.S. Open final last September, said.
"After you serve, you are blind for the next two points. It was good to play three matches here, singles, not to mention the mixed doubles."
Cameron Norrie defeated Frances Tiafoe 7-6(4), 6-0 to make it 2-0 to Britain before teaming up with Boulter to win the mixed doubles dead rubber.
Osaka passes Sevastova test to reach Brisbane semis
Naomi Osaka said the confidence of starting a year as a Grand Slam champion helped her pass a tricky test against Latvian Anastasija Sevastova and reach the semi-finals of the Brisbane International on Thursday.
The Florida-based Japanese player struggled to get to grips with Sevastova as she lost the opening set in 33 minutes but after a few wise words from coach Sascha Bajin she blasted through the next two sets to win 3-6, 6-0, 6-4.
The US Open champion dropped only five points in the second set and then cruised through the decider.
"Maybe six months ago I wouldn't have been able to do that (come back)," US Open champion Osaka said.
"I'm not sure if I'd have had the same feeling -- but six months ago I hadn't won the US Open. Now I sort of know what could potentially come next.
"I feel like right now I'm really confident in myself... so I'm not that scared or threatened... this was an important win. It's harder for me to play against girls like her."
Osaka said players like Sevastova, who mix up their game rather than relying purely on power, have caused her trouble in the past and that Bajin's advice had helped her regroup.
"He said not to be so worried. It was acknowledging that she was playing really good and there was nothing I could do about that," Osaka, who takes on Lesia Tsurenko or Anett Kontaveit in the semi-final, added.
"I had to wait for my chance, and I think that's what I did really well in the second set."
In the men's competition, Osaka's compatriot Kei Nishikori battled past Grigor Dimitrov 7-5, 7-5 in a rematch of the 2017 title clash in Brisbane.
Nishikori, seeking to avenge his loss in that match, staved off a comeback attempt by Dimitrov in the second set to improve his career win-loss record against the Bulgarian to 5-1.
"I want to go into the top five. That's my next goal... I think I'm playing great tennis again," world number nine Nishikori said.
Up next for Nishikori is France's Jeremy Chardy who moved in to the last-four by getting past Japanese qualifier Yasutaka Uchiyama 6-4, 3-6, 7-6(4).
Bopanna, Sharan pull off cliffhanger to move to semis; Paes/Miguel ousted
Top seeds Rohan Bopanna and Divij Sharan saved six match points in an edge-of-the-seat thriller against Leander Paes and Miguel Angel Reyes-Varela to move to the semifinals of the Tata Open Maharashtra, in Pune.
After splitting the two sets, the Super Tie Breaker turned out to be a cliffhanger in which Paes and his Mexican partner had as many as six chances to close the match but the Asian Games gold medallists held their nerves to remain alive.
At 8-8, Paes appeared to have served a double fault but the chair umpire and the linesman did not call and a livid Bopanna began an argument with the match official but to no avail.
The match had all the ingredients of a thriller in which the top seeds eventually prevailed 6-7(4), 6-4, 17-15 after one hour and 45 minutes.
Immediately after saving their sixth match point to make it 15-15, Bopanna smashed a volley winner to earn their second match point and finished it with a lob, which landed near the baseline, sailing over their opponents. The shot ended the 24-minute super tie breaker.
Nevertheless, it was a superb match played by veteran Paes who initially served big, losing just four points in the entire first set on his serve.
Miguel was easily the best player on the court with his game craft, solid returns and volleying at the net.
Left-handed Sharan was the easiest to attack as several times he just pushed the ball, giving his opponents ample time to get into position and find suitable return.
The first break chance was created by Bopanna in the fourth game off Mexican's serve when he found a backhand winner down the line but Miguel saved it with an ace.
Soon, Miguel hit a service return winner to earn two break chances for his team but Bopanna served strong to save both and also the deciding point.
Paes was the only player, of all four on court, who did not concede a single point on his serve in his first two service games even as Sharan saved two break points and a deciding point in the seventh to stay ahead.
It was Miguel who placed a perfect spin-loaded lob when Sharan served at 15-30 to earn the chances.
Bopanna held his own in the ninth and Paes was now serving to stay in the opening set. Sharan placed a winner between the two players near the base line as Paes conceded first point on his serve.
His backhand return then just went long as he went down 0-30. Bopanna tried to steal points with angles but his soft returns sailed over the side lines.
Miguel's soft hands were at play again as they saved two set points to make it 5-5.
Sharan's serve was put under pressure in the next but he and Bopanna managed to hold, saving a break point with Paes hitting the forehand on net.
The tie-breaker too was close with teams locked 4-4. From there both Paes and his partner found a volley winner each to earn their first set point.
Sharan, feeling the heat, smacked Paes' serve long to hand the opponents the first set.
Several times Sharan gave easy soft balls while Miguel in the opposite team remained solid throughout and it made a hug difference.
The top seeds drew the first blood in the second set in the third game, breaking Paes, who went down 0-40.
Bopanna found a service return winner and then the veteran Indian hit one out. Sharan hit a fierce return on the second break point as Miguel could not pick it.
The top seeds threw away the advantage with Sharan losing his serve in the next game.
Bopanna and Sharan, though, were back in the match when Paes dropped his serve for the second time in a row, again going down 0-40, struggling with his first serve.
Two more breaks followed and Bopanna served out the set at love to take it to the Super Tie Breaker.
Bopanna and Sharan are playing their first tournament together on the Tour as a team. They joined forces, keeping in mind the Tokyo Olympics.
The result means that Paes has not won a match in the last two and a half years when there is at least an Indian across the net.
While playing against Sharan, he lost four times -- at European Open (November, 2018), Citi Open (July, 2018), Bordeaux Challenger (May 2017) and Chennai Open (2017).
Against Jeevan Nedunchezhiyan also he lost four times -- at Monterrey Challenger (October, 2018), Hall of Fame Open in Newport (July, 2018) and Dallas Challenger (January 2018) and Pune Open (January, 2018).
Against Bopanna, he lost at Dubai in February, 2017.
The last win for Paes against a top Indian player came way back in September, 2016 when Paes and Andre Begemann got the better of Purav Raja and Sharan at St Petersburg Open.
Saudi Arabia may need extra time to privatise soccer clubs
Saudi Arabia's plan to privatise its soccer clubs could be delayed beyond the targeted 2020, the head of the country's soccer federation told Reuters, in what would be the latest setback to economic reforms.
Sport is one of the pillars of the government's Vision 2030 goal to raise living standards and diversify the economy beyond oil exports, while the privatisation of soccer clubs has been earmarked as an early candidate in a drive to privatise state-linked assets.
Former Croatia manager Slaven Bilić and Brazilian player Giuliano are among the top names to grace the Saudi league, in which Al Hilal are reigning champions.
The authorities previously indicated soccer clubs would be part of an initial tranche of privatisations to be finalised by 2020, but Qusai al-Fawaz said the date was uncertain.
"Privatisation is the long-term plan," he said. "I don't have an exact time for this. I don't know whether it will be 2020 or 2022 until the plan is ready."
A delay would be the latest setback to the planned sale of state assets. Last year, the country shelved plans to float oil giant Aramco, but said the sale would happen by early 2021.
Sources told Reuters last year that privatisation proposals for King Khaled International Airport in Riyadh had also stalled. Still, plans to sell flour mills are moving ahead.
The investment climate in Saudi Arabia has recently been hit by the murder of Saudi dissident Jamal Khashoggi.
Fawaz said the kingdom expected to draw up a blueprint for the privatisation of soccer clubs in the coming months.
"Nothing is seriously happening so far but we expect the privatisation of clubs will move very quickly in the upcoming months," he told Reuters. "We will pass a very comprehensive plan on how to move forward."
Jadwa Investment, one of the kingdom's largest privately owned investment banks, was previously appointed to advise on the privatisation of up to five soccer clubs in the Saudi Professional League, Reuters reported in February 2017.
"Until we get a full plan, we can't tell whether its the five clubs or full 16 (that will be privatised)," Fawaz said.
The federation, which aims to make the Saudi Professional League one of the top ten soccer leagues in the world, has attempted to clear the way for privatisation by working with global soccer governing body FIFA to try to clear some of the clubs' international debt, according to a presentation given by Fawaz at a sports conference in Dubai on Wednesday.
In another move aimed at supporting the clubs' financial stability, the authorities also helped to negotiate the largest TV coverage deal in the kingdom's history when Saudi Telecom last year agreed to pay $1.8 billion to broadcast Saudi professional matches over 10 years.
Southampton's Austin charged for gesture at Man City fans
Southampton striker Charlie Austin has been charged after appearing to make an obscene gesture towards Manchester City supporters, the Football Association (FA) said on Thursday.
Austin was caught making a two-fingered gesture towards a section of booing away fans at St Mary's Stadium while being substituted during Southampton's 3-1 Premier League defeat on Sunday.
"It is alleged that Mr Austin's gesture in or around the 68th minute of the fixture was abusive and/or insulting," the FA said in a statement.
Austin has until 1800 GMT on Jan. 7 to respond to the charge.