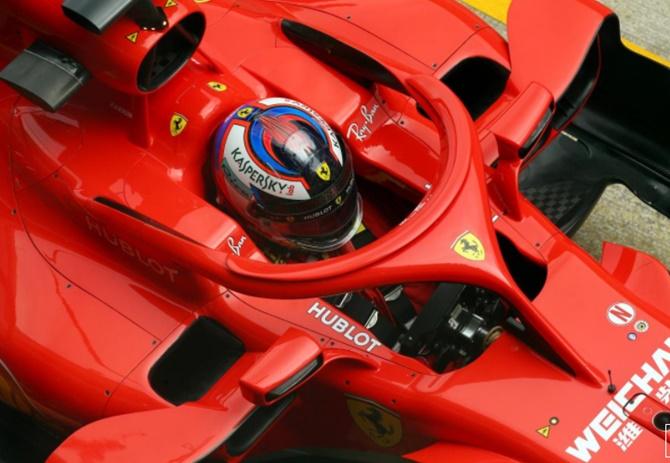 Japanese F2 driver Tadasuke Makino reckons the new 'halo' head protection device, which made its debut in the junior series and Formula One this season, may have saved his life in a race at the Spanish Grand Prix on Sunday.
The Honda-backed driver escaped uninjured after the car driven by compatriot Nirei Fukuzumi was launched into the air during the sprint race at Barcelona's Circuit de Catalunya.
The car came down on top of Makino's cockpit, with the left-rear wheel hitting the halo, a titanium ring which shields the driver's head but has been criticised by some on aesthetic grounds.
Makino told motorsport.com he thought the tyre would have hit his helmet without the halo and felt the device had saved his life.
FIA race director Charlie Whiting, speaking to reporters after the later Formula One race, agreed the Japanese driver could have been the first beneficiary of the decision to implement the device.
"We will do an incident investigation on that one because judging by the photos we've seen, and the accident itself, it looks very much as if it could have been a lot worse without the halo," he said.
"When you look at the tyre marks on the bodywork behind and all the way down the side of the halo, where the tyre marks start on the halo is exactly where one of the two test loads is applied.
"Even if it didn't actually save his life, it could have been nasty without the halo."
Sport Australia warns missing African athletes to comply with visas
Australia's Minister for Home Affairs Peter Dutton said on Tuesday that a group of African athletes who went missing during the Commonwealth Games must give themselves up or face being deported.
Eight athletes from Cameroon, two from Uganda and a Rwandan para-powerlifting coach went missing from the April 4-15 Games at the Gold Coast, local media have reported.
The athletes will be in Australia illegally from midnight on Tuesday when their visas expire, unless they have taken legal steps to stay.
"If they breach the conditions, they're subject to enforcement action," Dutton told reporters on Tuesday.
"Like anyone else, they're expected to operate within the law, and enforcement action will take place to identify those people and to deport them if they don't self-declare."
Some of the athletes had contacted a refugee advice centre in Sydney, the Daily Telegraph newspaper reported.
"Some have been to us for advice," Ben Lumsdaine, a solicitor at the Refugee Advice and Casework Service, told the paper on Tuesday.
Australia's immigration authorities often grant temporary 'bridging' visas that allow in-country residency applicants to remain while their cases are assessed.
The eight Cameroon athletes comprised one-third of its 24-athlete delegation to the Gold Coast Games.
Illegal immigration is a highly contentious political issue in Australia.
Australia's hardline immigration policy, which requires asylum seekers intercepted at sea to be sent for processing to camps in Papua New Guinea and Nauru, has been condemned by human rights groups.
Australia defends its tough law by saying it deters people from making dangerous sea journeys to try to reach its shores after thousands drowned.
US states look to cash in on New Jersey's winning sports bet
A handful of US states are in position to capitalise quickly on New Jersey's victory at the US Supreme Court allowing it to legalize sports betting, and more than a dozen others could follow suit before long.
Monday's ruling opened the door for states to grab a slice of an estimated $150 billion US sports betting market, an enticing new revenue stream for state budgets that have been pressured by years of slow economic growth.
Five states - Connecticut, Mississippi, New York, Pennsylvania and West Virginia - already have sports betting laws in place that would allow them to move quickly following the Supreme Court's decision, according to Fitch Ratings. Fourteen others have introduced sports-gaming legislation in recent legislative sessions.
"This new opportunity for states may result in 2018 being the single largest year for gaming expansion," S&P Global Ratings said in a report released after the ruling.
Sports fans wager Supreme Court ruling won't ruin their fun
Sports fans on Monday shrugged off a US Supreme Court ruling that could open the door to legalize sports betting, saying it would likely have little impact on baseball, basketball and football games already subject to off-the-books gambling.
The nation's top court struck down a 1992 law that widely outlawed gambling on college and professional sports, calling it unconstitutional and likely touching off a rush by gaming businesses and states to cash in on an expected multibillion-dollar industry.
"I don't bet sports, but I think people will do what they always do. If they want to gamble, they're going to find a way to gamble," Kevin Getler, 56, said as he arrived at the Red Rock Casino Resort on Monday afternoon for a Las Vegas Knights playoff hockey watch party.
The fans gathered at the Red Rock to see the Knights, who are in their inaugural National Hockey League season, take on the Winnipeg Jets, saw the legalization of sports betting as having little impact on the Las Vegas tourism or gaming economies.
"It's not going to hurt nothing. As far as gambling goes, this thing has been going on for years. You're never going to hurt this town. We've got so much to offer," said Edward Millard, a native of Philadelphia who has lived in Las Vegas for two decades.