A summary of sports events and sports persons, who made news on Tuesday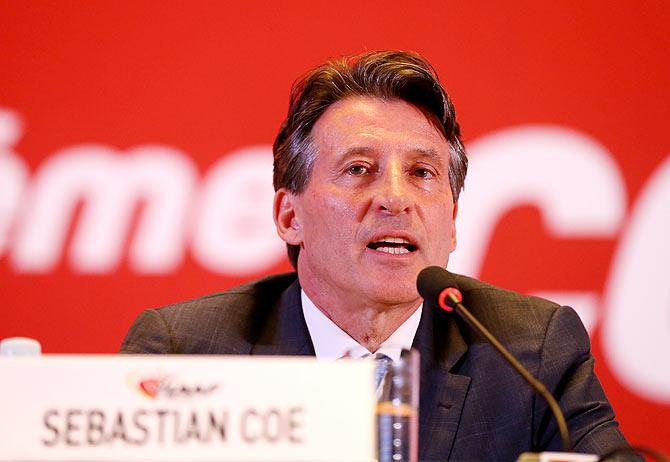 IMAGE: IAAF president Sebastian Coe. Photograph: Alexander Hassenstein/Getty Images for IAAF
European Athletics called on Monday for new record ratification rules to maintain the integrity of the sport which could have a big impact on existing marks.
The organisation wants higher technical standards and increased doping control measures, with recognition for previous race records not satisfying new rules to be transferred to performances that meet the criteria.
European Athletics will forward a report to the International Association of Athletics Federations (IAAF) which will study it at its Council meeting in August.
The report proposes that world and European records should only be recognised if the performance is achieved at an approved event where high standards of officiating and technical equipment can be guaranteed.
It also calls for an agreed number of doping control tests in the months before the performance and the doping sample after the record to be stored and made available for re-testing for 10 years.
"I like this because it underlines that we (athletics governing bodies) have put into place doping control systems and technology that are more robust and safer than 15 or even 10 years ago," IAAF President Sebastian Coe said.
"There will be athletes, current record holders, who will feel that the history we are recalibrating will take something away from them but I think this is a step in the right direction and if organised and structured properly we have a good chance of winning back credibility in this area."
However, Britian's Paula Radcliffe, who faces losing her 2003 women's marathon world record under the new criteria, called the proposals "cowardly".
"I am hurt and do feel this damages my reputation and dignity," she said in a statement on twitter, adding that the governing bodies had "again failed clean athletes."
Radcliffe added that the proposed changes were "heavy handed" and "confusing to the public".
Selby comeback earns third world snooker crown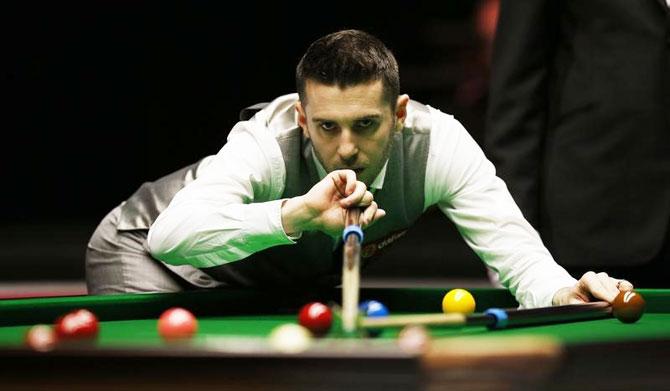 IMAGE: Mark Selby. Photograph: Peter Cziborra Livepic/Action Images
England's Mark Selby produced a magnificent comeback to beat John Higgins 18-15 in the final of the world snooker championship at Sheffield's Crucible Theatre on Monday and win the global crown for the third time.
The defending champion from Leicester had found himself 10-4 down at one point on Sunday after an uncharacteristically poor day at the table and was staring at defeat in the 35-frame showpiece against Scotland's four-time winner Higgins.
Yet a superb performance on the second day illustrated why 33-year-old world number one Selby has become recognised as one of the finest match players the game has seen as he battled back to dominate and record his third win in four years.
He became only the fourth player after Steve Davis, Stephen Hendry and Ronnie O'Sullivan to win back-to-back titles since the event was first held at The Crucible in 1977 as he collected a record 375,000 pounds ($483,300.00) winner's cheque.
An epic final had its major moment of controversy in the 31st frame when Selby, leading 16-14, was penalised after referee Jan Verhaas judged that he had failed to roll the cue ball up against the black when playing for a snooker.
Selby felt he had hit the black but went on to lose the frame which cut his lead to one frame.
He showed remarkable composure to put the disappointment behind him and compiled a superb break of 131 in the next frame to leave him one away from successfully defending his title.
Selby then wrapped up victory with another nerveless break of 75.
Wimbledon prize money set to exceed £2m: Report
Prize money for this year's Wimbledon singles champions will see a steep rise, i.e. beyond 2 million pounds, a report suggests.
The All England Club is expected to announce the amount on Wednesday and it is reported that the prize money would be 2.25 million pounds to maintain its dollar value compared to previous years.
A report from The Times has said that this year the increase in the prize money at the Wimbledon could be significantly larger as the All England Club aims to compensate for the falling pound following the Brexit vote.
Singles champions Andy Murray and Serena Williams received 2 million pound each in 2016, a figure approximately equal to US $2.92 million. This was a 6.4 percent rise on 2015's prize money. At the time of the competition last year, the exchange rate was US $1.46 to the pound.
However, the value of the pound now stands at US$1.29, meaning that the 2017 prize would only be worth US$2.58 million.
In order to match the US Open, which in 2016 gave US$3.5 million apiece to its singles champions, the All England Club would have to announce a significant increase.
The Guardian quoted a spokeswoman for Wimbledon, who did not confirm the report, as saying, "The All England Lawn Tennis Club always takes into account the business and economic context of tennis worldwide, including any currency fluctuations, when determining prize money for each year's championships."