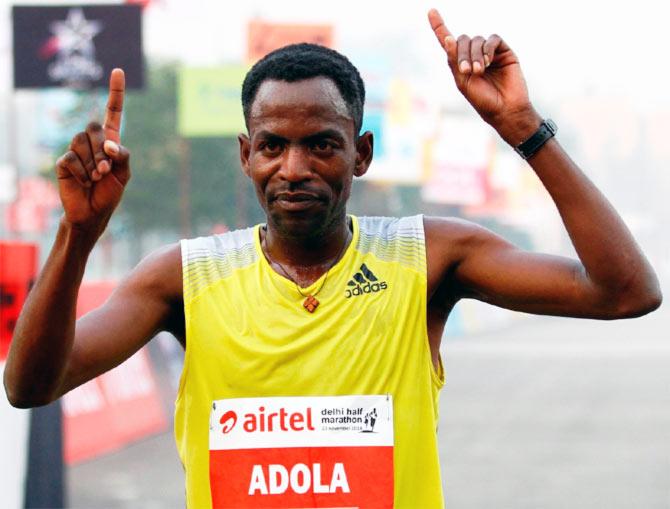 Guye Adola of Ethiopia celebrates winning the Delhi Half Marathon.

Ethiopian Guye Adola demolished the course record to win the men's race while Kenyan Florence Kiplagat became the first runner to defend the women's crown in the Delhi Half Marathon, on Sunday.
Among the Indians, the men's category was won by Suresh Kumar 01:04:38 followed by Nitender Singh Rawat 01:04:54 and Kheta Ram 01:04:56.

Among the Indian women, Preeja Sreedharan successfully defended her title (01:19:03) followed by Monika Athare 01:19:12 and Sudha Singh 01:19:21.

Adola stopped the clock at 59.06 minutes to lower by six seconds the course record of 59.12, set by countryman Atsedu Tsegay last year. His winning time took him to third place in this season's top lists for the above distance. He was followed home by Kenyans Geoffrey Kamworor in 59.07 and Mosinet Geremew (59.11), who also broke the existing record.

Kamworor improved his World championship winning time from Copenhagen by a second to 59:07 in Delhi. A familiar face on Delhi roads, the Kenyan replicated his runner-up positions here from 2011 and 2013 races.

Ethiopian Adola, who came from nowhere to a third place in the Worlds at Copenhagen, ran a well calculated race to topple the Kenyan's dream of taking the Delhi title this year.

Sarjubala, Saweety enter final of World Boxing Championships

India's Sarjubala Devi (48kg) and Saweety (81kg) continued their prolific form to enter the Women's World Boxing Championships with thumping wins and assure themselves of at least a silver each, in Jeju, on Sunday.

Sarjubala, World youth champion in 2011, defeated Thailand's Chuthamat Raksat 38-38, 40-36, 39-37, while Saweety got the better of Anastasiia Chernokolenko 39-37, 40-36, 40-36 in the semi-finals.

Sarjubala opened the proceedings for India and was off the blocks aggressively against her rather slow-moving rival, who failed to capitalise on the height advantage.

The judges unanimously gave the round to Sarjubala but Raksat staged a comeback in the next with some deftly placed right jabs on counter-attack. But that did not bog Sarjubala down and she came roaring back to clinch the round with some precise left hooks and also emerged superior in the third round.

She will face Nazym Kyzaibay of Kazakhstan in the final.

Saweety was the next to take the ring for India and she was equally dominant. She will be up against Xiaoli Yang of China in the summit clash, on Monday.