A summary of sports events and sports persons, who made news on Wednesday.
Ennis-Hill not expecting Chernova apology after doping ban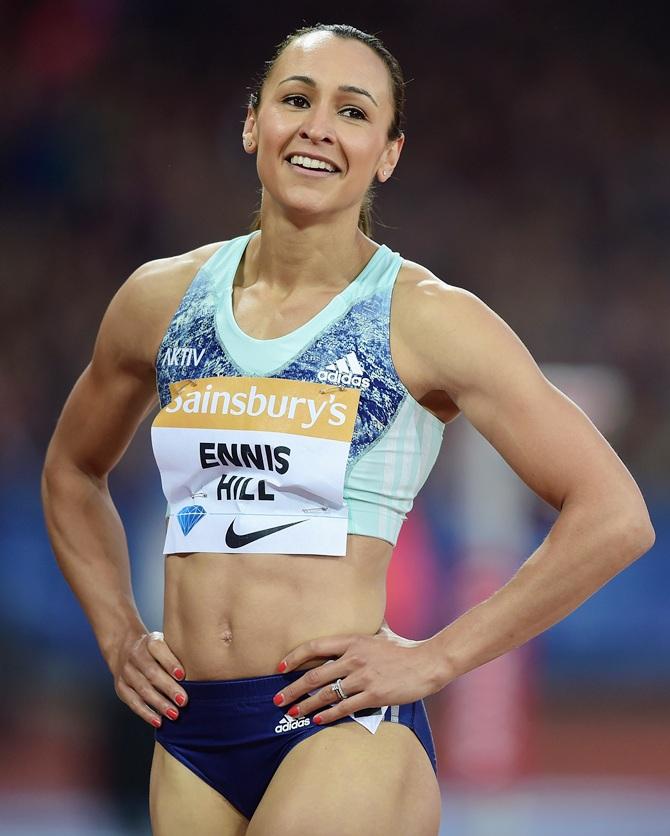 IMAGE:Jessica Ennis-Hill. Photograph: Jamie McDonald/Getty Images
Britain's Jessica Ennis-Hill does not expect to receive an apology from Tatyana Chernova after the Russian heptathlete was stripped of her 2011 world title for a doping violation but she is eager to get her hands on the gold medal.
Chernova won heptathlon gold ahead of Ennis-Hill at the 2011 World Championships but was stripped of the medal along with her bronze in the 2012 London Olympics by the Court of Arbitration of Sport (CAS) in November due to blood doping.
Chernova has not issued a public apology after her ban and Ennis-Hill said she was not counting on getting one.
"If she was to apologise it would make it that bit easier but I don't think it will ever happen," Ennis-Hill was quoted as saying by the Times.
"People who are doing it don't believe they are doing anything wrong. They think everyone's doing it. There are not many cases where people say, 'I'm really sorry, I shouldn't have done that'. It never happens because they are in denial."
The 31-year-old, who also won the world title in 2009 and 2015, retired last year and is hoping she will receive her medal at the Olympic Stadium in London, which will host this year's World Championships.
Chernova was also stripped of her bronze from the 2008 Olympics with Briton Kelly Sotherton set to receive the medal.
Sunderland's Moyes charged by FA over 'slap' comment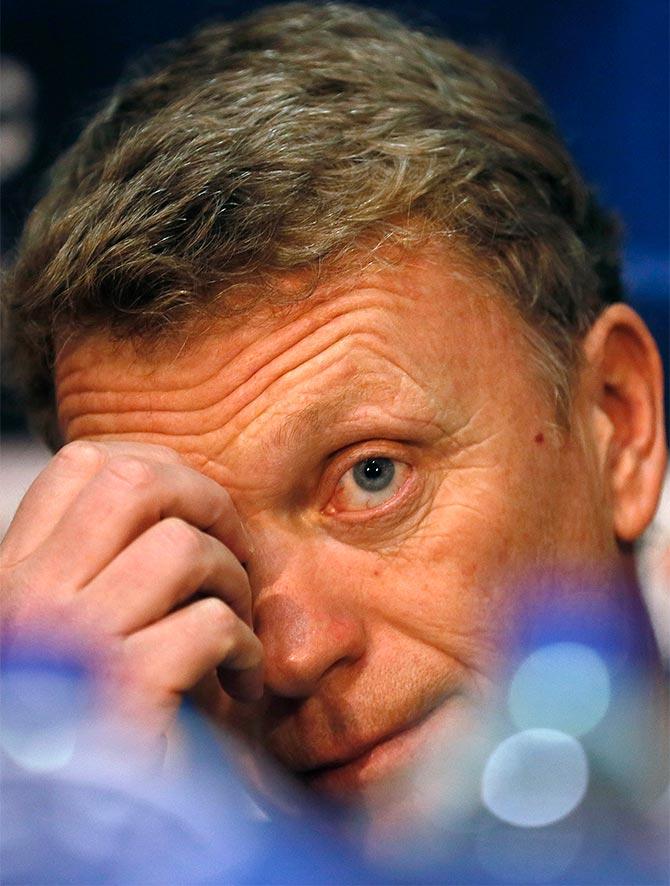 IMAGE: David Moyes. Photograph: Stefan Wermuth/Reuters
Sunderland manager David Moyes has been charged by the English Football Association for telling a reporter that she "might get a slap even though you're a woman" during an interview after his side's goalless Premier League draw against Burnley in March.
FA chairman Greg Clarke had criticised Moyes for his comments.
"It is alleged the Sunderland manager's remarks were improper and/or threatening and/or brought the game into disrepute, contrary to FA Rule," the FA said in a statement.
Former Manchester United manager Moyes, who had apologised for his comments, has until May 3 to reply to the charge.
F1 to ditch 'halo' protection device in favour of screen
Formula One is set to abandon plans for a 'halo' head protection system in favour of a transparent screen that could be introduced for 2018.
The governing International Automobile Federation (FIA) announced the development following a meeting of the sport's core Strategy Group in Paris on Tuesday ahead of this weekend's Russian Grand Prix.
"A number of more integrated solutions for additional frontal protection have been studied, and the decision has been taken to give priority to the transparent 'shield' family of systems," it said in a statement.
"The FIA aims to carry out track tests of this system during this season in preparation for implementation in 2018."
The 'halo' cockpit protection device, which is fixed at three points including a central pillar in front of the driver that supports a protective loop above his head, was extensively tested last season with a mixed response.
The FIA said in January the net safety benefit had been established but a decision needed to be made about the aesthetics and whether such a system was right for Formula One.
Cockpit protection has become a priority since the deaths of drivers in other series after being hit by wheels and flying debris.
The shield, a see-through screen in front of the driver that does not cover the cockpit, was tested in practice for this year's Chinese Grand Prix.
Decisions made at the Strategy Group have to be approved by the FIA's World Motor Sport Council, which is usually a formality.
Tuesday's meeting also agreed changes to the 2018 regulations that will lead to the disappearance of the current 'T-wing' and 'Shark Fin' aerodynamic devices that have also been criticised on aesthetics grounds.
Measures will also be taken to ensure that oil will not be used as fuel.
The Strategy Group, which is currently limited to top teams, will also be opened to non-members.
The governing body said this would demonstrate "the effective commitment of both the FIA and the Commercial Rights Holder to improve transparency in the sport."
Court orders convicted killer goalkeeper back to jail in Brazil
The goalkeeper who served part of a 22-year sentence for murder before returning to football in April has been ordered back to prison, Brazil's Supreme Court ruled.
Bruno Fernandes handed himself in to police after the court ruled the decision to release him was 'unviable.'
However, he returned to his club's base in the small town of Varginha because police did not have the correct paperwork to detain him overnight.
"He came to the police station but we didn't have the documents to hold him," Thiago Gomes, an investigator at the police station, told.
"He went to the hotel where the players are living and tomorrow at midday he is going to the courthouse to present himself to the judge."
Brazil's Supreme Court ruled by three votes to one earlier in the day to overturn a February appeal ruling that allowed Fernandes to leave jail.
"The decision reestablishes Bruno's custody," the court said in a statement.
Fernandes, a once promising goalkeeper who won the first division with Flamengo in 2009, was arrested in 2010 and found guilty of murdering his ex-girlfriend, who was the mother of his son, and feeding her body to dogs.
He served seven years of a 22-year jail sentence before being released and was then signed in March by Boa Esporte, a small team in Brazil's second division.
He has played in several league games since making his debut in April.
The club was not immediately available for comment. Media reports said they had cancelled Tuesday afternoon's training session.
Fernandes's lawyer, Lucio Adolfo da Silva, was quoted as saying by the UOL website that the player would appeal the court's decision.