A summary of sports events and sports persons, who made news on Tuesday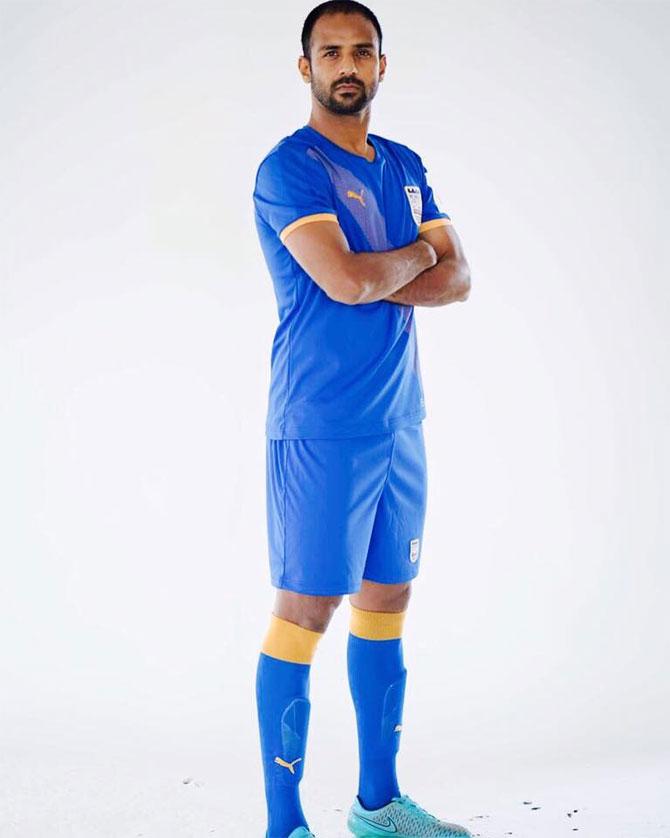 IMAGE: EB central defender Anwar Ali. Photograph: Anwar Ali/Facebook
Former India international and East Bengal's central defender Anwar Ali suffered a heart attack on Tuesday while returning home after a training session, but is said to be stable now.
The central defender was returning from practice when he suffered the heart attack, prompting his teammate Gurwinder Singh to rush him to the hospital on EM Bypass.
"He was admitted with discomfort and uneasiness. The ECG and angiogram report showed no major blockages. He's is doing okay and stable now. He is young and age is on his side," Sunip Banerjee, cardiologist at MedicaSuperspecialtyHospital, told PTI.
This is a fresh blow to East Bengal, who have already given up on their title aspirations in the I-League, but the player has not been ruled out of the Federation Cup as yet.
"He should be fit to play before the Federation Cup. We are awaiting some other blood reports to see when he can be discharged," the doctor added.
The defender was sidelined after the club's 1-3 loss to Churchill Brothers as East Bengal went on to lose four matches in a row to bow out of the I-League title race.
Harikrishna loses to Kramnik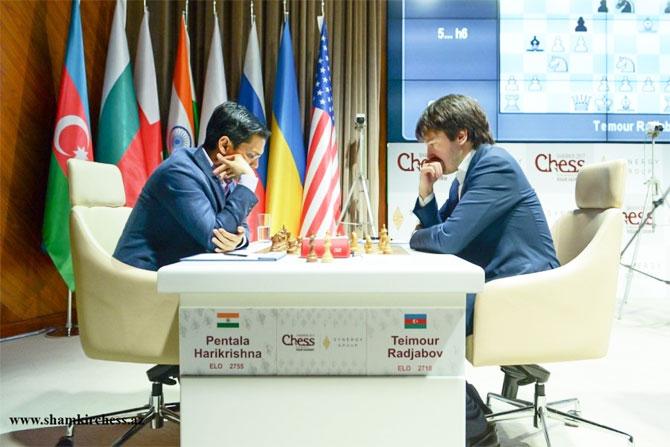 IMAGE: P Haririshna and Teimour Radjabov during their match on Sunday. Photograph: Harikrishna/Twitter
Indian Grandmaster Pentala Harikrishna fought hard before going down against World No 4 Vladimir Kramnik Russia in fourth round of the Shamkir Chess tournament, in Shamkir, Azerbaijan, on Monday.
The Russian took 42 moves to finish the game against the World No 14 Indian Grandmaster, who tried all tricks up his sleeves but failed to save the game.
Earlier on Sunday, Harikrishna played an interesting game against local Grandmaster Teimour Radjabov.
The Hyderabadi used Ragozin defense but to his dismay his opponent surprised him with counter moves in the third round game. Harikrishna was quick enough to display his meticulous skills and turned the game into a half point in quick 28 moves.
With two draws and two losses so far in the tournament, Harikrishna is currently placed in the 10th position with one point.
The Hyderabadi will take on World No 10 and local favourite, Grand Master Shakhriyar Mamedyarov in round five later on Tuesday.
Mamedyarov is currently enjoying pole position with three points.
Russian heptathlete stripped of Beijing 2008 bronze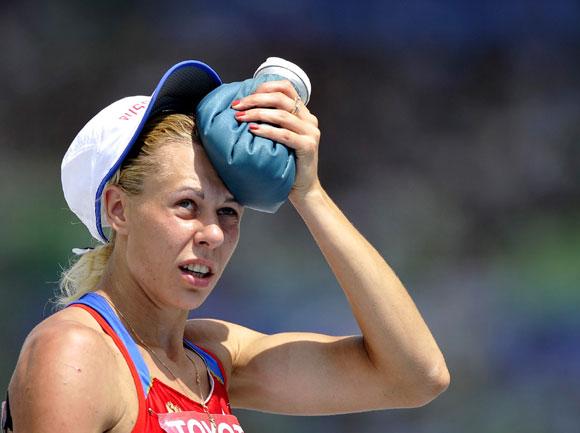 IMAGE: Tatyana Chernova. Photograph: Dylan Martinez/Reuters
Russian Olympic heptathlete Tatiana Chernova was stripped of her 2008 Beijing Games bronze medal on Monday after she tested positive to banned substances in re-tests of her sample.
Chernova's 2008 sample tested positive for anabolic steroid turinabol as did the sample from the 2012 Olympics of fellow Russian Maksim Dyldin, who was fifth with the 4x400m relay team at the Games in London.
Cheronova initially finished fourth in Beijing but was upgraded to bronze after Ukraine's Liudmyla Blonska tested positive in 2008. Britain's Kelly Sotherton, originally fifth, is now in line to be promoted to the bronze medal position.
More than 100 athletes have had positive results in re-tests of samples taken during the London 2012 and Beijing 2008 Olympics conducted by the IOC.
The re-testing programme is part of the IOC's efforts to catch cheats using newer testing methods or looking for substances that were not known at the time of past Olympics, and to prevent them from competing in future Games.
Samples are stored for a decade, and for the 2008 and 2012 re-tests Russia has had the most positive cases per nation.
Inter confine players to training camp, back coach Pioli
Inter Milan's players will be confined to their training ground for the rest of the week after what the club described as an unacceptable Serie A defeat at Fiorentina on Saturday.
The club also backed coach Stefano Pioli who, according to Italian media, offered his resignation after a second-half collapse when Inter conceded four goals in 17 minutes on their way to a 5-4 defeat.
"Following Saturday's result... the club has called the entire first team squad in for an extended 'ritiro'," Inter said in a statement, adding that the measure would remain in force until Sunday's match at home to Napoli.
"The manner of the defeat at Fiorentina was unacceptable for our supporters both in Italy and abroad, and we are determined to put this right.
"Everyone at the club, from the players to all staff, are now focussed on working as hard as possible to achieve the maximum result and finish the season strongly."
The 'ritiro' is a standard response to poor performances at Italian clubs, although critics say it is outdated and makes highly paid professional players look like misbehaving school children.
The players sleep at accommodation in the training ground or at a hotel, depending on the club's facilities.
Eighteen-times Italian champions Inter have not won a major trophy since lifting the Coppa Italia in 2011 and have failed to qualify for the Champions League for the last five seasons.
They are currently seventh in Serie A, outside the Europa League qualifying slots.