Summary of sports events and persons who made news on Thursday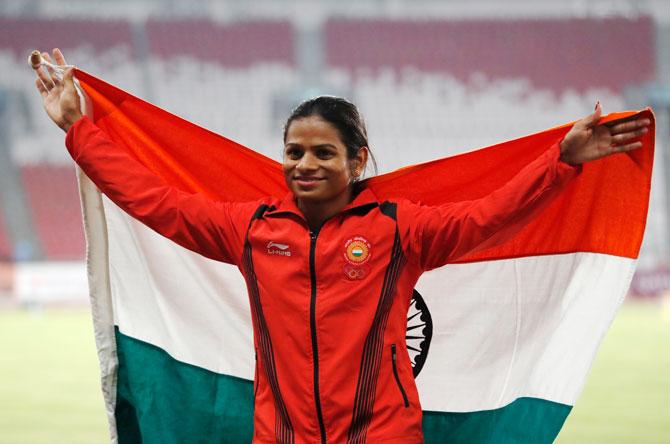 Indian sprinter Dutee Chand will get custom-made gear in her bid to qualify for next year's Tokyo Olympics after signing a two-year deal with Puma, the German sportswear company said on Thursday.
Like South African Olympic champion Caster Semenya, Chand suffers from hyperandrogenism but was cleared to race in 2015 following a Court of Arbitration for Sport (CAS) ruling on gender testing guidelines.
The 23-year-old from Odisha won silver in both 100 and 200 metres sprints at last year's Asian Games in Jakarta and also claimed gold in the 100 sprint at the Universiade in Italy this year.
"This is my very first exclusive brand association and I'm thrilled that it's with a company that has worked with legendary athletes like Usain Bolt, the fastest man alive," Chand, who is yet to qualify for next month's World Championships at Doha, said in a statement.
In May, Chand is the first Indian sportswoman to reveal that she is in a same-sex relationship with a girl from her hometown, Chaka Gopalpur in Odisha.
Five debutants in India squad for women's world boxing championships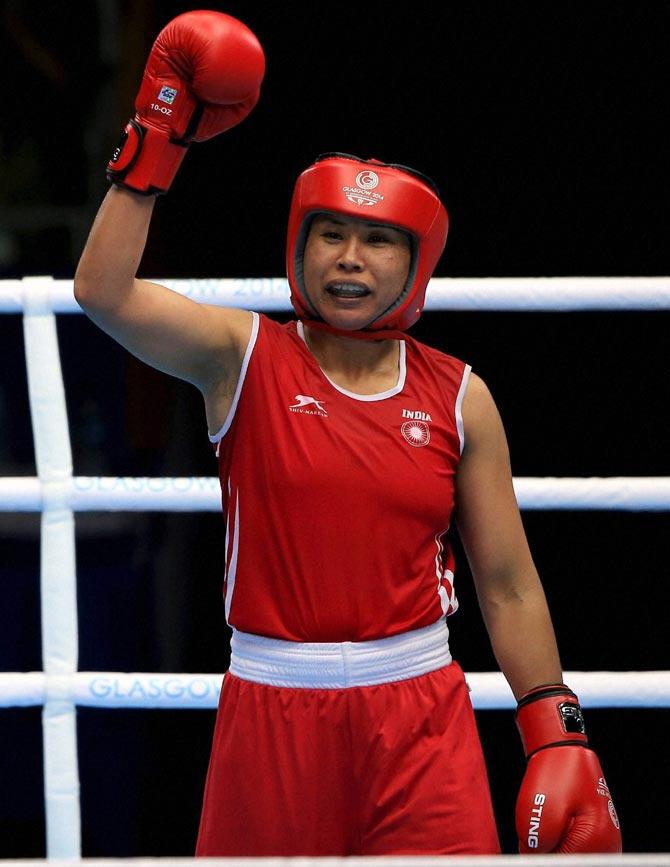 Veteran Sarita Devi (60kg) will be gunning for her first world championship medal in more than 10 years after she was named in India's 10-strong women's boxing squad on Thursday, along with five debutants.

Along with Sarita, India Open gold-medallists Neeraj (57kg) and Jamuna Boro (54kg) also made the squad which will be headlined by six-time world champion M C Mary Kom (51kg), who was picked on Wednesday without a trial on the basis of her performance in the past few months.

Manju Rani (48kg), Jamuna Boro (54kg), Neeraj (57kg), Manju Bomboriya (64kg), and Nandini (81kg) will be competing in the mega-event for the first time.

Mary Kom's selection without a trial was on Wednesday criticised by former junior world Nikhat Zareen, who alleged that she was stopped from fighting a scheduled trial bout on Tuesday.

World Championships bronze medallist Lovlina Borgohain (69kg) was also picked without undergoing trials, which concluded on Thursday. The big event is scheduled in Russia from October 3 to 13.

Eight-time Asian medallist Sarita Devi, a world champion in 2006, confirmed her place after defeating last year's world bronze-medallist Simranjit Kaur. Simranjit had won a gold in the Indonesia President's Cup last month.

Fresh from claiming the gold at the Umakhanov Memorial International last week, Haryana pugilist Neeraj continued her winning streak by edging Asian Championships bronze-medallist Manisha Moun to secure the 57kg berth.

In the 75kg category, Asian Championships gold-medallist Pooja Rani was beaten by Saweety Boora, a gold-medallist from the same tournament a year before.

In 48kg, Strandja Cup silver-medallist Manju Rani overpowered President's Cup gold-medallist Monika to claim a spot in the squad.

The 64kg also witnessed an upset when Assam's 2017 world youth champion Ankushita Boro was blanked by Madhya Pradesh girl Manju Bomboriya.

President's Cup gold-medallist Jamuna Boro had to dig deep to stave off a stiff resistance from Shiksha and book her 54kg ticket.

In 81kg, Chandigarh's Nandini outlasted Lalfakmawi while Kavita Chahal emerged triumphant over Neha Yadav in +81kg.

India's squad for Boxing World Championship: Manju Rani (48kg), M C Mary Kom (51kg), Jamuna Boro (54kg), Neeraj (57kg), Sarita Devi (60kg), Manju Bomboriya (64kg), Lovlina Borgohain (69kg), Saweety Boora (75kg), Nandini (81kg), Kavita Chahal (+81kg).
Mary Kom, Bhutia in 12-member selection panel for national sports awards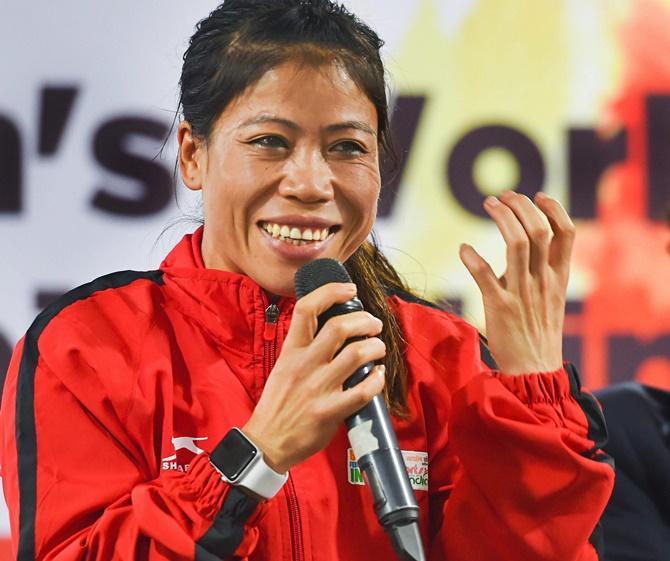 In a departure from convention, the national sports awards for athletes and coaches this year will be decided by a single 12-member panel, featuring the likes of six-time world champion boxer M C Mary Kom and former football captain Bhaichung Bhutia.
The awards will be given away on August 29, the birth anniversary of hockey wizard Major Dhyan Chand which is celebrated as the National Sports Day.
"This year we are trying out a new idea of one selection committee for all the awards. We feel too many committees are unnecessary as they only make things difficult and create controversies," a Sports Ministry source told PTI.
The 12-member committee is headed by Supreme Court judge Justice (Retd) Mukundakam Sharma and comprises Sports Secretary Radhey Shyam Jhulaniya, Sports Authority of India Director General Sandeep Pradhan, Target Olympic Podium Scheme (TOPS) CEO Commander Rajesh Rajagopalan, Mary Kom, Bhutia, ex-women's cricket team captain Anjum Chopra, celebrated former long-jumper Anju Bobby George and table tennis coach Kamlesh Mehta among others.
Besides, the committee also features two mediapersons in Chief Editor of Times Group (Digital) Rajesh Kalra and renowned sports commentator Charu Sharma.
Unlike previous editions, this committee will handpick all the winners of National Sports Awards -- the Rajiv Gandhi Khel Ratna, Arjuna Award, Dronacharya Award (for coaches), Dhyan Chand Award (lifetime achievement) and Rashtriya Khel Protsahan Award.
After considerable delay, the selection committee was finalised on Wednesday.
"Yes, we know we are little late in forming the committee but we have ample time in our hands to select the awardees," the source said.
The official further said the first meeting of the selection committee will be held early next week. By the end of the week, the award winners are likely to be announced.
Tour de France winner Bernal gets hero's welcome in hometown
Cyclist Egan Bernal, the first Latin American to win the Tour de France, got a hero's welcome from thousands of fans in his hometown of Zipaquira, Colombia, on Wednesday.
The 22-year-old Bernal, the youngest rider to win the race in 110 years, promised a cheering crowd in the main square of this small Andean city that he would pursue further triumphs.
"I want to have my feet on the ground, to continue to work as I have been until now, to enjoy the bike, and if some day we can win another Tour de France, we'll try for a third. If we win the third, then a fourth and a fifth," Bernal said.
"This is like a drug, you win one and you want more and more," said the climbing phenomenon, who gave Team Ineos -- formerly Team Sky -- their seventh title in the last eight editions.
"I want people to feel this triumph as their own."
Bernal was crowned the Tour winner in July after retaining the overall leader's yellow jersey during the 21st and final stage, beating teammate and defending champion Geraint Thomas of Britain by one minute 11 seconds.
Bernal started his training as a cyclist at 8 years old. His former coach still trains young riders, who he has said idolize Bernal.
"He's a superhero for many," said mechanical engineer Jairo Sierra, 43, who drove from Bogota, the nearby capital, to attend the celebration, where attendees chanted "Champion Egan, Champion!"
Waving a cyclist figurine that she fashioned out of yarn, 35-year-old Andrea Malaver said Bernal had brought joy to many of her fellow citizens. "He's an inspiration for all Colombians," she said.
Colombian riders, accustomed to the thin air and steep slopes of the Andes, have a long, proud tradition of being competitive on the Tour.
Rigoberto Uran and Nairo Quintana also rode in this year's race. Quintana, a Giro d'Italia and Vuelta a Espana champion, had finished runner-up in the Tour in 2013 and 2015.
The race was just Bernal's second Grand Tour, after finishing 15th last year.
On stage, the cyclist echoed the hopes of many in the crowd that he will enjoy a long career. "There'll be Egan for awhile."
Sprint queen Thompson golden but does not shine at Pan Ams
Jamaican sprint queen Elaine Thompson may be the biggest name competing in a marquee event at the Pan Am Games but the Olympic champion failed to shine as she won gold in the 100 meters on Wednesday.
A chilled crowd at the Estadio Atletico had hoped to see something special from the 2016 Rio Games champion but cold conditions and a ho-hum field delivered an ordinary result with Thompson crossing unchallenged in a time of 11.18 seconds.
Trinidad and Tobago's Michelle-Lee Ahye took the silver in 11.27 and Brazil's Vitoria Cristina Rosa the bronze (11.30).
While Thompson has clocked the season's best time of 10.73, her effort on Wednesday was not enough to crack the top 20 this year but more than enough to successfully keep in Jamaican hands the title won by four years ago by Sherone Simpson in Toronto.
"It was cold but I know everyone out there was cold," Thompson told reporters.
"I just came out here to use this as preparation for the world championships.
"It's my first time (here), I don't think there is anything wrong with being high profile athlete here representing myself and my country."
While Thompson was blase about her win, Mike Rodgers was over the moon after grabbing the United States the men's 100m gold for the first time in 20 years.
Rodgers winning time of 10.09 was also unspectacular but the 34-year-old sprinter could not hide his delight at putting the US back on top.
"Very, very happy to bring gold back to the US for the first time since Bernard Williams won," smiled Rodgers. "I brought home the gold.
"It was cold and I didn't think I was going to run that fast. I got through it, my start wasn't the best but I just focused on my race and just out executed everybody.
"My first gold at senior level at my first Pan American Games, I'm so happy to finally have some success.
"I got over the mountain today."
Brazil's Paulo Andre de Oliveira took the silver in 10.16 while Antigua and Barbuda's Cejhae Greene completed the podium in 10.23.
While Jamaica is well known for their prowess in the short sprints there was also gold on Wednesday for Natoya Goule, who became the first from her country to win the women's 800m.
On the opening day of the athletics competition on Tuesday, Jamaican discus thrower Fedrick Dacres wiped out one of the Pan Am Games oldest records with a toss of 67.68m that bettered the mark set in 1983.
Junior NBA C'ship: Indian squads suffer consecutive defeats
In a disappointing outing, both the Indian boys and girls team suffered back-to-back defeats to end winless on the second day of the Junior NBA Global Championships in Orlando.
After a loss in the first game on the opening day, the Indian girls began on a dominant note against their Africa, leading 20-12 at halftime. However, they had no answer for Africa in the second half, as they were outscored 45-16.
For the second consecutive game, Muskan Singh was the team's top-scorer with 11 points. Her teammate in the backcourt, Osheen Singh contributed across the board with five points, eight rebounds, and four steals.
After a few hours, the girls were back on the court for their third and final pool game. This time, it was against the team from Europe & Middle East.
After a close first quarter (7-15), the game ran away from the Indian girls. They were outscored 23-5 in the second quarter and failed to make up that deficit in the second half as they succumbed to a 23-62 loss.
The Indian boys, after a win on the opening day, couldn't do a lot in their first game on day two.
They were outscored 43-14 in the first half against Africa, eventually losing 21-63.
In their third and final pool play, they were headed towards a win after leading 30-15 at halftime against Europe & Middle East. However, they managed to score only 11 points in the second half while allowing 37, leading them to suffer their second consecutive defeat (41-52).
Kushal Singh's double-double of 15 points and 14 rebounds along with five blocks went in vain. Harsh Dagar also registered a near double-double of seven points, nine rebounds to go along with three assists, and three steals.