Summary of sports events and persons who made news on Friday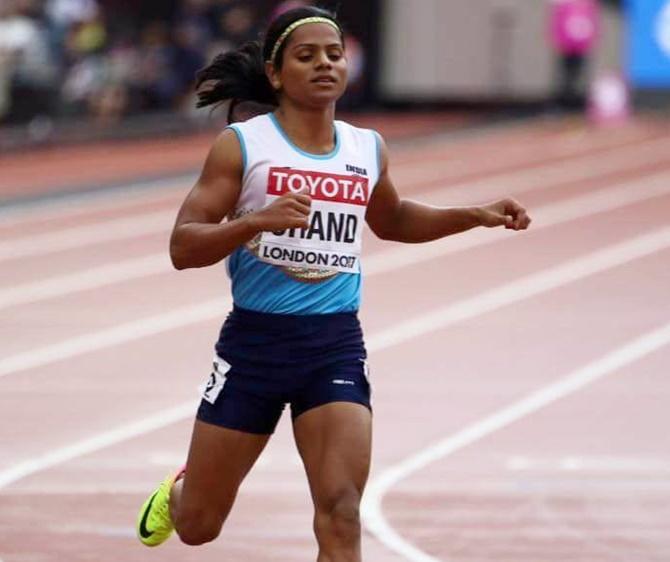 Competing in her fifth race in three days, Dutee Chand finished fifth in the women's 200m final at the World University Games in Napoli.
Dutee clocked 23.30 seconds in the race, a tad slower than her bronze-winning time of 23.24 at the Asian Championships in April. She has a personal best of 23.00 seconds in 200m.
The 23-year-old later competed in the women's 4x100m relay, her sixth race in three days, but the Indian quartet could only finish sixth in heat 1 and overall 13th with a time of 46.23 seconds.
The Indian men's 4x100m relay team clocked 40.73 seconds to finish fourth in heat number 3 and 11th overall.
Dutee had become the first Indian woman track and field athlete to clinch a gold medal at the World Universiade after she won the 100m dash event on Tuesday.
Vijender set for US debut against Mike Snider on Saturday
Indian boxing star Vijender Singh will be back in action after more than a year when he will take on American Mike Snider in an eight-round super middleweight contest here on Saturday.
WBO Oriental and Asia Pacific super middle-weight champion Vijender holds a record of 10-0 (7 knockouts).
"I think it's going to be a great show. I'm focused on my boxing career and my craft. I want to fight two more times this year, keep busy and work towards a world title opportunity," he said in a pre-bout press conference here.
"I am fully geared up for this fight and my strategies against Mike Snider are already in place as discussed with my team including trainer Lee Beard. I am ready to knock down Snider in the early rounds," he added.
On the other hand, Snider, who holds a record of 13-5-3, is confident of defeating the Indian boxer.
"My trainers looked at Vijender and watched several of his fights. They told me what he does well and what we can do to exploit his weaknesses. The game plan is going to come from my trainers and what they've seen," he said.
"There's always pressure on me because I never go off anyone else. I love winning fights people say I can't win. I always love proving people wrong. I've been doing that my whole life," he added.
The fight between Vijender and Snider will be telecast live in India on Sunday at 4:30 am onwards on Sony Ten 1.
IOA takes over administration of India Golf Union and Assam Olympic Association
The Indian Olympic Association has formed an ad-hoc panel to run the affairs of its Assam unit and hold elections, while also constituting a governance committee for similar purpose in golf.
The four-year term of the office bearers of the Assam Olympic Association, headed by former Chief Minister Tarun Gogoi, has already ended and it had last informed the IOA about its intention to hold elections in February this year.
The AOA did not ultimately hold the elections and the IOA was forced to form an ad-hoc committee to "oversee governance and manage affairs" of the state Olympic body and hold elections within six months.
The ad-hoc committee will be headed by IOA joint secretary S M Bali and will also have two members in Mushtaque Ahmad and Sunil Elangbam.
The sport of golf has also been embroiled in administrative mess for some time and elections were not being held after the term of the office bearers, elected in 2016, expired in October 2018.
In view of this, the IOA has formed a five-member Golf Governance Committee, to be headed by Kavita Singh, to reform governance, liaise with all stakeholders, ensure compliance of norms and help Indian Golf Union conduct elections.
The committee will also oversee all aspects of participation of athletes and officials in the Tokyo Olympics qualifier competitions/events in the interim period.
The other members of the committee are Mukesh Kumar, Onkar Singh, Vir Srivastava and one nominee of International Golf Federation.