A summary of sports events and sports persons, who made news on Thursday.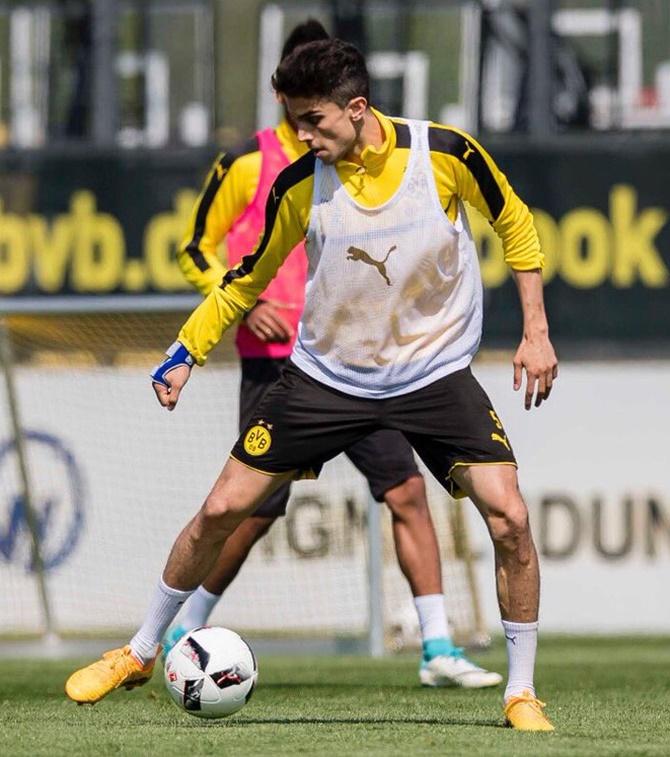 IMAGE: Dortmund's Marc Bartra during training. Photograph: Twitter.
Borussia Dortmund defender Marc Bartra has returned to training after recovering from injuries sustained during last month's attack on the team bus prior to their Champions League quarter-final tie against AS Monaco.
Bartra, who joined Dortmund from Spanish side Barcelona before the start of the season, sustained a broken wrist and had shrapnel in his arm during the attack. He underwent surgery shortly after.
"I've been looking forward to this moment for weeks. So happy to be here today. Can't wait to compete again next to my team mates," Bartra tweeted on Wednesday along with a picture of him training with team mates.
Dortmund, who are third in the Bundesliga, have two league games left in the season and play Eintracht Frankfurt in the German Cup final on May 27.
Atletico lift Supercup with 4-1 win over Chapecoense
IMAGE: Atletico Nacional players and officials celebrate. Photograph: Twitter.
Atletico Nacional lifted the South American Supercup on Wednesday after two goals each from Andres Ibarguen and Dayro Moreno gave them a 4-1 victory on the night and 5-3 aggregate win over Brazilian side Chapecoense.
It was a losing return to Medellin for a club who saw many of its players and staff wiped out in a plane crash last November.
The small club from southern Brazil were to have played Atletico in the final of the Copa Sudamericana, South America's equivalent of the Europa League.
However, their plane crashed on approach to the Colombian city, killing 71 of the 77 people on board, including all but three of the club's players and staff.
Chapecoense were later awarded the trophy and that took them into the 2017 Recopa, or Supercup, against Copa Libertadores winners Atletico.
Chapecoense won the first leg in Brazil 2-1 in April but were outclassed against a more experienced team playing at a packed home stadium on Wednesday.
Infantino hits out at 'FIFA bashing' and 'fake news'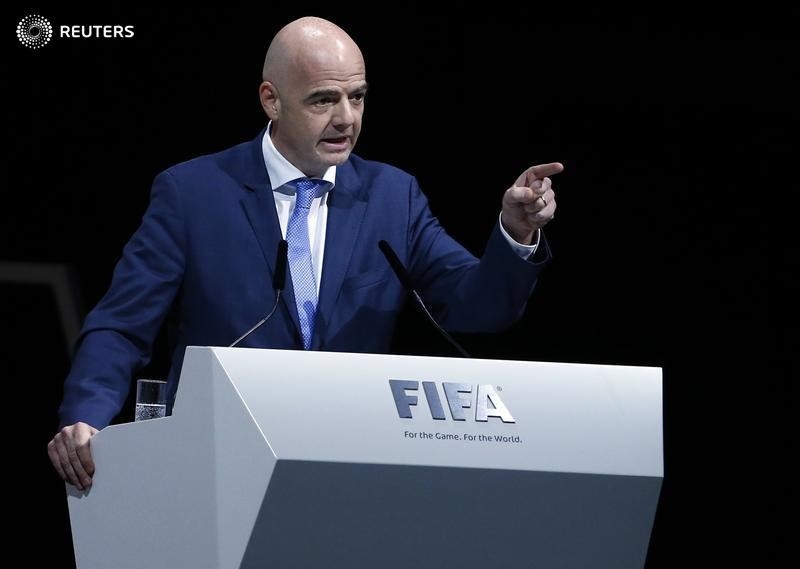 IMAGE: FIFA president Gianni Infantino. Photograph: Arnd Wiegmann/Reuters
FIFA President Gianni Infantino took aim at critics of world football's governing body on Thursday, saying the organisation had reformed and was now a victim of "fake news" and "FIFA bashing".
Speaking to the organisation's 67th congress in the Bahraini capital, Infantino, who replaced Sepp Blatter as head of FIFA in 2016, said it was truly transforming itself.
"We are rebuilding FIFA's reputation after all that happened. We took over the organisation at it's deepest point," said Infantino, adding that there was no room for anyone who wanted to enrich themselves by "abusing football".
Several dozen football officials, mainly from Latin America, were indicted in the United States in 2015 on corruption-related charges, sparking the worst crisis in FIFA's history.
Infantino said criticism of the organisation under his leadership had not been fair, given improved transparency, controls and ethics procedures.
"There is a lot of fake news and alternative facts about FIFA circulating," he said.
"FIFA bashing has become a national sport in some countries".
The Swiss administrator also made some barbed comments about some of his critics among governance experts and thanked "courts all around the world" who had prosecuted corruption cases.