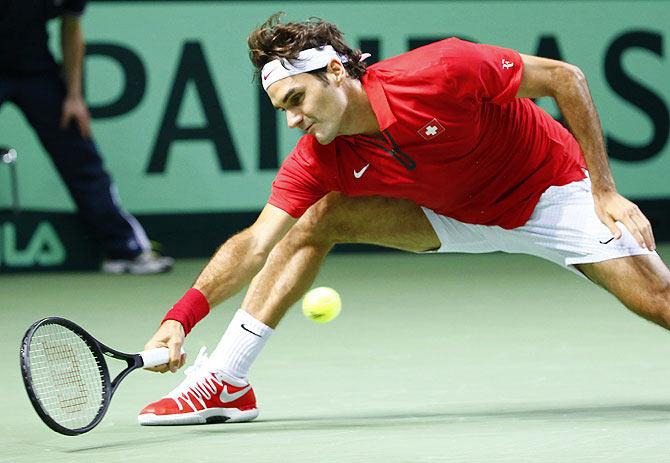 Switzerland's Roger Federer. Photograph: Denis Balibouse/Reuters
The Davis Cup will remain an annual tournament despite persistent complaints from some players that it over-burdens an already-crowded schedule, the head of the sport's governing body said on Tuesday.
Roger Federer was roared on by a capacity 18,000 crowd on Sunday as he helped Switzerland beat Italy to reach the final of the top team event in men's tennis for the first time since 1992.
The Swiss will play France, who trounced defending champions Czech Republic, in November.
Yet earlier this year, Czech double Davis Cup champion Tomas Berdych bemoaned the event's detrimental effect on his individual career and called for it be a biennial event, like golf's Ryder Cup.
Other top players have suggested replacing it altogether.
"We don't agree with this (a biennial event) because the calendar of tennis is annual -- if you take something away, it's very difficult the year after," Francesco Ricci Bitti, President of the International Tennis Federation (ITF), told a news conference in Dubai.
He said the ITF would insist on two other principles for the Cup - that ties be played on a home and away basis and for national associations to select their players to compete.
Bitti conceded some leading players were suffering from fatigue but said their absence was only highlighted when it was the Davis Cup, rather than singles or doubles tournaments.
Nearly half the tickets for Rio Olympics to cost under $30
Construction workers at Rio's Olympic Park. Photograph: Ricardo Moraes/Reuters
Almost half of all tickets for the 2016 Olympics in Rio de Janeiro will be sold for $30 or less in a bid to make the Games "as affordable as possible," the organising committee said on Tuesday.
The most expensive tickets, however, will still be out of range for the majority of local fans with prices for the opening ceremony as high as 4,600 reais ($1,977).
The priciest sporting events, such as the athletics finals, will be 1,200 reais. This is substantially below the price of the 100 metre final at London 2012 -- which cost more than twice as much.
The organising committee said it was committed to "allow access to the games for the largest possible number of fans," in a video presentation on the Rio 2016 website.
Of the 7.5 million tickets that will be sold, 3.8 million will cost 70 reais or less. The cheapest ticket will be priced at 40 Brazilian reais (less than $20).
Fans looking to buy tickets can register on the Rio 2016 sales website from November.
Applications for the first phase of ticket sales will then open between March and May 2015, with a second phase planned for July 2015.
Only those who entered in the first draw will be able to participate in the second, with those who were unsuccessful getting priority.
Tony Stewart fatal dirt-track incident to be heard by grand jury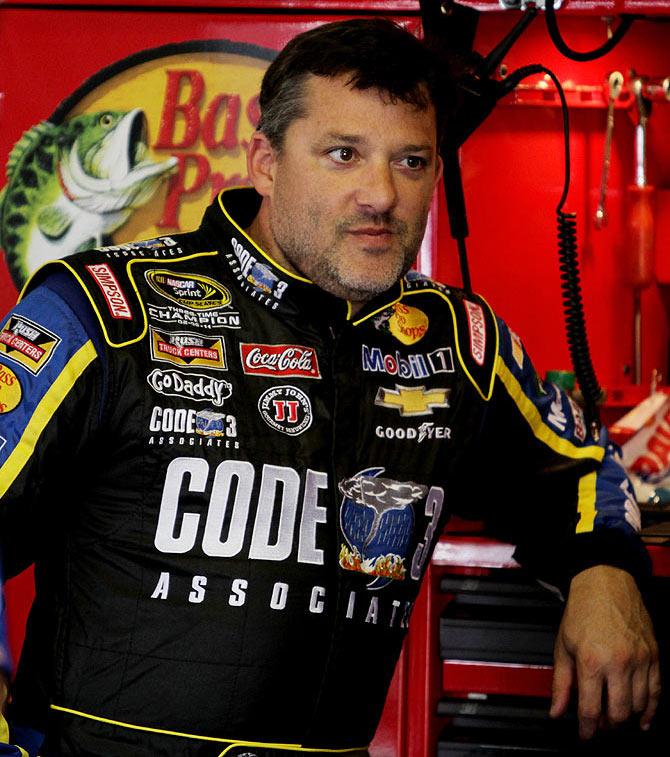 Tony Stewart. Photograph: Jerry Markland/Getty Images
The case of a fatal dirt-track incident involving three-time NASCAR champion Tony Stewart in upstate New York last month will be referred to a grand jury, authorities said on Tuesday.
Stewart, one of the biggest names in auto racing, struck and killed 20-year-old Kevin Ward during a non-NASCAR sprint car race on August 9 at Canandaigua Motorsports Park.
"I have made the determination that it would be appropriate to submit the evidence to a grand jury, for their determination as to what action should be taken in this matter," said Ontario County District Attorney Michael Tantillo.
Stewart skipped the next three NASCAR races following the incident on a dimly lit track about an hour's drive west of Syracuse. He returned to NASCAR on Aug. 31 to a standing ovation at the Atlanta Motor Speedway.
"I look forward to this process being completed, and I will continue to provide my full cooperation," the 43-year-old Stewart, one of NASCAR's most popular and temperamental drivers, said in a statement.
Stewart and Ward bumped cars during the race and the collision sent Ward into an outside retaining wall. During the ensuing caution period, Ward jumped out of his car in an apparent attempt to confront Stewart, who remained in the race.
When Stewart came around on the next lap, Ward, while in the middle of the track, pointed at Stewart. As Stewart approached Ward, his car appeared to swerve, striking Ward and throwing him some 50 feet (15 meters).
Ward was taken to a nearby hospital, where he was pronounced dead.
The grainy video of the incident went viral, as Stewart, who had often driven in non-NASCAR races because of his love for competition, went into seclusion for the next three weeks.
"Our thoughts continue to be with all who have been impacted by this tragedy," NASCAR said in a statement on Tuesday. "We will monitor this process and stay in close contact with (Stewart's team) Stewart-Haas Racing."
Tantillo said he intended to present the case to a grand jury "in the near future."
Following the incident, NASCAR introduced new rules forbidding drivers from getting out of their cars during caution periods until permitted to by a track safety official.
Calls to Kevin and Pam Ward, the parents of Kevin Ward, Jr. were not immediately returned.
FIFA warned against corruption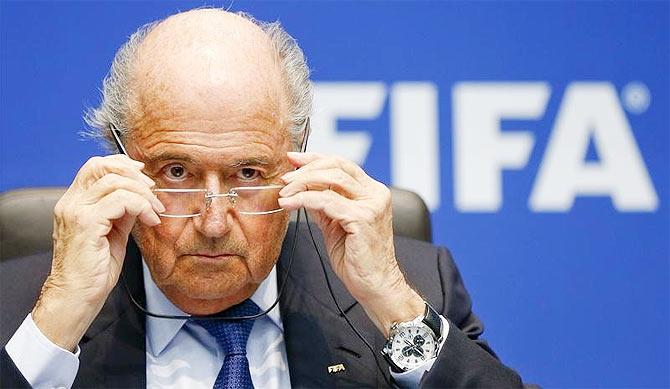 FIFA President Sepp Blatter. Photograph: Arnd Wiegmann/Reuters
Hans-Joachim Eckert, the German judge deciding what action to take following FIFA's investigation into alleged corruption surrounding the 2018 and 2022 World Cup votes, said he doubted "if soccer and ethics can still fit together".
The Munich-based head of the Adjudicatory Chamber of the FIFA Ethics Commission also had a warning for delegates attending FIFA's Ethics convention in Zurich on Friday at which he will make a speech on the subject.
"Many won't like what I am going to tell them," he told Reuters on Tuesday.
FIFA's investigation into alleged corruption surrounding the votes won by Russia and Qatar in December 2010 was delivered by New York attorney Michael Garcia at the beginning of this month.
"I am expecting a decision in a few months. I see the beginning of November when I am going to get ready," Eckert said.
"I am currently reading the 360 pages," he said, adding that he has also received some 200,000 other pages of documents relating to the case.
One matter Eckert did not address was whether he would make the report public, although he has been urged to do so by a number of FIFA executive committee members including Prince Ali Bin Al-Hussein of Jordan and Moya Dodd of Australia.
Garcia's probe into the allegations of bribery lasted more than a year with hundreds of people involved in the bids for the two World Cups interviewed by his team of investigators.
The Qatari organisers of the 2022 World Cup have repeatedly said they are confident of being cleared of any wrongdoing in the bidding process for the finals while the Russians have also brushed off suggestions their bid was flawed.
Widespread allegations of wrongdoing have been made regarding the decisions taken by the FIFA executive committee nearly four years ago and, although the 2018 bid won by Russia was also examined, most of the focus was reportedly on the 2022 bid.
Russia saw off challenges from England, Belgium/Netherlands and Spain/Portugal while Qatar finished ahead of Australia, Japan, South Korea and the United States to win the right to stage the 2022 finals.
Qatar's communications chief Nasser Al Khater told delegates at the Soccerex Global Convention last week: "We've always been confident of our position in the way we carried ourselves during the bidding stage.
"Also, we're 500-people strong working tirelessly day in and day out and I think that's an answer to the question."