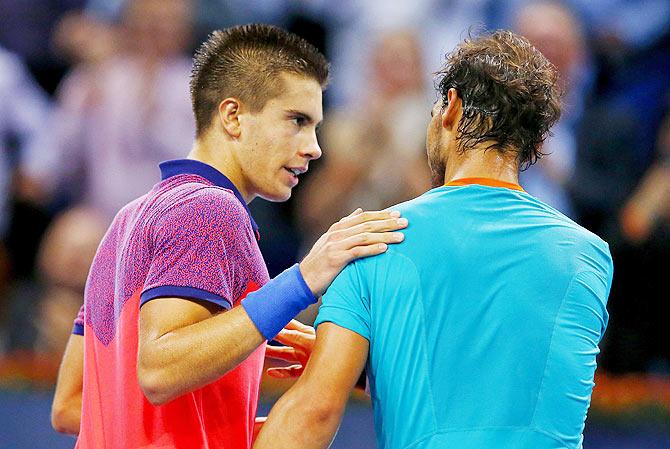 Borna Coric of Croatia is congratulated by Spain's Rafael Nadal (right) after winning at the Swiss Indoors ATP tennis tournament in Basel on Friday. Photograph: Arnd Wiegmann/Reuters
Croatian wunderkind Borna Coric offered emphatic proof of his potential when he crushed Rafael Nadal in the Swiss Indoor tournament on Friday before local hero Roger Federer cruised into the last four.
The 17-year-old Coric, already being called 'Baby Djokovic' because of similarities with World No 1 Novak Djokovic, gave an off-colour Nadal a torrid time, winning 6-2, 7-6 (4).
The Spaniard, who has appendicitis and announced he would not play at the Paris Masters next week or season-ending ATP World Tour Finals in London next month, was unrecognisable in the first set as he offered little resistance, losing the opening five games.
Nadal's timing improved marginally in the second but twice Coric served to stay in the set and he then held his nerve when a loose forehand from his opponent gave him two match points.
Coric needed only one of them, forcing a weary Nadal to send a defensive forehand wide.
Federer edges past Dimitrov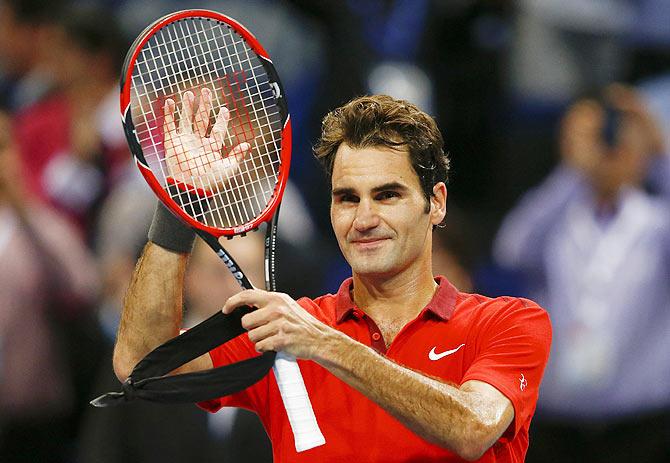 Roger Federer of Switzerland reacts after winning his match against Grigor Dimitrov of Bulgaria at the Swiss Indoors ATP tennis tournament in Basel on Friday. Photograph: Arnd Wiegmann/Reuters
Top seed Federer, looking for a sixth Basel title, beat Bulgaria's Grigor Dimitrov 7-6 (4), 6-2 in a much more even contest.
The world number two edged a first set lasting nearly an hour and then turned up the heat as he marched to victory.
Federer faces big-serving Ivo Karlovic in the semi-finals after the Croat beat Germany's Benjamin Becker 6-4, 6-4 with the help of 19 aces.
Should Federer, 33, win the title on Sunday he would move to within 500 points of Djokovic and keep alive his hopes of returning to the top of the rankings.
Coric will play in-form Belgian David Goffin who caused a surprise by beating Canada's Milos Raonic in three sets.
Saina knocked out of French Open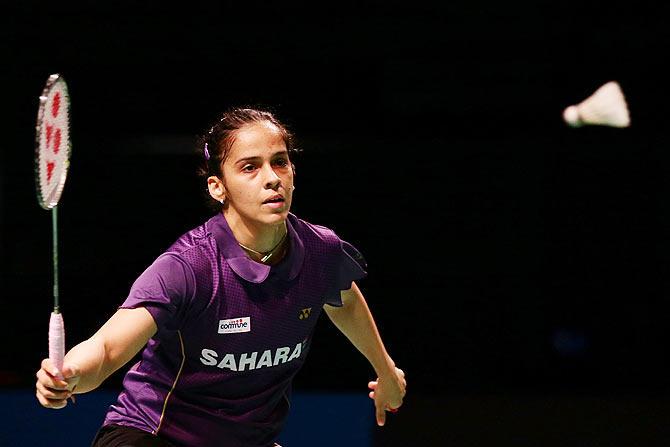 Saina Nehwal of India. Photograph: Matt King/Getty Images
Ace India shuttler Saina Nehwal crashed out of the French Open Super Series after going down to World No. 2 Shixian Wang of China in a hard-fought women's singles quarter-final on Friday.
Seeded fifth, Saina posed a challenge to her Chinese rival but couldn't go the distance to suffer a 19-21, 21-19, 15-21 loss. The battle lasted an hour and 10 minutes.
Having lost the opening game, the World No 6 Indian bounced back to snatch the second but failed to sustain the pressure in the deciding game.
Saina was strong and confident in the opening game. Having broken away from a 5-5 tie, the Indian surged ahead to take a 10-6 lead and then in no time extended it to 14-8.
However, at 17-13, Saina allowed her opponent to come back into the game. Wang bagged six consecutive points to first tie the scores at 17-17 and then take a 19-17 lead.
Although Saina earned a couple of points to inch closer by making it 19-20, the Chinese shut the door on her 21-19 in the first game.
The second game was a neck-to-neck affair with none of the two conceding any massive lead. At the break, Saina was ahead only by a slender margin of 11-10.
Saina then went ahead to 14-13 before the Chinese forced the Indian into errors and take a 18-15 lead.
But the determined shuttler from Hyderabad went on to bag five consecutive points to draw level at 18-18 and then make it 20-18. She quickly wrapped it up 21-19 to take the match to the decider.
In the third game, Saina started positively, having opened up a 6-1 lead, Saina soon increased it to 10-5 and then went on to extend it to 15-10.
But just when it seemed that the Indian would run away with the match comfortably, Wang turned things upside down to totally flummox Saina.
The Chinese upped her ante to take the last 11 points on a trot to seal the issue in her favour and advance to the semi-finals.
Marquez takes record 13th pole in Malaysia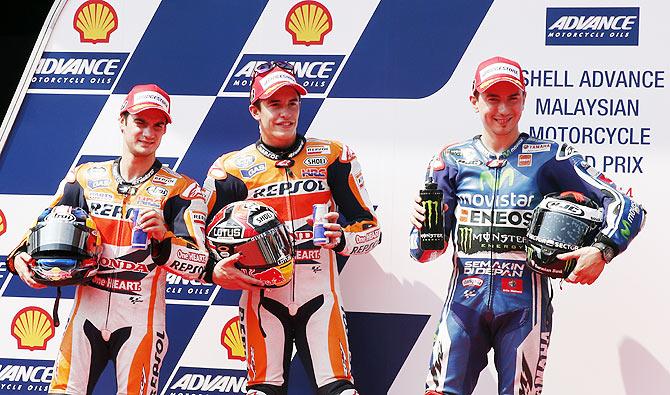 Honda MotoGP rider Dani Pedrosa of Spain, Honda MotoGP rider Marc Marquez of Spain and Yamaha MotoGP rider Jorge Lorenzo of Spain pose for photographs after the qualifying round of the Malaysian Grand Prix at Sepang International Circuit near Kuala Lumpur on Saturday. Photograph: Olivia Harris/Reuters
Reigning world champion Marc Marquez of Spain clinched a record 13th pole in the MotoGP season at the Malaysian Grand Prix at Sepang on Saturday.
Marquez, who sealed his title defence in Japan two weeks ago, also set a record time of one minute 59.791 seconds at Sepang to finish nearly two-tenths of a second faster ahead of Honda team mate Dani Pedrosa.
Australians Mick Doohan and Casey Stoner had held the previous record of 12 pole positions in a season.
Yamaha rider Jorge Lorenzo completed the front row, while Stefan Bradl and Ducati rider Andrea Dovizioso qualified on the second row.
Pol Espargaro of Yamaha broke his foot in a heavy crash during practice but will be assessed on Sunday morning to see whether he could race.
Hiroshi Aoyama fell early in the second session of qualifying but will line up 11th on the grid.
Andrea Iannone was ruled out of Sunday's race due to left arm injuries after crashing on Friday.
WTA considers new women's team event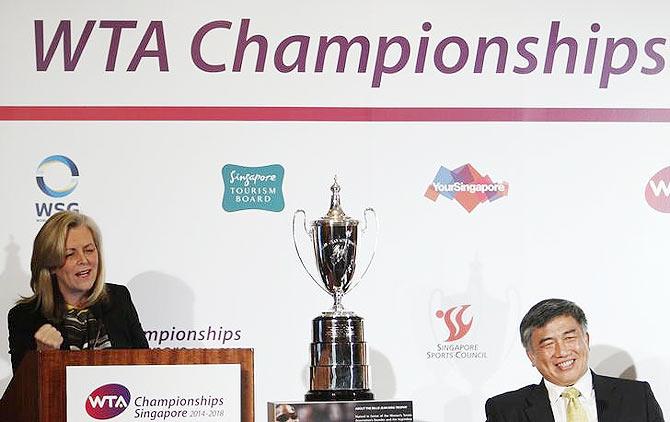 Stacey Allaster (left), Chairman and Chief Executive Officer of the Women's Tennis Association (WTA). Photograph: Edgar Su/Reuters
The WTA, the governing body for women's tennis, is considering a plan to set up its own team event.
Women already compete in the Fed Cup, which is run by the ITF (International Tennis Federation) but the WTA is looking at starting up its own tournament.
WTA chief executive Stacey Allaster told a news conference on Saturday that the proposal was still in the early stages but if it went ahead, it would most likely be restricted to the top eight countries and played over five days.
"We are going to go to market and see if the market is really there," Allaster said at the annual State of the Tour address in Singapore.
"We haven't decided if we're going to do it.
"However, we believe we have a responsibility. I think the demand is there. Others are doing it. If we don't do it, someone else is going to do it. In fact, somebody is doing it."
Allaster said that while there may be some resistance to starting up the tournament, the WTA had a long history of overcoming struggles so had an obligation to at least look at the proposal.
"Our story is inspirational from the original nine, to breaking barriers, equal prize money, coming to Asia, you know, having the courage to do all that," she said.
"I'm sure in 1970 and 1973 it was not comfortable breaking away from tradition. And Billie (Jean King) often says, it's a shame that the players don't own the grand slams. That was one of the biggest mistakes that we've made.
"I don't want to make the same mistake. I think that the WTA owning its own team event, if we think about (golf's) Ryder (Cup), how successful that event is, that would be an amazing asset in the short and the long-term for the WTA."
In a wide ranging address, Allaster also announced the appointment of business executive Micky Lawler as the new WTA president, and spoke about the WTA's huge growth in Asia, particularly China, which will feature 11 WTA events next year.
"Forty per cent of the world's population lives within a seven-hour radius from here, which is really quite amazing," she said.
"We think about the growth, this is where we can have some real exponential growth. But you've got to be in these markets."
Italian football in danger of dying, says Juve president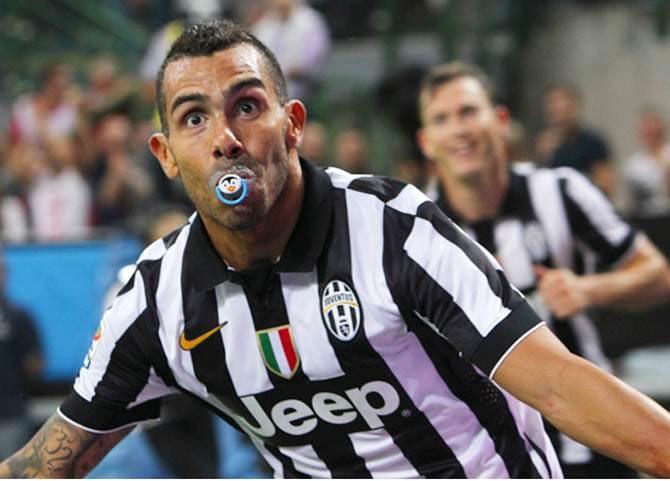 Carlos Tevez of Juventus FC. Photograph: Marco Luzzani/Getty Images
Italian football will soon be dying if it does not overcome its deep-rooted structural problems, Juventus president Andrea Agnelli said on Friday.
"We are in progressive decline," he told a shareholders' meeting in Turin.
"Italian football will soon be dying if it is unable to face up to a double challenge: on the domestic front the fans have to fill up the stadiums, and abroad the challenge of a truly global market."
"England, Germany and Spain have overtaken us in any number of criteria, revenue, sustainability of the business, sporting results, the value of their stadium and the UEFA ranking," he said.
"Today, we are struggling to defend fourth place from Portugal," he added, referring to the coefficients which determine how many places each country is allocated in the Champions League and Europa League.
"Our main competitors Real Madrid, Bayern Munich, Manchester United, Barcelona have clearly moved ahead of us," said Agnelli.
"No Italian club is in a state where they can grow at that rhythm, the sign of the structural limits which affect our football."
"Ten years ago, Serie A generated almost the same receipts as the Bundesliga, a little less than La Liga and almost a third of the Premier League. Then, we were a tortoise, now we are a shrimp."
No Italian team has progressed beyond the Champions League quarter-finals since Inter Milan won the trophy in 2010 and there has been an exodus of big-name players, culminating in Zlatan Ibrahimovic's departure from AC Milan two years ago.
Nowadays, Serie A teams tend to attract players who have fallen out of favour at bigger clubs, such as Juventus forward Carlos Tevez and AC Milan's Fernando Torres, or young foreign players hoping to use it as a springboard to another league.
Juve are the only Serie A club who own their own stadium while others play in often dilapidated municipally-owned arenas.
Agnelli said the election of Carlo Tavecchio as Italian federation president in August was another sign of the problems.
Tavecchio, 71, was chosen despite referring to African players as "banana eaters" in a speech and has been banned from any UEFA-related activity for six months by European soccer's governing body over his remarks.
"His election has ignored the indications of footballers, coaches, referees and a substantial part of Series A," said Agnelli.
"It was a defeat for many people and a victory for some crafty characters, whose consensus was born in a time from long ago.
"I am convinced that the conservative forces in Italian football, which seem to prevail at the moment to protect small and large special interests and personal incomes, will not be able to stifle those who support the change."
Ex-world champion athlete Mulaudzi killed in car crash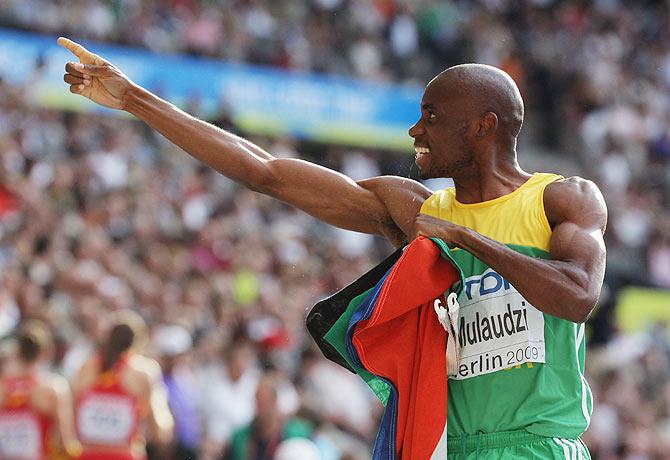 Mbulaeni Mulaudzi of South Africa. Photograph: Mark Dadswell/Getty Images
Former world 800 metres champion and Olympic silver medallist Mbulaeni Mulaudzi has been killed in a car accident in his native South Africa.
The 34-year-old died on his way to an athletics meeting in Johannesburg, a statement from the office of South Africa President Jacob Zuma said on Friday.
"The nation has lost a true hero and one of our most disciplined and talented athletes who flew the South African flag across the sporting world," said Zuma.
"We wish to convey, on behalf of the Government and the entire nation, our heartfelt condolences to his family, ASA (Athletics South Africa), the South African sports fraternity and the International Olympic Committee."
Mulaudzi, who carried the South African flag in the opening ceremony at the Athens Olympics in 2004, won his silver medal at the same Games having picked up a Commonwealth gold in Manchester two years earlier.
He won the 2009 world championship title in Berlin after suffering the disappointment of a semi-final exit in the Beijing Olympics a year earlier.
Mulaudzi retired from athletics in 2013.
Ian Harries, his coach between 2000-05, told the national Mail & Guardian newspaper last year: "Though not the South African record holder for his event, he is regarded by many as our greatest 800 metres runner.
"He was very competitive, aggressive and a very tactically aware runner who thrived best over a fast race. He had incredible speed-strength endurance.
"Despite his somewhat shy exterior and being wary of too much media exposure I, personally, think of him as a true legend of the event," added Harries.