A summary of sports events and sports persons, who made news on Tuesday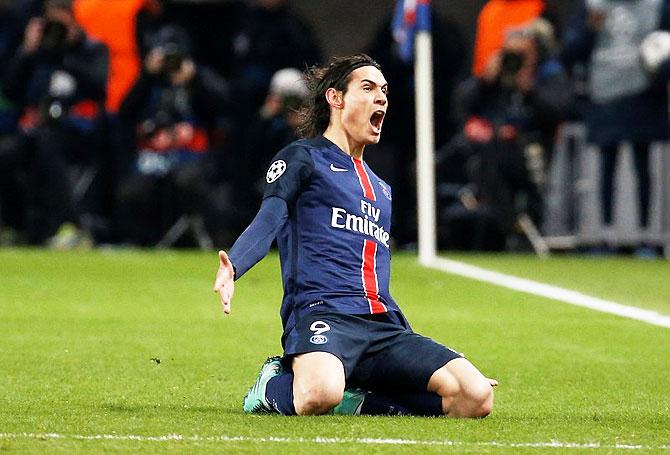 IMAGE: Paris St Germain's Edinson Cavani. Photograph: Gonzalo Fuentes Livepic/Reuters
Paris St Germain striker Edinson Cavani was named the best Ligue 1 player of the season by his fellow professionals on Monday.
The Uruguay forward has scored 35 league goals in as many appearances this season and PSG are likely to finish second to Monaco in Ligue 1.
The principality side won the best coach trophy with Leonardo Jardim, France prodigy Kylian Mbappe was awarded the best hope trophy and Danijel Subasic was named best goalkeeper.
Monaco will snatch their first Ligue 1 title since 2000 if they avoid defeat against St Etienne on Wednesday.
Chelsea midfielder Ngolo Kante was named best French player in a foreign league.
Footballers Falcao, Coentrao accused of hiding millions in tax fraud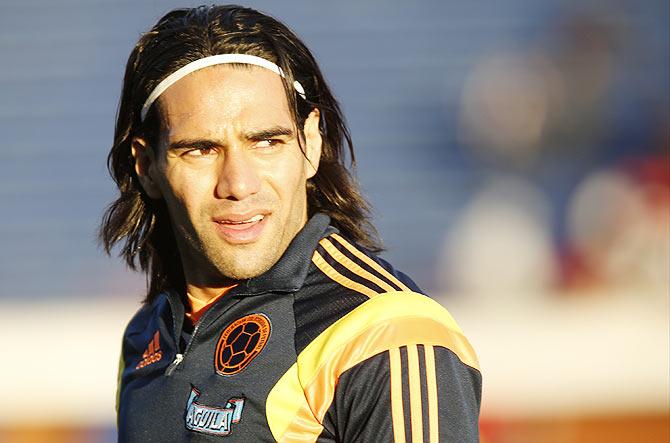 IMAGE: Radamel Falcao. Photograph: Gabriel Rossi/Getty Images
The Spanish prosecutor in Madrid said on Tuesday it had filed a lawsuit against soccer players Radamel Falcao and Fabio Coentrao, accusing them of hiding almost 7 million euros ($7.7 million) from the tax office between 2012 and 2014.
Falcao, a Colombian who played for Atletico de Madrid from 2011 to 2013 and now plays for Monaco, has been accused of failing to properly declare a total of around 5.6 million euros earned from image rights.
Portugal's Coentrao, who plays for Real Madrid, is accused of failing to correctly declare almost 1.3 million euros, also earnings from image rights.
Real Madrid declined to comment. Neither Atletico or the two players' agents were not available for comment.
GM Harikrishna settles for draw with Inarkeiv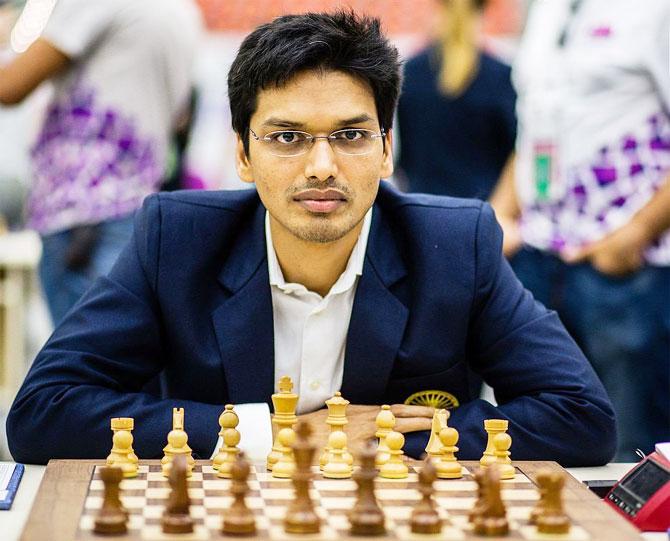 IMAGE: Pentala Harikrishna. Photograph: Saimedia/Twitter
Grand Master Pentala Harikrishna put up a spirited show to share the spoils with Russian GM Ernesto Inarkeiv in the fourth round of the Moscow FIDE Grand Prix played in Moscow on Tuesday.
The World No. 16 Indian, playing with black pieces, started off on a strong note to dominate the initial stages of the game.
"I surprised him with Benoni, a Fianchetto variation and after that move he was just trying to save the game," Harikrishna said after the match.
However, Harikrisha could not capitalize and Ernesto dug deep and clung on to draw the game that lasted for 47 moves.
"I constantly put pressure on him, but he found the right moves in the crucial stages of the game to lead it towards a draw," he further added.
At the end of the day's action, Harikrishna has one and a half points so far in this campaign after drawing three and losing just one and is placed 16th on the leaderboard.
Japan's Mitsuhashi banned for life from tennis for match-fixing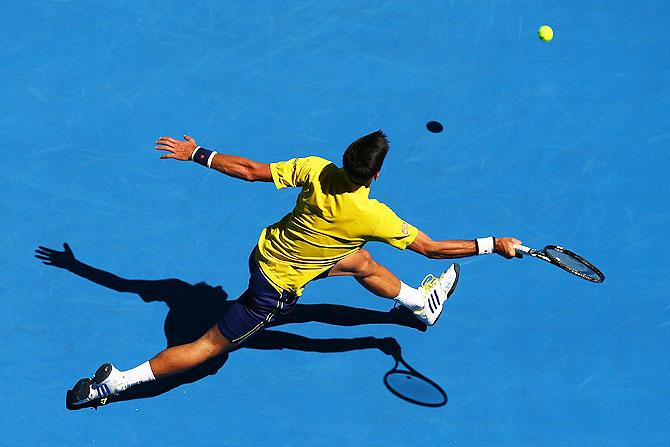 IMAGE: Image used for representational purposes. Photograph: Cameron Spencer/Getty Images
Japanese tennis player Junn Mitsuhashi has been banned for life and fined $50,000 after being found guilty of match-fixing and betting offences, the Tennis Integrity Unit (TIU) said on Tuesday.
Mitsuhashi, who peaked at 295 in the singles rankings in 2009, was accused of asking Joshua Chetty, a player he had coached, to approach a competitor during an International Tennis Federation (ITF) event in South Africa in November 2015.
Using Chetty as an intermediary, Mitsuhashi offered the player $2,000 to underperform in a singles match and $600 in a doubles match, the TIU said. Chetty was banned for life last September following a separate TIU investigation.
Mitsuhashi was also found guilty of making a direct approach to another player at an ITF event in Nigeria in December 2015 and asking him to fix certain aspects of a match.
The 27-year-old placed 76 bets on tennis matches between October and November 2015 and refused to cooperate with the anti-corruption body's investigation, which are also offences.
"The ban from all professional tennis applies with immediate effect and means the player is not allowed to compete in, or attend, any tournament or event organised or sanctioned by the governing bodies of the sport," the TIU said in a statement.
Former world number 10 Monaco hangs up his racket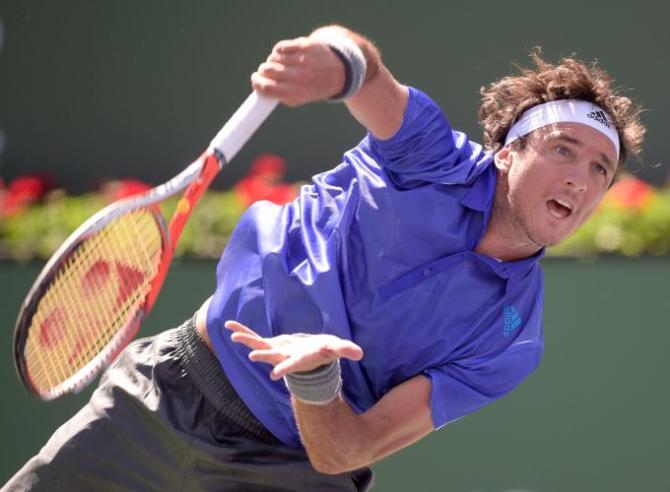 IMAGE: Juan Monaco. Photograph: Harry How/Getty Images
Argentina's Juan Monaco announced his retirement from professional tennis on Monday at the age of 33.
Monaco, who reached his highest ranking of number 10 in the world in July 2012, won nine ATP singles titles during his career, eight of them on clay. He also won three doubles titles.
"Although it creates me a lot of nostalgia I am sure I am making the right decision," Monaco said in a statement on his verified Twitter account. "I retire from professional tennis.
"There are so many feelings that it is very difficult to write them down... Thanks for what tennis gave to me: education, friendship and unforgettable moments."