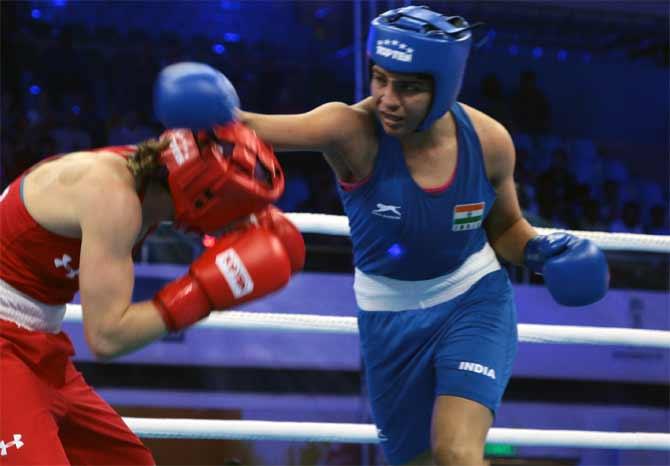 World Championships bronze medallist Simranjit Kaur (60kg) and GeeBee Boxing silver medallist Dinesh Dagar (69kg) confirmed their places in the final, while Ankush Dahiya (64kg) and Ananta Pralhad Chopade (52kg) made it to the semi-finals of the 23rd President's Cup in Labuan Bajo, Indonesia, on Thursday.
Asian Boxing Championships silver medallist Simranjit was flawless in her first bout of this prestigious tournament and outpunched Italy's Francesca Martusciello 5-0 in a commanding performance to enter the final against Indonesia's Asian Games bronze medallist Hasanah Huswatun.

Dagar, a silver medallist at the 2018 India Open, did not waste any time in racing towards a convincing 5-0 victory over Indonesian Naumeo Defri. Dinesh has so far been highly impressive at this tournament and got both his wins without dropping a single point. He will take on Indonesia's Samada Saputra in the title clash.

In the 52kg category, Chopade was unanimously declared the winner against Indonesia's Fahmi Muhamad that enabled him to enter the semis and assure himself of a medal. He will aim to keep his run going against Sri Lanka's Dharmasena Piyal.

2017 Ulaanbaatar Cup gold medallist Ankush Dahiya knocked out Afghanistan's Noor Belal in the third round to set up a semi-final showdown with Korea's Giheon You.

Earlier on Wednesday, Monika (48kg) ended the challenge of Indonesia's Niis Anggelina 5-0 to book her place in the final of this tournament. India Open gold medallist Jamuna Boro (54kg) also continued her impeccable form to enter the semi-finals. In the men;s 49kg, Neeraj Swami (49kg) has assured himself of a medal after making his way into the semi-finals.

Six-time World Championships gold medallist Mary Kom leads the 10-member Indian squad at this prestigious tournament which will continue till July 28.
Puneri Paltan win UTT opener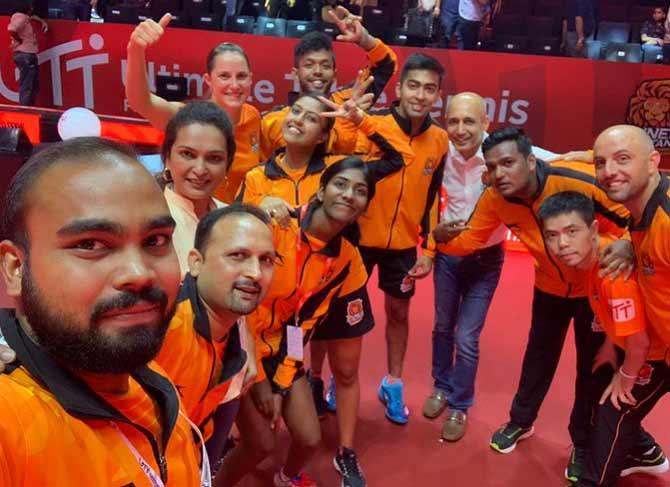 The third edition of Ultimate Table Tennis got underway on Thursday with debutants Puneri Paltan overcoming Dabang Delhi 8-7 in a close and exciting encounter in New Delhi.

Going into the last match of the day with the overall scores tied at 6-6, Germany's Sabine Winter showed no signs of nerves as she overcame Romania's Bernadette Szocs 2-1 to clinch that crucial extra point.

India's top-ranked player G Sathiyan produced a stellar performance, beating Harmeet Desai in the men's singles and then pairing up with Bernadette Szocs to win two matches and clinch five points.

But that was not enough as Paltan won both the women's singles and the second men's singles.

Ayhika Mukherjee began Paltan's campaign on a positive note, comfortably beating Krittwika Sinha Roy, picking up the three points on offer in the first women's singles.

She seemed to be in a bit of bother as she fell behind 4-6 and 9-10. Ayhika, however, saved the golden point and won one more to take the game.

She was on a roll in the second game, jumping to a 6-2 lead to win it rather easily. The third game was, however, tight, with Krittwika taking her all the way to another golden point tussle. Ayhika, fresh from her victory in the Commonwealth Table Tennis Championship, held her nerve to win all the points for her team.

Malvika goes down after upsetting top seed

Malvika Bansod's singles campaign at the Badminton Asia Junior Championships ended in the third round but not before causing a huge upset at Suzhou, China, on Thursday.

Bansod, ranked 83rd in the World junior rankings, faced world no. 1 junior player Phittayaporn Chaiwan, who even holds a ranking of 59 in the senior category. That could not deter the young Indian who held her nerves to pull off a stunning 21-18, 21-19 second round win over the Thai in 38 minutes.

Malvika, however, failed to repeat her heroics in her next girls' singles match a few hours later and went down 14-21, 8-21 to China's Tan Ning.

In the boys' singles, Maisnam Meiraba also had to bite the dust in the second round after being the best-performing Indian over the last few days at this tournament.

The junior World No 14 began on a thunderous note, snatching the first game from two-time World junior champion Kunlavut Vitidsarn only to see the Thai storming back for an 18-21, 21-15, 21-8 win in 55 minutes.

Unnati Bisht was another Indian to reach the third round in girls' singles following a 21-6, 21-10 victory over Hong Kong's NG Tin Yan. The Indian's campaign, however, was cut short 21-8, 21-13 in that round by the fifth seed Benyapa Aimsaard of Thailand.

In the girls' doubles, Tanisha Crasto and Aditi Bhatt were brilliant in their 21-12, 21-18 win over Chinese Taipei's Jiang Pin-Yue and Ting Ya-Yun that put them in the pre-quarter-finals.

Earlier, Aashi Rawat also succumbed to a 10-21, 14-21 defeat at the hands of the second seed Zhou Meng while Aditi Bhatt lost 13-21, 15-21 to fourth seed Han Qian Xi.

In the boys' singles, Sathish Kumar Karunakaran was the only one to enter the third round, courtesy of his 21-11, 21-7 win over Sumiyasuren Enkhbat of Mongolia. Siddhanth Gupta and Sankar Muthusamy Subramanian both crashed out.

There were some good results for India in doubles. Ishaan Bhatnagar and Vishnu Vardhan Goud Panjala beat Bangladesh's Md. Abdul Hamid Lukman and Gourab Singha 21-10, 21-15.

Also advancing to the third round were the pairs of Ravikrishna-Manav Raj Sumith and Manjit Singh Khwairakpam-Dingku Singh Konthoujam.