Summary of sports events and persons who made news on Tuesday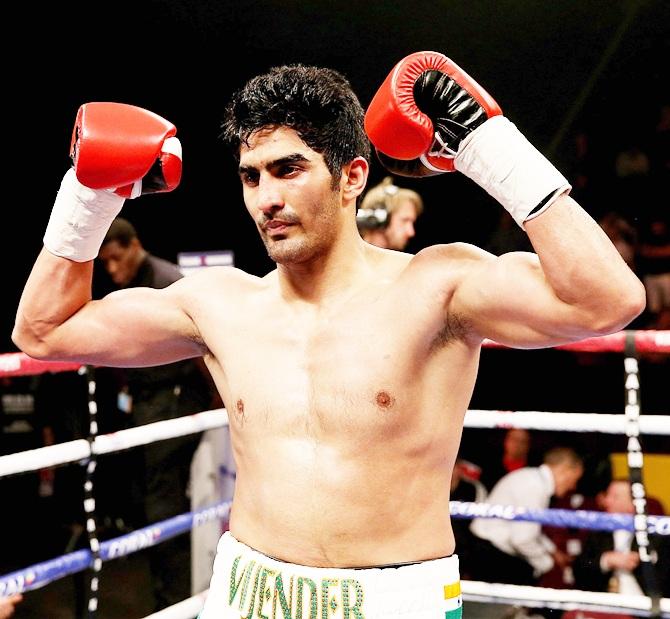 Indian boxing star Vijender Singh has signed a multi-year deal with legendary promoter Bob Arum's company Top Rank, paving way for his American debut next year after an unbeaten professional run in India and England.
Vijender, the 2008 Olympic bronze-medallist, has fought all but one of his professional bouts in India and England. He will make his debut under the Top Rank banner in early 2019, his India promoters IOS Boxing said in a statement.
"Top Rank is very excited to enter into a contract with Vijender," Arum said in a statement on Monday night here.
"We intend to make him a big star in the United States and look forward to him participating in major events in India, where he is already a major superstar."
Arum is an International Boxing Hall of Famer and has worked with several big names in the circuit, including the likes of Manny Pacquiao.
Vijender, who has a 10-0 (7 KOs) record in the circuit since turning pro in 2015, said he couldn't have hoped for a better deal. He has been associated with Queensberry Promotions, owned by Frank Warren, in England.
"I have always wanted to work with someone who is the best in the business, and I know Top Rank has been the driving force behind boxing's biggest superstars, including Oscar De La Hoya, Floyd Mayweather, and Miguel Cotto," he said.
"I am eagerly waiting a date for my U.S. debut to take on the world and keep the Indian flag on the world boxing map fluttering high," he added.
The 33-year-old Vijender was India's first boxing medallist at the Olympics and also won the country's maiden world championship medal in 2009. He won a gold at the 2010 Asian Games.
After turning professional, he captured the WBO Asia Pacific and Oriental super middleweight title.
However, he hasn't competed this year and his last fight was in December 2017, a 10-round decision against Ghanaian Ernest Amuzu in Jaipur.
Canadian curlers booted from event for being drunk
Olympic gold medallist Ryan Fry and his Canadian team mates were kicked out of a World Curling Tour event in Alberta at the weekend for being "extremely drunk", according to a Canadian Broadcasting Corporation report https://www.cbc.ca/sports/olympics/curling/curling-team-ejected-extremely-drunk-1.4910869 on Monday.
Fry, who won gold at the 2014 Sochi Olympics, and his team were removed on Sunday by a committee after complaints they were breaking brooms and swearing as they went out for their match, the report said.
"I came to the event to play and enjoy the sport. My actions were truly disrespectful and embarrassing -- the committee was right to disqualify us from play," Fry said in a statement cited in the CBC report.
"I allowed myself to lose control and I offended people with my actions. I wish nothing more than to apologise to everyone individually."
A facility manager quoted in the CBC report also said there was damage in the locker room and that other teams had complained about their belongings being kicked around.
The World Curling Tour said the Canadian team of Fry, Jamie Koe, Chris Schille, and DJ Kidby were ejected from the event for "unsportsmanlike behaviour" but did not elaborate on what led to its decision.
The actions by the Canadian squad are highly unusual in a social sport where the rule of etiquette dictates that winners buy the losers a drink before the losers repay the favour for the second round.
Fry won gold at the 2014 Olympics as a member of Team Canada along with Brad Jacobs, EJ Harnden, Ryan Harnden and alternate Caleb Flaxey.
F3 driver Floersch has surgery after huge Macau crash
Teenage German Formula Three driver Sophia Floersch has had successful surgery with "no fear of paralysis" after an aerial crash at the Macau Grand Prix, her team boss said on Monday.
Floersch, 17, suffered a spinal fracture at the street circuit on Sunday when her car catapulted off the track and into a photographers' bunker while travelling at more than 275 km per hour (171 mph).
"Everything is working and everything is in order," team boss Frits Van Amersfoort told the BBC.
"(Paralysis) was the main fear. That's why the operation had to be done quite quickly because there was a danger it (the spinal cord) could be damaged.
"We are extremely happy that she is now recovering and that everything went extremely well. There's no fear of paralysis whatsoever."
Floersch was conscious when taken to hospital in the former Portuguese colony, assuring her followers on Twitter that she was fine.
Jean Todt, president of the governing International Automobile Federation (FIA), promised a full investigation.
"After the serious incident today in Macau the FIA is mobilized to help those involved and analyse what happened," he said.
"We will monitor the situation and make the necessary conclusions."
Japanese driver Sho Tsuboi, who Floersch hit before flying through the catch fencing, was also taken to hospital complaining of back pain.
The Macau Grand Prix Organising Committee said in a statement he had been discharged after treatment.
Chief Medical Officer of the Macau Grand Prix, Chan Wai Sin, said two photographers and one track marshal were also injured in the crash and taken to hospital for treatment.
Crashes are frequent at the Macau Grand Prix which this year, in its 65th edition, hosted six car and motorcycle races on the 6.2-km Guia Circuit around the streets of the island.
Last year, British motorcyclist Daniel Hegarty died after hitting the safety barrier during a race, the eighth rider to have lost his life on the circuit since 1973.
Three motorcyclists were taken to hospital after crashes at the circuit this week with Britain Andrew Dudgeon requiring a metal rod to be inserted in his spine after a crash in practice.
Dudgeon comes from Britain's Isle of Man where 270 motorcyclists have been killed in competition on the island's TT circuits over the last 120 years.