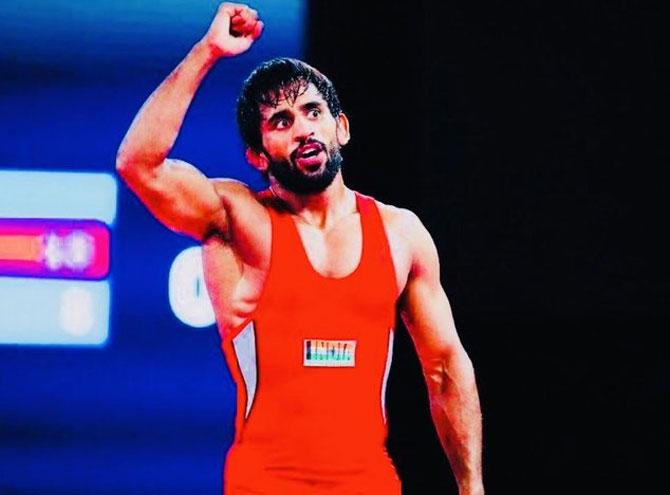 Three-time World Championship medallist Bajrang Punia on Tuesday called for wrestling to be made the national sport, insisting that Indian grapplers have consistently won medals in big-ticket events.
During a felicitation function of World Championships medal-winning wrestlers by Sports Minister Kiren Rijiju in New Delhi on Monday, the Wrestling Federation of India (WFI) President Brij Bhushan Sharan mooted the idea of making wrestling the national sport, which received the backing of double Olympic medallist Sushil Kumar.
"I too feel wrestling should be made the national sport as it is one sport which has consistently won medals in the World Championships and Olympics," said Bajrang during the program organised by the Sports Ministry.
Bajrang clinched a bronze medal in just-concluded World Championships in Nur-Sultan, Kazakhstan to add to his silver (2018 Budapest) and bronze (2013 Budapest) he had won earlier.
Sport Minister Kiren Rijiju, however, said he can't discriminate or favour any particular sport.
"As a Sports Minister I have to give equal importance to all sports. I can't sound discriminatory. Wrestling is very important for India, it makes our country's flag fly high but we have to give importance to all Olympic sports as well as non-Olympic and traditional sports," he said.
"But to declare some sport as a national sport...it is a matter which is very emotional and critical. So as a Sports Minister, I shouldn't be making announcement or judgment on the basis of any demand. I am not going to discuss this issue and generate unnecessary controversy."
The Sports Minister also hoped that wrestling will produce maximum number of medals at next year's Tokyo Olympics.
"The 2020 Tokyo Olympics is going to be a watershed moment and along with other disciplines our wrestling team will be one of the major force in Tokyo. I am happy with the management of wrestling, the efforts of the coaches and entire technical support staff," Rijiju said.
"India have the capability to win many medals at Tokyo."
WFI President Sharan, who was also present at the program, promised that wrestlers will produce a much-better performance in Tokyo.
"India had won two medals at Rio and one of them was in wrestling. I promise that our wrestlers will double that medal at Tokyo."
Indian juniors win four medals at Asian Shotgun Championship
The Indian shotgun squad picked up four medals including two individual bronze by Abhay Singh and Parinaaz Dhaliwal in the junior men's and women's skeet competition of the IX Asian Shotgun Championship in Almaty, Kazakhstan.
India also clinched two silver medals in the men's and women's team events.
Abhay won the bronze medal in the men's skeet competition on Tuesday after reaching the final with a qualification round of 114.
On Monday, Parinaaz shot 39 in the final to finish behind the Chinese gold and silver winners Yashu Sun and Yikai Li respectively in the women's skeet event. Asees Chhina finished fourth to miss out on a medal.
The bronze winning men's team comprised of Ayush Rudraraju and Gurnihal Singh Garcha besides Abhay while the women's trio included Darshna Rathore in addition to Parinaaz and Asees.
Kushagra Rawat bags two gold medals at Asian event
Kushagra Rawat bagged two gold medals in individual events as Indian swimmers excelled on the opening day of the Asian Age Group Championships event, in Bengaluru on Tuesday.
Rawat clocked 1:52.30 seconds while fellow Indian Anand Anilkumar finished third with a time of 1:54.19 seconds in 200m freestyle event in open men's category.
Syria's Abbas Omar finished second and was only a fraction of a second slower than Rawat with a time of 1:52.33 seconds.
"I caught up with my opponent in the last 75 metres. I looked up and saw my opponent was right next to me and I had a lot left in me, I decided to go all out. I beat by opponent by a margin and I'm sure I can better my time to 1:51 seconds," said Rawat.
He later won the 800m freestyle event, clocking 8:10.05 to finish ahead of Chang Cheng Livei (8:20.14) of Chinese Taipei and Abbas Omar (8:31.64) of Syria.
Shoan Ganguly also won gold for India in the 200 metres individual medley group II boys with a time of 2:11.18. He also won the silver in the 200 metres freestyle clocking 1:55.18 seconds apart from winning a silver in the 4X100 metres freestyle relay for group II boys.
Srihari Nataraj and Maana Patel took India's count to an impressive six gold medals, with their stupendous effort in the 50m backstroke event for open category men and women respectively. Nataraj clocked 25.30 to win the gold while Patel clocked 29.92 to win.
"My personal best is actually 29.30 which I had clocked four years ago at the same meet in Bangkok but after my injury I struggled over the past four years and could not break the sub-30 seconds barrier. But to have done it today giving me the confidence to go faster," said Patel.
"I think my finish was poor. I glided too long but I am glad I had taken enough lead which helped me finish first. Tomorrow (Wednesday) is my main event - the 100m backstroke and I can't afford any such errors," Srihari, who was also part of India's gold-winning 4x100m relay team, said.
He beat Atayev Merdan (26.30) from Turkmenistan and Chograthin Kasipat (26.36) from Thailand.
Meanwhile, India's ace swimmer Sajan Prakash won the silver medal in the 200 metres individual medley. He finished behind Ketin Nuttapong (2:0629) and ahead of Sukkieo Phuwadon (2:08.21) both from Thailand.
Likith Selvaraj also added to India's medal tally by winning the bronze medal in the 100 metres breaststroke men's open category with time of 1:02.19 seconds. Vladislav Mustafin (1:01.41) of Uzbhekistan and Denis Petrashov (1:01.88) of Kyrgyzstan finished first and second respectively.
Swimming legend Stephanie Rice to start academy in India
Australian swimming legend Stephanie Rice will be setting up her own academy in India with an aim to help the country's swimmers win medals at the 2024 and 2028 Olympic Games.
Rice won three gold medals, all in world record time, at the 2008 Olympics in Beijing.
"I think it is because every coach in Australia has trained the likes who coached Michael Phelps or my coach Michael Bohl. They have had an opportunity to see what the best coaches in the world do and how they train their athletes and then they go and create their own programme," Rice said.
"So, that is why I wanted to create my academy. I feel that I can bring my team of high-level coaches and we can have a big impact on the athletes here and bring all the Indian swimmers back to India and create the depth of whole swimming squad," she told PTI in an interview on Tuesday.
Competing in the 2012 London Olympics after undergoing three shoulder surgeries, Rice finished fourth in 200m individual medley and a joint sixth in 400m medley. She announced her retirement in 2014.
India has swimming culture but lacks in infrastructure and professionally-managed coaching programmes, Rice said.
"I have been in India for three years and have been doing a number of swimming clinics. I had the opportunity to see a lot of swimming culture."
"The most successful (swimmers from India) have gone to train in the USA, or Thailand, or Australia, because that's where the great coaching programmes are and that is where I feel India lacks -- in high performance coaches," Rice said.
Swimming offers the best chance to win gold medals at the Olympics alongside athletics, she pointed out.
Rice, who won gold in 400m individual medley, 200 individual medley and 200m freestyle relay in the Beijing Games, said there is "talent" in India.
"There is talent everywhere and it has to be nurtured properly. I think there is definitely talent here (in India) and you have to nurture and train it properly," the legend said, adding she has been keenly following the sport in India.
"I have always seen what is going on in Indian swimming and I am quite close actually with the top swimmers and understanding what they have been doing.
"I think there is a great potential right now (among the swimmers). I hope to coach some of the people who are doing well and also groom a lot of upcoming swimmers," she added.
She was asked if she wished to see Indian swimmers on the Olympic podium.
"The 2024-2028 (Olympics) that's the goal and (to see) ideally more than one person (on the podium). I would love to have Indian swimming relay team in the final and getting close to podium," said Rice, who was recently inducted as the Athlete Member of the Sport Australian Hall of Fame.