A summary of sports events and persons who made news on Saturday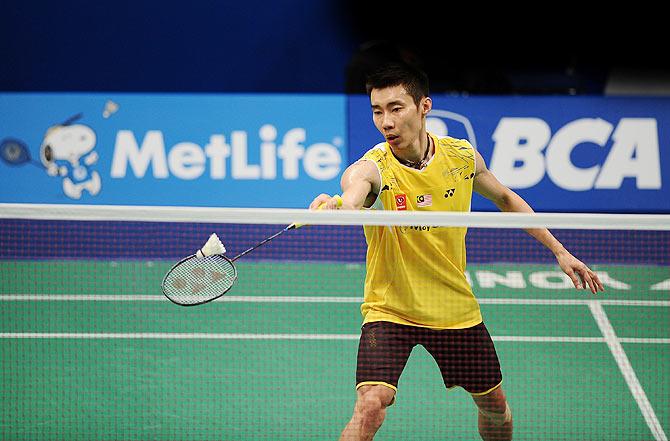 Legendary shuttler Lee Chong Wei has been diagnosed with early stage nose cancer and he is undergoing treatment in Taiwan, Badminton Association of Malaysia (BAM) said Saturday.
"In response to recent reports concerning Datuk Lee Chong Wei, BAM confirms that the player has been diagnosed with early stage nose cancer," BAM President Datuk Seri Norza Zakaria said in a statement in their website.
"Chong Wei is currently in Taiwan seeking treatment and I am pleased to inform you that he is responding well to his treatment and is currently resting and recuperating amongst family and close friends."
"On behalf of Chong Wei, I would like to thank all Malaysians for your prayers and concern. Your support has been his source of strength and courage. We urge everyone to respect his privacy and that of his family."
Two months ago, BAM had issued a statement a couple of months back saying that Chong Wei had been diagnosed with a respiratory-related disorder in July and was taking a break.
A former world no 1, Chong Wei is a three-time Olympic silver medallist. He had pulled off from two major tournaments -- the World Championships in Nanjing, China, in August and the 18th Asian Games in Indonesia last month - because of his illness.
However, a report has been circulating on social media claiming that Chong Wei was suffering from third-stage nose cancer.
BAM said: "We urge everyone to respect his privacy and that of his family. BAM is in constant contact with Chong Wei and we will offer any support we can to our legend."
The 35-year-old, who is currently ranked fourth in the world, has won 69 international titles and is a three-time Olympic silver medallist.
India win gold and 2 silver on day 2 of Track Asia Cup Cycling
India secured a gold and two silver medals on the second day to inch closer to the championship title at the 5th Track Asia Cup cycling in New Delhi on Saturday.
India are currently on top with four golds, five silvers and a bronze medal in the competition.
Junior cyclist E Chaoba Devi of SAI National Cycling Academy (SAINCA) stunned India's favourite Nayana Rajesh P in women elite 3 km individual pursuit finals to clinch the gold medal, while Subarna Barma from Bangladesh won the bronze.
"I'm train for 7 hours on daily basis and very glad that the hard work paid off. My sole aim to represent and win medals for the country," Chaoba Devi said.
In the men junior 3 km individual pursuit final, Bilal Ahmed secured silver with a timing of 3:28.903s, while Kazakhstan's Danil Pekhotin won his second gold of this tournament clocking 3:28.273s. SAINCA won the bronze in the event.
In the women junior 2 km individual pursuit, India's Swasti Singh won the gold medal with a timing of 2:41.123 and an average speed of 89.37 km per hour.
Danamma Chinchakh from SAINCA secured the silver medal with an average speed of 73.9 km per hour. Before this tournament, Danamma had won bronze medal in the Asian championship in Point race event.
In men elite scratch race of 15 kms, Thurakit Boonratanathanakorn and Patompob Phonarjthan from Thailand won gold and silver medals respectively. Ryan James from Netherlands won the bronze.
The men elite 4 km individual pursuit final saw Hong Kong's Siu Woi winning the gold. While Ryan James of Netherlands grabbed silver, his second medal of the day, Yuttana Mano of Thailand got bronze.
India had won three gold medals, three silver and a bronze on the opening day.
The tournament at the Indira Gandhi Indoor Stadium is being organised by the Cycling Federation of India and has attracted participation from 12 countries.
WADA bowed to money over principle: ex-director general
The former director general of the World Anti-Doping Agency said on Friday that WADA's decision to reinstate Russia's anti-doping authority was driven by money over principle.
David Howman, WADA director general from 2003 to 2016 and now chair of the Athletics Integrity Unit, set up by the global athletics federation to counter doping and corruption, gave no evidence to support the assertion, and WADA dismissed it as untrue.
WADA's decision paves the way for Russia to return to the Olympics after its ban from this year's Winter Games in South Korea.
Russia's anti-doping agency, RUSADA, was suspended in 2015 after an independent WADA report by Canadian lawyer Richard McLaren outlined evidence of widespread, systematic state-backed doping.
After the second part of McLaren's report was published in December 2016, the International Olympic Committee (IOC) instructed its sporting federations not to host championships in Russia until RUSADA was in compliance with WADA's Anti-Doping Code. Russia was also banned from the 2017 World Athletics Championships.
"It looks like they have taken the decision to deviate from a carefully put-together roadmap for entirely pragmatic reasons," Howman told Britain's Press Association.
"WADA has gone from being an organisation that cared about clean athletes to one that cares about international federations that have not been able to stage events in Russia: it's money over principle. That is a quite a difference, quite a swing, from what WADA once was."
A WADA spokesman said: "The decision was made by an overwhelming majority of the Executive Committee (made up of equal numbers from governments and sports) following a recommendation from the Compliance Review Committee, which is an independent and non-political Standing Committee.
"To suggest that this recommendation was made to please the Sport Movement or had other reasons completely ignores the process that was followed in this case and every other Code compliance-related case, a process that was put in place by David Howman himself when he was WADA Director General."
WADA president Craig Reedie said on Thursday that the decision "will not please everybody" and that athletes were entitled to feel "wary" about the rehabilitation of offenders.
WADA had repeatedly said that RUSADA would not be reinstated until it satisfied key criteria on a "roadmap for return", including recognising the findings of the McLaren Report and allowing access to stored urine samples at its Moscow lab.
At Thursday's executive committee meeting in the Seychelles, members approved a lesser version of the first point - an acceptance of the IOC's Schmid Report, which endorsed the core findings of the McLaren Report - and set another "clear timeline" for the implementation of the second.
Howman said WADA was weakening its own authority.
"Let's say they rock up there and there are no data or samples, or the Russian police restrict access to them, he said.
"What will WADA do then? Will they really vote to declare RUSADA non-compliant again?"
The Institute of National Anti-Doping Associations said WADA had "surrendered to pressure from the IOC and the Russian government to substantially weaken the terms of the Road Map".
IOA constitutes ad hoc committee to hold karate federation elections
The Indian Olympic Association has constituted a three member ad hoc committee to hold elections of Karate Federation of India after ruling that the tenure of the national sports federation has expired and poll process has been delayed.
The move meant that the elections of the KFI proposed to be held on September 23 will not be accepted by the IOA, if at all it happens.
The ad hoc committee will be chaired by Bhubaneshwar Kailta, who has earlier held important positions in the IOA. The other two members are IOA joint secretary Rakesh Gupta and Indian Weightlifting Federation Secretary Sahdev Yadav.
"The tenure of office bearers of Karate Federation of India has already expired, so the validity of its office bearers and council members have become null and void. There has been delay in commencing the process of election and now serious doubts have been raised and allegations have been made, inter alia, on the issue of appointment of returning officer," the IOA said.
"In order to ensure the elections are conducted in a democratic manner as per the applicable guidelines, the IOA president has no other option but to constitute an ad hoc committee to ensure that free and fair elections are held within 120 days," IOA Secretary General Rajeev Mehta wrote in the letter written to KFI president K R Thiagarajan.
The IOA said that "complaints, including a complaint from the KFI president himself, raising objections on the validity of the process of elections to be held on September 23, 2018".
"There are also complaints of alleged violation of model election guidelines of National Sports Code."
The IOA said ad hoc committee will invite observer from the World Karate Federation for the elections. It asked the KFA to co-operate with the ad hoc committee in the election process.
NBA Commissioner calls on teams to hire more women
The National Basketball Association sent a memo to team owners on Friday calling on them to hire more women as part of a series of recommendations that followed an investigation into workplace harassment at the Dallas Mavericks.
In the memo, which was seen by Reuters and sent to team presidents and general managers, NBA Commissioner Adam Silver said he "strongly encourages" increasing the number of women at all levels and improving the process for reporting misconduct.
Among the recommendations, Silver also said teams should hold anonymous workplace culture and sexual harassment climate surveys on a regular basis and clarify the role of team owners in the day-to-day operations of teams.
Other recommendations included "prompt and proportionate" discipline when harassment or misconduct has been substantiated, and holding executives, managers, and supervisors accountable on their efforts to eliminate harassment and improve diversity.
Silver also said teams should hold "Community Conversations" with employees within the next two weeks to discuss the Dallas investigation findings and report.
"Open and honest dialogue about these issues is critically important," Silver wrote in the memo.
The memo came a day after the NBA released findings from an independent investigation into the Mavericks that substantiated numerous instances of sexual harassment and other improper workplace conduct within the organization over a period spanning more than 20 years.
The seven-month investigation found "Mavericks' management was ineffective, including a lack of compliance and internal controls, and the shortcomings permitted an environment in which acts of misconduct and the individuals who committed them could flourish."
Mountaineer Satyarup scales Mount Damavand in Iran
Having scaled the Mount Everest and South Pole, mountaineer Satyarup Siddhanta created history by climbing Asia's highest volcanic peak, Mount Damavand in Iran.
Mount Damavand is the highest peak in Iran.
Satyarup was accompanied by Mousumi Khatua and Bhaswati Chatterjee, who left for the expedition on September 6.
On the morning of September 10, the trio started their expedition at around 6 am.
Chatterjee decided to stay back at Camp 3, after advancing till 4600 metres.
Mount Damavand is known for its sulphur discharge near its peak which can cause irreparable damage if exposed for a longer duration.
The team had to scale the summit within a very short span of time to avoid the sulphur exposure.
Satyarup has not only climbed Mount Everest, but also skied the last degree to the South Pole, covering a distance of 111 km over six days, carrying a 50kg sledge.
In November, Siddhanta plans to scale two more volcano expeditions. And in January 2019, he will leave for Mount Sidley, which will complete his volcanic summits.
Satyarup's upcoming expeditions are climbing Mount Giluwe (Oceania), Mount Pico de Orizaba (Mexico) and Mount Sidley (Antarctica).