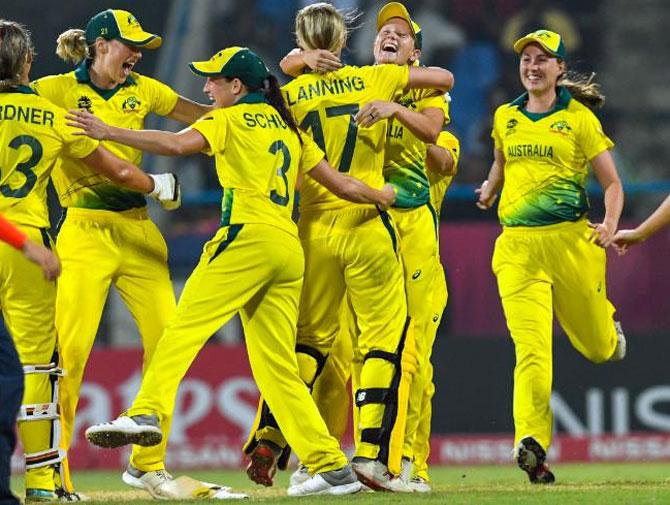 Australia's top sports federations have pledged to achieve gender equality in pay for athletes and administrators as part of a blueprint issued by a local advocacy group.
The CEOs of Cricket Australia, the National Rugby League and Football Federation Australia, have signed up to the "Pathway to Pay Equality" report by the Male Champions of Change Institute (MCC), which details a milestone-based approach to achieving pay equity between male and female athletes.
Other signatories include Golf Australia, Swimming Australia and Tennis Australia, which organises the Australian Open Grand Slam.
"Many of our elite women athletes are among the most successful on the world stage," Kate Palmer, CEO of the federal government's sports funding agency Sport Australia, said in a media release from the MCC on Monday.
"We are a sports-loving nation, we are championing a system-wide reset in the way we support, pay and reward our female athletes. The benefits to our economy, our community and our athletes will be exponential."
Having largely neglected women's sport for decades, a number of Australia's major federations have made significant investments in recent years, establishing professional leagues in cricket, soccer and Australian Rules football.
The initiatives have opened up pathways to more full-time careers in women's sport, while hiking salaries from a low base.
But most female athletes still earn a fraction of their male counterparts.
Cricket Australia gave contracted women the same base hourly pay rate as men in the five-year collective bargaining agreement struck in 2017, but women play far less cricket.
The governing body estimated that contracted female cricketers would earn a minimum annual retainer of A$87,609 ($62,600) during the final year of the pay deal in 2021/22, while men would earn over A$313,000.
Minimum annual player contracts in the W-League, Australia's top women's soccer competition, were A$12,287, less than a fifth of the minimum salaries enjoyed by players in the men's A-League (A$64,113).
Tennis Australia offers equal prize-money at the Australian Open in keeping with the other three Grand Slams.
The MCC said it had identified a 27 percent overall gender pay gap in corporate and administration roles in Australian sport, which was based on data provided to the Australian government's Workplace Gender Equality Agency (WGEA).
That compared to the national average gender pay gap of 21.3 percent across all industries.
Puma signs Mary Kom as women's training ambassador
World amateur boxing champion MC Mary Kom has signed a two-year deal with Puma to be their ambassador for women's training in India, the sports brand said on Monday.
Kom, a bronze medallist at the 2012 Olympics, won her record sixth gold medal at the World Amateur Boxing Championships in November last year. She has been roped in to lead the brand's #DoYou campaign aimed at motivating Indian women.
"Being a woman and a mother I have faced several challenges that I have powered through thanks to my family and team," Kom said in a statement.
"Puma as a brand has always believed in supporting and encouraging women, which made it a perfect fit for me."
Puma India's managing director Abhishek Ganguly hoped the partnership would inspire women across India.
"We are very thrilled to welcome Mary to the Puma family. Having consistently defied all odds to achieve a wide range of records and medals, she is an idol for women all over India."
Olympics: 2020 Games can be springboard to transform Tokyo: Governor
The 2020 Olympics can "usher in a new Tokyo" and, along with this year's Rugby World Cup, leave behind a legacy similar to that of the 1964 Summer Games, the city's Governor Yuriko Koike said on Monday.
"These two major events will serve as a springboard to transform our city," said Koike.
"This year, 2019, will be key in making those Games a success and ushering in a new Tokyo.
"But the metric for success will not be limited to just the competition itself; we want to lead Japan beyond 2020, change the way Tokyo thinks and transform our society."
The last time Tokyo hosted the Olympics in 1964, the Games provided the city with the opportunity for a rebranding, shaking off a war-ravaged reputation and showing a modern face to the world.
A building boom transformed Tokyo prior to those Games, the high-speed Shinkansen train began to run, and a growing middle class snapped up refrigerators and other appliances, including televisions to watch the Games.
This time, the legacy may be more of an intangible nature.
"The previous Tokyo Olympic and Paralympic Games in 1964 left a legacy of urban infrastructure, like the Tokyo Metropolitan Expressway and the Shinkansen bullet train network," said Koike, a former defence and environment minister.
"I intend for the Tokyo 2020 Games to leave a more intangible legacy. I also intend for the 2020 Games to leave a cultural legacy and for the Games themselves to be a celebration of culture."
Koike is focusing on making Tokyo more diverse and has also pushed for a swathe of environmental programs in order to rebrand the city as a leader in the fight against climate change.
She also sees the Paralympics as a chance to make Tokyo, notoriously difficult to navigate for citizens and visitors with disabilities, more accessible.
"I believe that the Paralympics, in particular, will be a key event that determines the success of the Tokyo 2020 Games," said Koike.
"This will be the first time that a city has hosted it's second summer Paralympics and as the city with that honour, Tokyo aims to lead the country in strengthening barrier-free standards in lodging facilities."
One of the recent regulations implemented by the Tokyo Metropolitan Government is the 'Open Stay Tokyo' project, which looks to increase the width of doors and corridors within hotels to accommodate wheelchair uses.
The Tokyo Olympics open on July 24 next year.