Summary of sports events and persons who made news on Friday.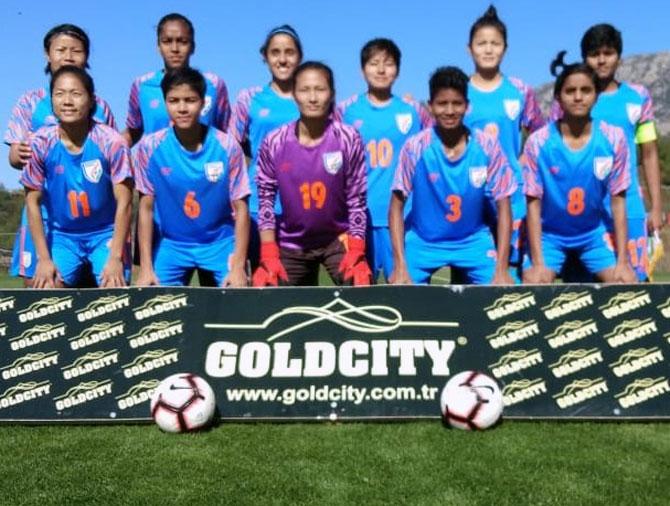 Sanju produced a hat-trick as the Indian women's football team romped to a massive 10-0 victory against Turkmenistan in their second match of the Turkish Women's Cup in Alanya on Friday.

Sanju (17th, 37th, 71st) was the highest scorer of the match, Anju Tamang (51st, 83rd) and Ranjana (60th, 62nd) got a brace each to their name, while Dangmei Grace (7th), Sumithra (77th) and Indumathi Kathiresan (87th) also scored one goal each.
India suffered a 0-1 defeat against Uzbekistan on Wednesday.

India started off with a bang, as Dangmei put the eves in front on the 7th minute itself. Around 10 minutes later, Sanju added another one, before making it 3-0 for India minutes before the half-time break.

The team, led by Indumathi in this match, increased the tempo in the second half, as Grace and Ranjana combined again to add two more.

Notably, the 71st-minute goal marked the hat-trick for Sanju, and also the third assist of the match for right-back Dalima Chhibber.

Sumithra, Anju and captain Indumathi added three more goals to take India to double figures in the game.

India will next face Romania on Sunday.
Aussie cyclists break world record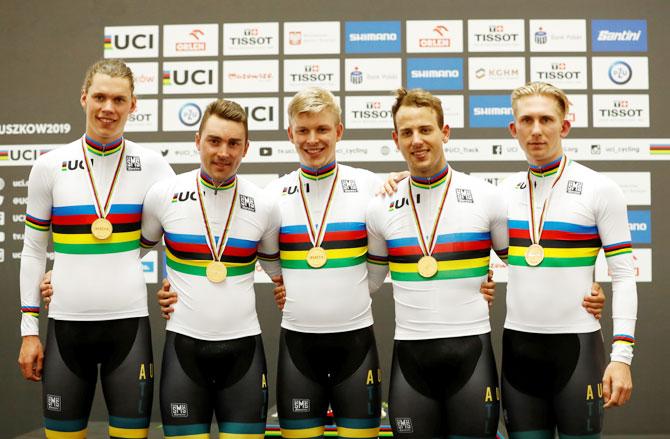 Australia smashed their own world record to win the men's team pursuit gold at the track cycling world championships ahead of Olympic champions and title holders Britain on Thursday.
The Australians led from the start and the quartet of Leigh Howard, Samuel Welsford, Kelland O'Brien and Alex Porter set a time of 3:48.012 to eclipse the previous world mark of 3:49.804 achieved at their home 2018 Commonwealth Games.
Denmark took the bronze after beating Canada.
Britain's three-time Olympic gold medallist Ed Clancy and teammates Charlie Tanfield, Ethan Hayter and Kian Emadi were blown away by the speed of the Australians, with the two countries likely to vie for gold at the 2020 Tokyo Olympics.
"I'm speechless at the moment to be honest," Australia's Porter, 22, said on the organisers' official twitter https://twitter.com/UCI_Track feed. "It's a pretty surreal feeling. We were going fast in training but we didn't imagine we'd be able to do something like that."
Porter was competing only 10 weeks after damaging his left shoulder and breaking a collarbone in a crash at the national madison championships at Melbourne Arena.
Australia's Welsford won his second gold when he claimed the men's scratch title with Roy Eefting of the Netherlands taking silver and New Zealand's Tom Sexton the bronze.
Dutchman Matthijs Buchli secured his second gold of the championships by beating Japan's Yudai Nitta and Germany's Stefan Boetticher in the men's keirin final. On Wednesday Buechli helped his country retain the team sprint title.
Australia beat Britain by 0.204 seconds in the women's team pursuit final with Annette Edmondson, Ashlee Ankudinoff, Georgia Baker and Amy Cure hanging on after building an early lead.
New Zealand took the bronze by beating Canada.
Australia lead the medals table after the second day of the championships having won four out of seven finals.
Friday's action includes the men's points race, time trial and individual pursuit plus the women's sprint.
Patriots owner Kraft pleads not guilty in Florida prostitution sting
Robert Kraft, owner of the New England Patriots, pleaded not guilty to charges of soliciting prostitution in Florida, where police said he was captured on video engaging in sex acts with a worker at a massage parlour, according to court records.
The court documents, which were filed on Tuesday in the 15th Judicial Circuit Court in Palm Beach County, Florida, showed that Kraft's lawyers also requested a non-jury trial.
The 77-year-old billionaire businessman, whose Super Bowl-winning Patriots have become the National Football League's most dominant franchise, was swept up in a police sting last week that targeted sex-trafficking in day spas and massage parlours in several Florida counties. The operation has led to hundreds being charged.
"We categorically deny that Mr. Kraft engaged in any illegal activity. Because it is a judicial matter, we will not be commenting further," Aaron Salkin, a spokesman for Kraft and the Patriots, said in a statement.
Kraft was charged on Feb. 22 with two misdemeanours after police accused him of visiting Orchids of Asia Day Spa in Jupiter, Florida, on two separate occasions to solicit sex. Kraft lives in Massachusetts but owns property in Palm Beach, Florida.
Authorities acquired video evidence depicting the acts in question after installing hidden cameras inside of the spa, police officials said.
Kraft could face discipline under the league's personal conduct policy, which applies to team owners and prohibits "conduct detrimental to the integrity" of the NFL.