Arpinder fails to touch World C'ships mark
Asian Games gold medallist triple jumper Arpinder Singh won the gold but failed to touch the World Championships qualifying mark on the second day of 59th National Inter-State Athletics Championships, in Lucknow, on Wednesday.
Arpinder managed the season's best jump of 16.83m, 12cm short of World Championship qualifying standard of 16.95m under hot and humid conditions at the PAC Stadium.
Karnataka's U Karthik and Tamil Nadu's Mohammed Salahuddin took the silver and bronze respectively with jumps of 16.0m and 16.79m.
The 26-year-old Arpinder, who has a personal best of 17.17m (of 2014), will have another shot at World Championships qualification in the Indian Grand Prix in New Delhi on September 5.
None of the Indians could come close to the qualifying marks of the World Championships to be held in Doha from September 28 to October 6.
Balakumar Nithin and Alex Antony won the men's 200m and 400m gold respectively in the absence of top runners.
Having won the sprint double in the Khelo India Youth Games in Pune earlier this year, Nithin's winning time of 20.91 seconds was the third-best on the list among Indians over the 200m this year.
Only Arokia Rajiv and Muhammed Anas Yahiya – both 400m specialists -- have run faster in 200m than the bespectacled sprinter from Tamil Nadu. The 200m qualifying time for the World Championships is 20.40.
Kerala runner Alex, who first gave glimpses of his potential with a 46.66 second run in the Indian Grand Prix V in Patiala earlier this month, improved his personal best with a 46.17 second effort.
It's creditable that he won a race that included runners of the caliber of Ayyasamy Dharun (400m hurdles national record holder) and Tamilarasan Santhosh.
Dharun and Santhosh finished fifth and seventh while Haryana's Harsh Baljeet Singh and Karnataka's Sachin Roby took the silver and bronze respectively by finishing inside 47 seconds.
Kunhu Mohammed, who has been part of the Indian 4x400m relay team, was unable to go past the semifinal run in the morning, clocking 47.69 to finish third in his heats.
Iranian Mahdi Pirjahan won the men's 400m hurdles in new meet record time of 49.33 seconds. The Athletics Federation of India had invited some foreign athletes for the meet.
P U Chithra won the women's 800m in her personal best time of 2:02.96 while Mohammed Afsal pocketed the gold in men's 800m in the absence of Manjit Singh and Jinson Johnson with the year's best by an Indian, clocking 1:48.35.
The Results (all finals):
Men:
200m: 1. Balakumar Nithin (Tamil Nadu) 20.91 seconds; 2. Akshay Nain (Delhi) 21.39; 3. Abhinav Panwar (Delhi) 21.47.
400m: 1. Alex A Antony (Kerala) 46.17 seconds; 2. Harsh Baljeet Singh (Haryana) 46.64; 3. Sachin Roby (Karnataka) 46.96.
800m: 1. Mohammed Afsal (Kerala) 1:48.35; 2. Mujamil Ameer (Tamil Nadu) 1:49.03; 3. Ankit (Haryana) 1:49.95.
400m Hurdles: 1. Mahdi Pirjahan (Iran) 49.33 seconds; 2. Jagdeesh Chandra (Karnataka) 50.85; 3. Jithin Paul (Kerala) 50,92.
Triple Jump: 1. Arpinder Singh (Punjab) 16.83m; 2. Karthik U (Karnataka) 16.80; 3. Salahuddin Mohammed (Tamil Nadu) 16.79.
Shot put: 1. Inderjeet Singh (Haryana) 19.73m; 2. Jasdeep Dhillon (Punjab) 17.77; 3. Shakti Rathore (Rajasthan) 17.20.
Decathlon: 1. Gurpreet Singh (Chandigarh) 6667 points; 2. Durai Murugan (Tamil Nadu) 66621; 3. Krishna Kumar (Tamil Nadu) 6587.
20km walk: 1. Sandeep Kumar (Haryana) 1:27:25.47; 2, KT Irfan (Kerala) 1:28:20:94; 3. Chandan Singh (Uttarakhand) 1:28:21.29.
Women:
800m: 1. P U Chitra (Kerala) 2:02.96; 2. Jessy Joseph (Kerala) 2:07.09; 3. Pramila Yadav (Uttar Pradesh) 2:07.62.
400m Hurdles: 1. Arpitha Manjunatha (Karnataka) 59.98 seconds; 2. Aarthi (Tamil Nadu) 1:00.48; 3. Dhivya (Tamil Nadu) 1:01.06.
Long Jump: 1. Nayana James (Tamil Nadu) 6.20m; 2. Priyanka Kerketta (Jharkhand) 6.13; 3. Harshini Saravanan (Tamil Nadu) 6.07.
ATP fires chair umpire Steiner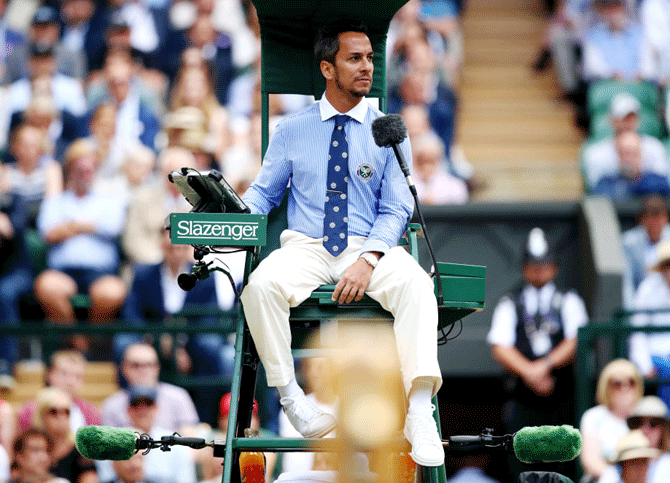 Damian Steiner, the chair umpire who officiated the men's singles final at last month's Wimbledon, has been fired by the ATP for giving interviews to news media in his native Argentina without authorization, the men's Tour said on Tuesday.
Steiner, who oversaw Novak Djokovic's epic win over Roger Federer, recommended rule changes in a podcast that included restricting the use of towels during play, abolishing the service let and allowing in-match coaching.
"The ATP can confirm that it has terminated the employment of ... Damian Steiner due to his multiple breaches of the ATP ... policy related to media interviews," the Tour said in a statement.
"Steiner was found to have conducted multiple media interviews without seeking the required authorisation from an ATP Supervisor."
"In addition, much of the content of Steiner's media interviews were a direct violation of the standard protocol in place whereby officials must refrain from discussing specific incidents or matches, individual players, other officials, or rules, in the interest of maintaining impartiality at all times."
The ATP has a longstanding policy against allowing chair umpires to give interviews.
China's Sun says public opinion 'distorting' facts of drug test
China's Olympic and world champion swimmer Sun Yang has said public opinion has been "distorting" the facts surrounding his controversial drug test in Shanghai last year and made his training and life intolerable.
The 27-year-old faces a Court of Arbitration for Sport (CAS) hearing over anti-doping violations involving a test at his residence compound last September.
Documents leaked to the media revealed Sun questioned the credentials of the testers before members of his entourage smashed the vials containing his blood samples with a hammer.
Sun, who has repeatedly denied wrongdoing, said on social media that his actions during the botched test were all carried out under the guidance of his team, medical personnel and leaders of the provincial anti-doping centre.
"However, public opinion has been distorting the facts to varying degrees," Sun said on the Twitter-like Weibo platform.
"My training and life have been greatly troubled, far beyond the threshold of tolerance."
Sun, who won the 200 and 400 metres freestyle titles at Gwangju, bringing his world championships haul to 11, said he had been tested hundreds of times according to "strict" anti-doping rules and always cooperated with officials.
He added that he was unable to go public with the truth but said: "Fortunately, the surveillance cameras have recorded everything, otherwise I won't be able to defend myself against irresponsible accusations."
Sun was cleared of wrongdoing by a doping panel convened by swimming's global governing body FINA but the World Anti-Doping Agency appealed to CAS.
CAS said last week it would hold the case in public in a break from usual procedure.
Sun served a three-month doping suspension in 2014 for taking the stimulant trimetazidine, which he said he took to treat a heart condition.
A second doping violation would inevitably bring a harsher sanction and could rule him out of next year's Tokyo Olympics.
He competed at the world championships in South Korea under the shadow of the WADA appeal and three rivals snubbed him after races, by either refusing to shake his hand or join him on the podium.
Jamaican under-20 world champ Williams tests positive
Jamaica's world under-20 double sprint gold medallist Briana Williams has tested positive for a banned diuretic, her lawyer has told Reuters, potentially ruling her out of the world athletics championships in Doha.
Williams has denied any wrongdoing and her Canada-based lawyer Emir Crowne said the banned substance hydrochlorothiazide (HCTZ) appeared to have been in an over-the-counter cold remedy she had purchased.
She had also declared the medication on her doping control form, he said.
"I can confirm that we have an independent test on an over-the-counter cold medication that the athlete took (that) confirmed the presence of a diuretic," Crowne said.
"The diuretic was not listed among the ingredients in that cold medicine that the athlete took.
"It is genuinely a case where I would suggest no fault at all for a situation that was beyond her control, and beyond anyone's control really."
Alexander Williams, who chairs the Jamaica Anti-doping Commission, declined to comment.
Both of the 'A' and 'B' samples were tested at the WADA accredited lab in Montreal.
HCTZ is banned because it can to mask the use of anabolic steroids. It is normally used to treat high blood pressure.
The 17-year-old Williams clocked a yet-to-be-ratified national junior record of 10.94 seconds to place third in the 100m final at the national senior trials in June but could now miss selection for the world championships in Doha.
The Jamaican team for the September 27-Oct. 6 championships will be named on September 6.
Under the World Anti-doping Agency and IAAF rules, Williams is facing the possibility of a maximum ban of four years if found guilty.
Warren Blake, president of the Jamaica Athletics Administrative Association, told Reuters he hoped it would not come to that.
"Based on what we have heard, we expect that a suitable explanation will be given," he said.
"The explanation and the (independent) test that has been done seem that they might, in my opinion, exonerate the athlete."