Summary of sports events and persons who made news on Sunday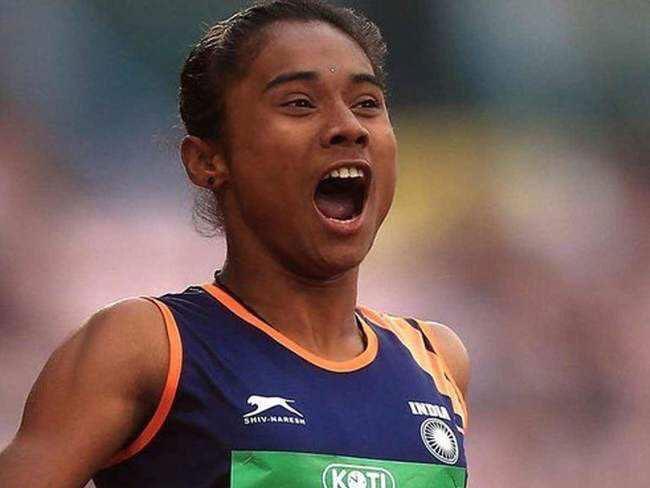 Star Indian sprinter Hima Das won her second international gold in women's 200m with a top finish at the Kutno Athletics Meet in Poland on Sunday.
Hima, who has been struggling with a back problem for the past few months, clocked 23.97 seconds to clinch the gold while VK Vismaya bagged the silver in 24.06.
National record holder Muhammed Anas also won the gold in men's 200m race with a time of 21.18 seconds.
This was Hima's second competitive 200m race of the year. She has a personal best of 23.10s, which she clocked last year.
In her first competitive 200m race of the year, the Assam runner had clocked 23.65s on her way to gold in the Poznan Athletics Grand Prix, also in Poland, on Tuesday. Vismaya had finished third in that meet with a personal best time of 23.75.
Hima is the reigning world junior champion and national record holder in 400m.
National record holder Muhammed Anas also won the gold in men's 200m race at Kutno Athletics Meet in Poland on Sunday.
M P Jabir won the gold in men's 400m hurdles in 50.21 seconds while Jithin Paul was third in 52.26 secs.
Indians swept the women's 400m race through P Saritaben (52.77 secs), Sonia Baishya (53.73 secs) and R Vithya (53.73 secs).
Indians win 12 gold in Kazakhstan athletics meet
Indian track and field athletes won a whopping 19 medals, including 12 gold, in the Qasanov Memorial Meet which concluded in Almaty, Kazakhstan, on Sunday.
National record holder long jumper M Sreeshankar led the campaign with a gold-winning performance of 7.88m. His national record stands at 8.20m.
Mohammad. Salahuddin won a gold in men's triple jump event with a personal best effort of 16.64m while compatriot Mohd. Zuber took the Silver in 16.21m.
Sahil Silwal added another gold to India's kitty by winning the men's javelin throw event with a personal best effort of 77.40m while Rohit Yadav bagged the silver by sending the spear to a distance of 75.36m.
Other gold winners are Harsh Kumar (400m), Mohammed Afsal (800m), Ajay Kumar Saroj (1500m), Gagandeep Singh (discus throw), Archana (100m), Lili Das (1500m), Navjeet Kaur Dhillon (discus throw), Navjeet Kaur (shot put) and women's 4x100m relay.
Vinesh, Divya win gold, Pooja settles for silver at Grand Prix of Spain
Putting up a dominating show, India's top wrestler Vinesh Phogat won her first gold medal after shifting to 53kg category while Divya Kakran claimed the top honours in the 68kg category in Madrid at the Grand Prix of Spain.
Vinesh, one of India's medal hopefuls at the 2020 Tokyo Games, was competing only in her third tournament in the new category.
In the eight-wrestler 53kg draw, Vinesh comfortably beat Peru's Justina Benites and Russia's Nina Minkenova before getting the better of Dutch rival Jessica Blaszka in the final.
Gold medal winner at the Jakarta Asian Games, Vinesh did not lose a single point against Justina and Nina but Jessica did take six points from the Indian in the final.
Vinesh had competed in Asian Championship and Dan Kolov, where she won a bronze and silver respectively in the 53kg category before this tournament.
Also standing atop the podium was Asian Games bronze medallist Divya, who lost just four points in her campaign.
The outspoken Indian grappler blanked Poland's Agnieszka Wieszczek-Kordus in the final.
World Championship bronze medallist Pooja Dhanda (57kg) had to be content with a silver after losing the title clash to Russia's Veronika Chumikova.
Also winning silver medals were Seema (50kg), Manju Kumari (59kg) and Kiran (76kg) who lost their gold medal bouts to Poland's Iwona Matkowska, Russia's Liubov Ovcharova and Ksennia Burakova, respectively.
Sakshi Malik withdrew from the competition due to a minor injury.
India finished second with 130 points in team championship behind Russia (165).
India suffer 2-4 defeat against Tajikistan in Intercontinental Cup opener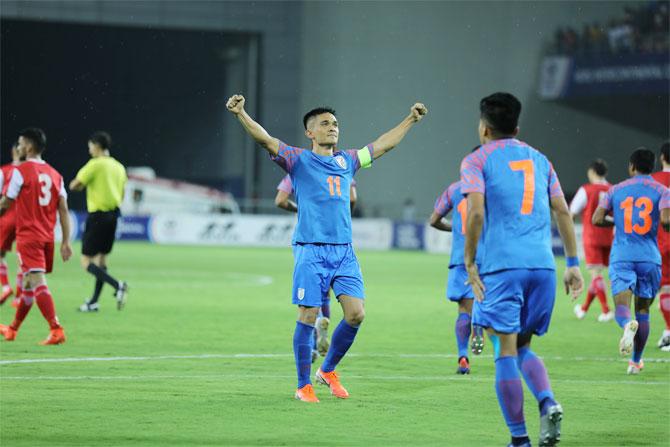 A dysfunctional Indian defence crumbled into pieces in the second half as the home side squandered a 2-0 lead to lose 2-4 against Tajikistan in the opening match of Intercontinental Cup football tournament in Ahmedabad on Sunday.
Chhetri struck in the fourth and 41st minutes to give India a 2-0 lead at half time but the home side's inexperienced defence committed mistakes galore to let in four goals in the second half and cancel out the talismanic captain's fine efforts.
Tajikistan scored through Komron Tursunov (56th), Sheriddin Boboev (58th), Rahimov (71st) and Samiev (74th).
The match yet again showed that FIFA ranking has no relevance as India are ranked 101 while Tajikistan are 120.
India played without their seasoned central defender Sandesh Jhingan and his earlier long time partner Anas Edathodika, who was called out from retirement by head coach Igor Stimac, as he was not 100 per cent fit for the match.
Adil Khan and debutant Narender Gahlot, who manned the central defence, were found wanting on many occasions, while wing backs Rahul Bheke and Mandar Rao Desai also struggled. Most of Tajikistan attacks came from the right side through Bheke.
In the first half though, India looked like a much better side with Chhetri scoring two goals for his 69th and 70th international goals.
A cheeky 'panenka' from the dreaded spot and another clinical finish showcased the captain's goal-scoring prowess but in the end it was of no avail.
Chhetri sent an already committed Tajikistan goalkeeper Rustam Yatimov to his right and chipped the ball into the net near the center of the goal before pouncing on a mistake by the opposition defenders for his second strike of the match in the 41st minute.
The defensive weakness that was seen during the King's Cup in Thailand last month came to haunt India again as the home side conceded two goals in the space of two minutes. They conceded another two goals in three minutes later on.
Stimac, in his first game on India soil, made seven changes from the line-up that played in the third-place playoff of the King's Cup in Thailand last month. Only Adil, Bheke, Amarjit Singh and Anirudh Thapa remained in the starting eleven.
Goalkeeper Gurpreet Sandhu and Chhetri made their way back in after being rested for the Thailand match. Mandar Rao Desai and Narender Gahlot made their international debuts.
India finish with no medal at Archery World Cup Stage IV
Recurve mixed pair of Atul Verma and Bombayla Devi Laishram lost to Italy 3-5 in the bronze play-off in Berlin on Sunday as India concluded their campaign in the Archery World Cup Stage IV without a medal.
Ranked fifth in the qualification round, the Indian duo drew the first set 36-36 but the Italian pair Mauro Nespoli and Elena Tonetta went ahead shooting two 10s.
The Indian combo then put up a strong show to take the third set 37-36 but cracked under pressure in the decider, where they only managed a poor 34 against the Italians 37.
The bronze playoff was the country's sole medal hope in the last stage of the World Cup, where none of the Indians could make it to the medal rounds in the individual or team events of recuve and compound sections.
The same Indian team had bagged a silver and two bronze medals in last month's World Championships, besides securing an Olympic full quota in the men's section.