Summary of sports events and persons who made news on Sunday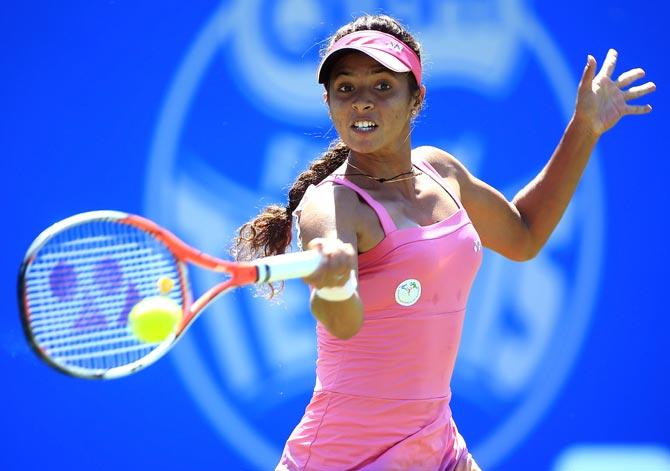 Indian tennis player Ankita Raina, on Sunday, won her first singles title of the 2019 season and eighth overall after trampling top seed Arantxa Rus in straight sets in the final of the $ 25,000 event in Singapore.
Coming into the tournament after competing at the Australian Open Qualifiers, Ankita demolished world number 122 and the Dutch top seed 6-3, 6-2 in one hour and 23 minutes.
Ankita toppled four seeded players in the tournament starting with Dutch eighth seed Lesley Kerkhove in the second round.
The gritty 25-year-old followed that up with wins over second seed Uzbek Sabina Sharipova and third seed Conny Perrin from Switzerland.
The 50 points earned from the title triumph are likely to catapult Ankita to a career-high singles rank of 168 when the new WTA list is issued on Monday.
Vietnam beat Jordan on penalties to reach Asian Cup quarters
Vietnam's young guns beat Jordan 4-2 on penalties to reach the quarter-finals of the Asian Cup after the match finished 1-1 following extra time at the Al Maktoum Stadium on Sunday.
Jordan's Baha Seif hit the bar and Vietnam goalkeeper Dang Van Lam saved Ahmad Saleh's effort in the shootout to leave substitute Bui Tien Dung to convert his spot kick and send his side through to a meeting with Japan or Saudi Arabia on Thursday.
The match had finished deadlocked after 120 minutes with Jordan's Baha Abdelrahman opening the scoring from an indirect free kick in the first half and Nguyen Cong Phuong equalising with a volley six minutes after the break.
Southeast Asian champions Vietnam poured forward in search of a winner but, for all their possession, neat interplay and stylish touches, they could not quite carve out a goal.
Jordan had beaten reigning champions Australia and Syria to win their group, while Park Hang-seo's youthful Vietnam team had squeaked through to the last 16 by virtue of having a superior disciplinary record to Lebanon.
While there was little to separate the teams over an entertaining contest, Jordan's muscular game ensured they had the best of the first half and they went in front in the 39th minute.
Vietnam had some grounds for grievance, first in that an indirect free kick was awarded inside the box for a high boot and secondly over whether Yousef Al-Rawashdeh actually moved the ball to tee up Abdelrahman.
There could be no complaints about the midfielder's strike, though, as he celebrated his 120th cap by crashing the ball into the roof of the net from the left-hand edge of the area.
Going behind galvanised Vietnam and they peppered Amer Shafi's goal before the break, the Jordan goalkeeper doing particularly well to tip Do Hung Dung's drive over the bar.
The Jordan goal was finally breached for the first time at the tournament in the 51st minute when Nguyen Trong Hoang sent an inviting cross into the area and Phuong got between the central defenders to flick the ball into the net.
Pak drops 11 players from World Cup side
Pakistan selectors effected a wholesale change in the country's hockey squad for the FIH Pro-League series beginning next month by dropping 11 players, including captain Muhammad Rizwan, who were part of the team's disastrous campaign in the recent World Cup.
After trials held in Islamabad, chief selector Islahuddin Siddiqui announced Sunday that captain Muhammad Rizwan (Sr) and 10 other players, mostly seniors, were dropped from the team.
Midfielder Ali Shan will lead the new-look 18-member Pakistan squad for the Pro-League series in Argentina, Australia, New Zealand and European countries in the coming six months.
The 25-year-old has so far represented the country in 135 international matches.
Pakistan had finished 11th without winning a single match at the 16-nation World Cup held in Bhubaneswar during November-December last year. Then manager Hasan Sardar had held the senior players responsible for the team's miserable show in the mega event.
Interestingly, the participation of Pakistan in the Pro-League series is still yet not certain due to financial issues.
Serious doubts remain over whether they will be able to fly to Argentina and then to Australia and New Zealand as the sports minister has made it clear that to get more grants the Pakistan Hockey Federation (PHF) has to first submit a comprehensive plan to the government.
The PHF has asked for another grant of 120 million rupees to cover the expenses of sending the team to the Pro-League matches and for allowances of players and officials.
Pakistan Squad: Waqar Ahmed, Amjad Ali, Aleem Bilal, Mubashar Ali, Rizwan Ali, Amjad Ali Khan, Abu Bakar Mahmood, Moin Shakeel, Azfar Yaqoob, Ali Shan (captain), Faisal Qadir, Atif Mushtaq, Atiq Arshad, Rana Waheed, Junaid Manzoor, Ghazanfar Ali, Ali Aziz, Shan Irshad.
Standbys: Salman Razzaq, Adeel Lateef, Rana Sohail, Mohammad Qamar, Akmal Hussain, Taimour Malik, Samiullah, Emmaduddin.
Officials: Saeed Khan (head coach-cum-manager); Danish Kaleem, Rehan Butt (coaches).
Akash posts upset win over GM Ziatdinov
International Master G Akash, a former national champion, shared the lead with four points after the fourth round of the 11th Chennai Open International Grand Master chess tournament.
In the fourth round, Akash defeated Grand Master Raset Ziatdinov of USA in a Ruy Lopez game that lasted 46 moves.
Shattering both sides of the board, Akash, a GM norm-holder, kept Ziatdinov's king in the centre and finished the game in a flourish.
On the top board, GM Luka Paichadze of Georgia scored a win over defending champion R R Laxman of India.
Sharing the lead with four points with Paichadze are Tran Tuan Minh, Nguyen Van Huy (both Vietnam), Maxim Lugovskoy (Russia), Akash, Karthik Venkataraman, P Shyam Nikhil, A Ra Harikrishnan and Girish A Koushik (all India).
Half a point behind them with 3.5 points are 11 players including GMs Ivan Popov (Russia) and Aleksej Aleksandrov of Belarus among others.
Results: Round 4 (Indians unless specified): Luka Paichadze (Geo) 4 beat RR Laxman (3), Mikulas Manik (Svk) 3.5 drew with Aleksej Aleksandrov (Blr) 3.5, Girish A Koushik (4) beat Deepan Chakkravarthy J (3), Stupak Kirill (Blr) 3.5 drew with A L Muthaiah (3.5), Rathanakaran K (3) lost to Tran Tuan Minh (Vie) 4. Tran Minh Thang (Vie) 3 lost to Karthik Venkataraman (4), N R Vignesh (3.5) drew G B Harshavardhan (3.5), G Akash (4) bt Raset Ziatdinov (USA) 3, Sai Vishwesh (3) lost to Nguyen Van Huy (Vie) 4.
Round 3: Levan Pantsulaia (Geo) 2 lost to Tran Minh Thang (Vie) 3, Harshavardhan (3) bt Ivan Rozum (Rus) 2, Ivan Popov (Rus) 2.5 drew with V Saravanan (2.5), L R Srihari (2) lost to Luka Paichadze 3, Aleksandrov 3 beat Ameir Moheb (Egy) 2, Ziatdinov 3 beat Erigaisi Arjun (2), J Deepan Chakkravarthy (3) beat P Konguvel.
Henry fumes at VAR glitch after Monaco lose again
Struggling Monaco's 5-1 home defeat against Strasbourg on Saturday left Thierry Henry fuming with the coach seen insulting an opposing player and lashing out at a malfunction of the Video Assistant Refereeing (VAR) system.
TV footage showed the former France international making an abusive remark to a Strasbourg player as the visitors showed no mercy in routing Monaco, who were reduced to 10 men after the dismissal of Naldo in the seventh minute.
The result left the club from the principality second from bottom of the league on 15 points from 21 games and still without a Ligue 1 victory at their Stade Louis II home this season.
Monaco were trailing 2-1 just after the hour mark when they were denied a penalty in an incident that a furious Henry thought had turned the game.
"When I asked the fourth official why he wasn't reviewing (what led to the potential penalty), he told me the VAR was not working," Henry was quoted as saying in French daily L'Equipe on Sunday.
"I would like to know why the VAR was not working and I hope you are going to ask why. We were 2-1 down at that moment and if we convert the penalty, it's 2-2. It would have been a game changer."
His Strasbourg counterpart, Thierry Laurey, confirmed there had been a problem with the VAR.