Anand draws with Vachier-Lagrave; remains in joint lead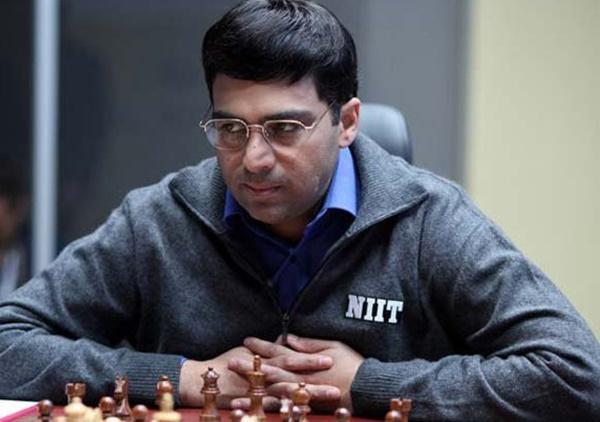 IMAGE: Viswanathan Anand. Photograph: PTI.
Five-time world champion Viswanathan Anand played out a draw with Maxime Vachier-Lagrave of France to remain in joint lead after the end of the eighth and penultimate round of Sinquefield Cup, a part of the Grand Chess tour.
Anand played his last white game in the tournament against Vachier-Lagrave and had a small advantage but the Frenchman was quite up to the task in defense and steered the game to a draw.
Besides Anand and Vachier-Lagrave, Levon Aronian of Armenia also ensured he remained in the joint lead on five points after he was held to a draw by Peter Svidler of Russia in a very complicated game.
Results round 8: V Anand (Ind, 5) drew with Maxiem Vachier-Lagrave (Fra, 5); Ian Nepomniachtchi (Rus, 3) drew with Magnus Carlsen (Nor, 4.5); Levon Aronian (Arm, 5) drew with Peter Svidler (Rus,3.5); Sergey Karjakin (Rus, 4.5) beat Wesley So (Usa, 2.5); Fabiano Caruana (Usa, 4) drew with Hikaru Nakamura (Usa, 3).
Maheshwari Chauan bags memorable bronze for India
Indian shooter Maheshwari Chauhan secured a bronze medal at the Asian Shotgun Championship in women's skeet in Astana.
It was made sweeter when she led her country to the team silver alongside compatriots Rashmmi Rathore and Saniya Sheikh.
The trio shot a total of 190, finishing behind Gold medalists China, who shot 195. Hosts Kazakhstan won the bronze shooting 185.
India's day was all about Maheshwari though, when she shot 68 out of 75 earlier in the day to finish on top of the qualification pile of 22-shooters.
She led a group of six shooters into the final round. Among them was team-mate Rashmmi Rathore who qualified sixth with a score of 64.
India started day five with four medals in the kitty, thanks to Ankur Mittals's double gold effort in the men's double trap and Kynan Chenai's double bronze effort in the trap shooting events.
India's tally now stands at two gold, a silver and three bronze medals.
Indian men's compound team enters bronze play-offs
The Indian men's compound team remained in fray for a bronze medal, even as all the recurve archers continued to misfire at the World Cup Stage 4 in Berlin on Friday.
The fifth seeded Indian trio of Abhishek Verma, Aman Saini and Amanjeet Singh started their campaign by defeating Spain 228-222 before getting the better of 13th seeded Sweden team 231-229 in quarter-finals.
However, they failed to overcome the top seed USA and lost 228-233 in the semi-finals to make it to the third-fourth place play-off match.
In the bronze medal play-offs, India will take on lower ranked Germany on Saturday.
The compound women's team of Jyothi Surekha Vennam, Trisha Deb and Snehal Mandhare, seeded third, got a bye to reach the quarter-finals. But they lost to 11th seed South Africa 28-29 in a nail-biting finish in the shoot-off.
The compound mixed pair team also went down in the quarters, against Mexico 149-156.
In the compound individual section, only Verma and Jyothi could reach the last-eight rounds, while all others made early exits.
Sixth seed Verma lost to third seed Braden Gellenthien of USA 146-148, while fifth seed Jyothi was stunned by 13th seed Sarah Sonnichsen of Denmark 145-147.
Meanwhile, Indian recurve archers came up with dismal performance once again.
It has been more than year -- Stage 3 Antalya, June 2016-- when India won a World Cup medal in recurve section and the woeful form extended to Berlin as well with both men and women's teams making quarter-final exits.
India end Belgium leg of Euro tour with 1-3 loss
The Indian men's hockey team suffered its second successive loss, going down 1-3 to hosts Belgium in Boom for a disappointing end to the first leg of its ongoing tour of Europe.
The Red Devils dished out a spirited performance late last night and came back from a goal down to beat India and pocket the two-match series 2-0 in as many days.
India had earlier lost by a solitary goal to Belgium in their opening game of the tour on Wednesday.