Summary of sports events and persons who made news on Thursday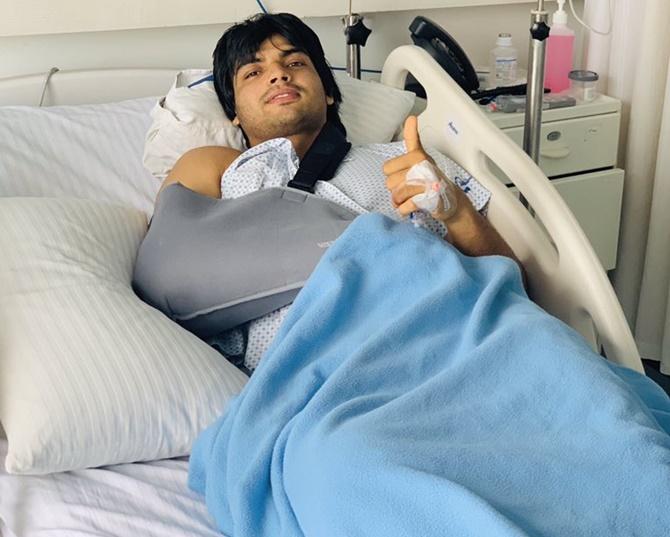 Star javelin thrower Neeraj Chopra is recovering from his elbow surgery without complications but he will not be rushed into any competition, including the World Championships later this year, Athletics Federation of India President Adille Sumariwala said on Thursday.
The 21-year-old Neeraj, who won a gold in the Commonwealth Games as well as Asian Games last year, was successfully operated by celebrated orthopaedic surgeon Dr. Dinshaw Pardiwala at the Kokilaben Dirubhai Ambani Hospital in Mumbai on May 2.
The arthroscopic surgery on his throwing right hand was done to remove bone fragments from his elbow joint. His recovery is likely to take at least three months, putting his participation at the prestigious Doha World Championships (September-October) in doubt.
"There were some bone fragments (in Neeraj's elbow) which were removed. He has started his physiotherapy with Heath Matthews. He must have done four sessions by now. I will discuss about Neeraj's progress with Matthews and doctor Pardiwala tomorrow," Sumariwala said.
"He (Neeraj) is doing everything except throwing. He is undergoing rehabilitation. The daily report is good, so far so good, there are no complications. We are hopeful (of his complete recovery)," he added.
Matthews is a renowned physiotherapist and head of sports medicine at Reliance Foundation Hospital in Mumbai. He has treated the likes of Sachin Tendulkar, Sania Mirza and Mahesh Bhupathi.
Asked if the AFI is hopeful of Neeraj competing in the World Championships, Sumariwalla said, "We are taking step by step, there is no point jumping the gun. We are not pushing him (to do things).
"We are not even talking to him about the World Championships. If we do that he would want to throw hard. We will go step by step. We told him you do so much of rehabilitation and we will see what to do next."
Pakistan's Olympic hockey participation uncertain
The Pakistan hockey team's chances of playing in next year's Olympic Games appeared to have ended after the International Hockey Federation (FIH) did not include it in next month's pre-qualifying tournament scheduled.
The new secretary-general of Pakistan Hockey Federation, Asif Bajwa, said that the development was a big setback for Pakistan.
"The FIH has taken this decision since we did not send our team for the FIH Pro-Hockey League in February-April," he said.
Bajwa, who has taken over from legendary player Shahbaz Ahmed, said he would write to the FIH to reconsider its decision and make a spot for Pakistan to at least try to qualify for the Olympics.
"I will also be meeting with important government officials soon to discuss the future of hockey in Pakistan and the funding issue."
The FIH has already fined PHF around 170,000 Euros for not sending the team to the Pro-Hockey League in Argentina, Australia and New Zealand, which, it says, damaged the sport's growth globally.
Shortage of funds had led to the PHF not sending its team for the Olympics qualifying process.
Hockey, which is the designated national sport in Pakistan, has suffered a steep downfall in recent years due to administrative mismanagement, wrong selection policies and failure by the PHF to get sponsorship and funds.
A sport in which Pakistan was one of the best on the basis of winning several world, Olympic and Asian Games titles is today in dire straits and Bajwa said that there was just 7 lakh and 65,000 rupees in PHF accounts.
In the ongoing inaugural FIH Pro-League which began in January, nine teams are competing in a round-robin tournament with home and away matches till June. The top four teams will earn a ticket to the FIH's Olympic Qualification events.
F1 in talks with Marrakesh and Kyalami for African race
Formula One wants to go back to Africa, with the Moroccan city of Marrakesh and South Africa's Kyalami circuit keen to host a race, commercial managing director Sean Bratches said on Thursday.
Rwanda and Nigeria have also expressed interest in fan festivals on their territory.
"It's a marketplace in which we would like to race," Bratches said at a Sport Industry Breakfast Club event, two days after Formula One announced the return of the Dutch Grand Prix at Zandvoort in 2020 after a 35-year absence.
Morocco and South Africa have hosted world championship grands prix in the past, Casablanca in 1958 and South Africa in East London in the 1960s and Kyalami 20 times between 1967 and 1993.
"We race on five continents now and the last habitable continent that we don't race in is Africa," said Bratches.
"We've been having very productive conversations in South Africa and to a lesser extent in Morocco about bringing a grand prix... we're on it. It's really important to us."
Bratches said there was a "high degree of interest" from Morocco in a circuit race in Marrakesh, with the authorities seeing Formula One, owned by U.S.-based Liberty Media, as an economic engine for growth and tourism.
The all-electric Formula E series already holds an annual street race there.
"The vast majority of our grands prix are underpinned by government and it's because it works. We shine a bright light on these cities," said Bratches.
Yath Gangakumaran, Formula One's director of Strategy and Business Development, told reporters that Rwanda and Nigeria were also keen to be involved in fan events.
"I think Rwanda in particular have seen the benefits of the Arsenal sponsorship deal," he said.
The Premier League club has had a 'Visit Rwanda' logo on players' left shirt sleeves since last year.
"There's a lot of interest not just for races but for actuations throughout the continent."
Next season will see two new grands prix added to the calendar, with Zandvoort and the debut of Vietnam, but Mexico, Spain, Germany and Britain are out of contract at the end of 2019.
Mexico, Germany and Spain face particularly uncertain futures.
"We are optimistic about the prospect of a 21 grand prix schedule next year," said Bratches.
"I don't think we are going to have more than that."
The American said "productive conversations" were continuing with the Mexican promoter, whose race is set to lose essential government funding, and British GP hosts Silverstone, who say they cannot afford the current terms.
A second US race in Miami remains on the cards, despite Formula One and local organisers giving up on plans for a race downtown and focusing now on land next to the Miami Dolphins' Hard Rock Stadium.
"In an ideal circumstance we would be racing downtown Miami or downtown Las Vegas," said Bratches. "Those are the two cities in the United States that best align with our brand and our aspirations.
"We are going to try and create the best experience in each market that (circumstances) will permit, not only from a racing standpoint but a fan engagement and economic standpoint... it's still viable."
The Miami race was originally scheduled for 2019 but pushed back due to until at least 2020 after local opposition to the proposed harbourside layout.
Alonso uninjured after crash at Indy 500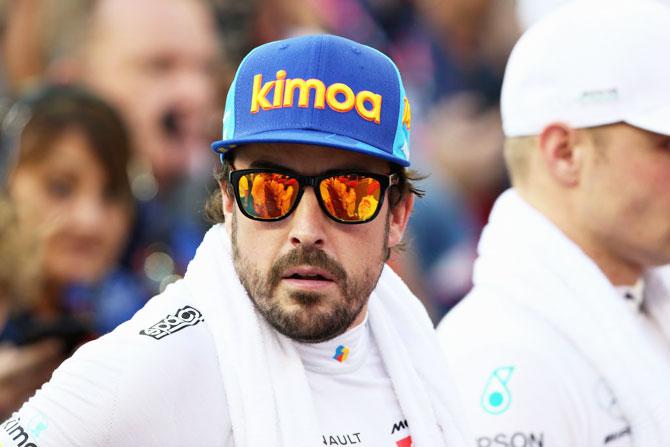 Spaniard Fernando Alonso escaped injury when he crashed during an Indianapolis 500 practice run on Wednesday after his car lost traction in the middle of Turn 3 and made contact with the wall three times.
The double Formula One world champion's No. 66 McLaren Racing Chevrolet slid into the wall on the exit of Turn 3 before skidding across the track and into the interior barrier and striking the outside barrier again.
When his car came to a stop, the 37-year-old managed to get out unassisted and was later checked, cleared and released from the Indianapolis Motor Speedway's Infield Medical Center.
"It was understeer on the car, and even if I lifted the throttle on the entry of the corner, it was not enough, and I lost completely the front aero," Alonso said.
"The wall came too close and too quickly. Unfortunately, it happened today. We will lose a little bit of running time again. I'm sorry for the team, but we will learn and hopefully we will come back stronger tomorrow."
Before the crash, Alonso had recorded 46 laps, with a best of 225.433 mph.
Alonso on May 26 will try to join Graham Hill as the second driver to achieve the "Triple Crown of Motorsport" by adding an Indy 500 win to his triumphs at the Monaco Grand Prix and 24 Hours of Le Mans.
It will mark the second time Alonso has taken part in the race, which he led in 2017 before retiring with an engine problem.
Kynan finishes 15th as men's trap team misses year's third World Cup final
Indian shooters Kynan Chenai and Prithviraj Tondaiman lost the plot after leading on day one of qualifications, finishing 15th and 33rd, respectively, in the men's trap event of the ISSF World Cup in Changwon on Thursday.
The Indians thus missed out on yet another International Shooting Sport Federation World Cup stage final this year after they lost their way in the final three rounds.
Kynan shot rounds of 24, 24 and 22 to finish with 119 points, needing at least 122 to make the finals. Prithviraj shot 118 while the third Indian in the team, Zoravar Singh Sandhu shot 116 to end in 64th place.
Kynan had shot scores of 123 and 122 in the year's first two World Cup stages to finish 10th and seventh respectively, and he missed out in the the South Korean city as well.
Lakshay Sheoran also registered a score of 116 in the non-competition MQS (Minimum Qualification Score) section.
Andreas Makri of Cyprus won gold in the event beating Matthew John Coward-Holley 6-5 in a final round shoot-off after being tied at 45 shots apiece in the 50-shot final.
Olympic golf champion Park wants to defend her title in Tokyo
Former World No 1 Park In-bee has said she wants to defend her Olympic crown at next year's Summer Games in Tokyo after initially having doubts over whether she would compete.
Park, seven-times a major champion, won the gold medal for South Korea in Rio by five strokes from New Zealand's Lydia Ko to become the first Olympic women's golf champion in 116 years.
"When the Rio Olympics ended, I thought the next Olympics four years later were too far off," Park told reporters ahead of this week's Doosan Match Play Championship in Chuncheon.
"I doubted whether I could be still active until then. But as the next Olympics is getting closer, I think it is worth a try."
Park, 30, regained the number one spot in the Ladies Professional Golf Association (LPGA) rankings in April this year but is now in sixth place.
The top 15 players in the rankings automatically qualify for the Olympics with a limit of four golfers per country. Park is the third-highest ranked South Korean behind world number one Ko Jin-young and number three Park Sung-hyun.
"I know making it to the national team is harder than winning the Olympic gold," Park added.
"I must be very happy and pleased to have a chance to play at the Olympics and defend my title."
The Olympics get underway in Tokyo on July 24 next year.