A summary of sports events and sports persons, who made news on Wednesday.
IMAGE: Real Madrid's Nacho celebrates scoring a goal. Photograph: Reuters
Real Madrid's decision to name suspended defender Nacho for their squad for the crucial trip to Celta Vigo on Wednesday has been vindicated after the Spanish soccer association's appeals committee overturned his ban.

Nacho, who scored with a quick free kick in Real's 4-1 win over Sevilla on Sunday, was booked in the 80th minute for arguing with Joaquin Correa, earning a suspension for completing a cycle of five yellow cards, but is now free to face Celta.

The federation's competition committee upheld the yellow card on Tuesday, leaving Real to turn to the appeals committee as a last resort, which ruled in their favour in a statement on Wednesday.

Real are locked on 87 points with champions and leaders Barcelona at the top of the La Liga standings and can go three points clear at the top and close in on a first league title in five years if they win at Celta.

Defenders Pepe and Dani Carvajal are ruled out due to injury along with forwards James Rodriguez and Gareth Bale.
Harikrishna posts first win in Moscow FIDE Grand Prix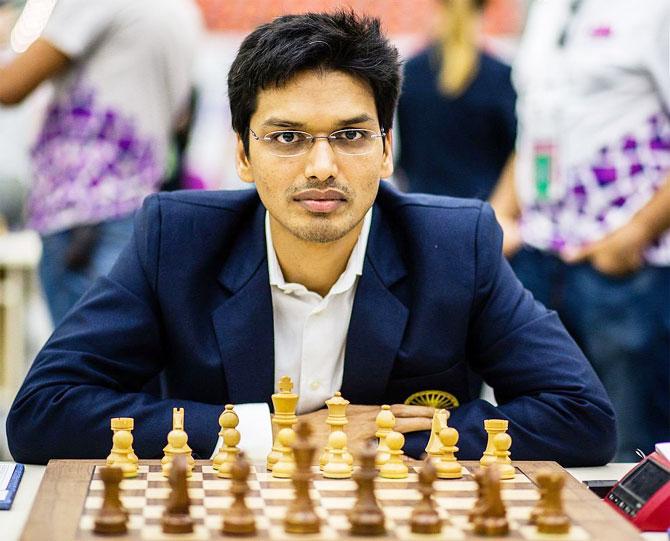 IMAGE: Pentala Harikrishna. Photograph: Saimedia/Twitter
Indian Grandmaster Pentala Harikrishna registered his first win at the Moscow FIDE Grand Prix after getting the better of English GM Michael Adams in Moscow at the DI Telegraph.
The Hyderabadi, playing with white pieces, choose the aggressive route from the word go and the Englishman could not do much and wilted under the pressure to concede the game.
"A few inaccurate moves in the initial stage of the game by Adams, put me in a good position. From there on, I gradually improved my position and won," Harikrishna said after winning the tie.
With this win, the World No. 16 Indian has now maintained his unbeaten run against Adams this year and recorded his second successive victory against him.
With a win, three draws and a loss in five games so far, Harikrishna has accumulated a total of 2.5 points and is placed 13th on the leaderboard.
After a day's break, Harikrishna will resume his campaign against the Greek GM Boris Gelfland in the next round of this elite tournament.
This event gives the participants a chance to qualify for the Candidates Tournament.
Alonso hits Indy Happy Hour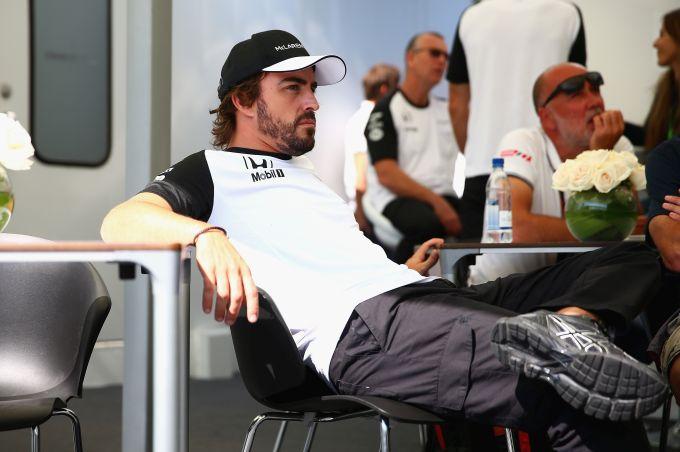 IMAGE: McLaren's Fernando Alonso. Photograph: Clive Mason/Getty Images
Fernando Alonso survived his first Brickyard "Happy Hour" on Tuesday, the twice Formula One world champion getting a taste of what he can expect when he lines up for the Indianapolis 500 later this month.
The practice session was just the third at the track for Alonso, who will miss the Monaco Grand Prix to race the Indy 500.
Alonso completed 117 laps in his McLaren Honda Andretti Autosport around the sprawling 2.5 mile oval and also got a feel for what it might be like on race day, participating in what is known as "Happy Hour".
The final 60 minutes of the day-long practise session saw most of the 33 cars attempting to qualify for the May 28 classic simulating race conditions.
"It was good, very positive and productive day," said Alonso, who has put learning to drive in the traffic and turbulence as his biggest challenge. "We did a lot of laps, a lot of learning, some group running, finally with some traffic.
"So, it is information I will sleep on and be a better oval driver tomorrow."
Alonso produced the 24th best effort of the 33 cars on the track on Tuesday with a top speed of 221.029 mph.
As part of the Andretti Autosport stable that will field six cars for the race, Alonso is benefiting from the experience of his team mates that include last year's winner Alexander Rossi and 2014 winner Ryan Hunter-Reay.
"I'm on the best team for that; we are six cars and we were running together," explained Alonso.
"My teammates were amazing helping me."
"I was learning every lap, when I follow them, learning what they do, how they attack the next corner or the next lap, how they prepare the overtaking, so, it was very useful and a very productive day."
Powerhouse Penske Racing dominated Day Two with Australian Will Power at the top of timing charts, posting the fastest lap of 224.656 mph followed by team mate Brazilian Helio Castroneves, who is chasing a record equalling fourth Indy 500 win.
Australia's Stoinis cleared for Champions Trophy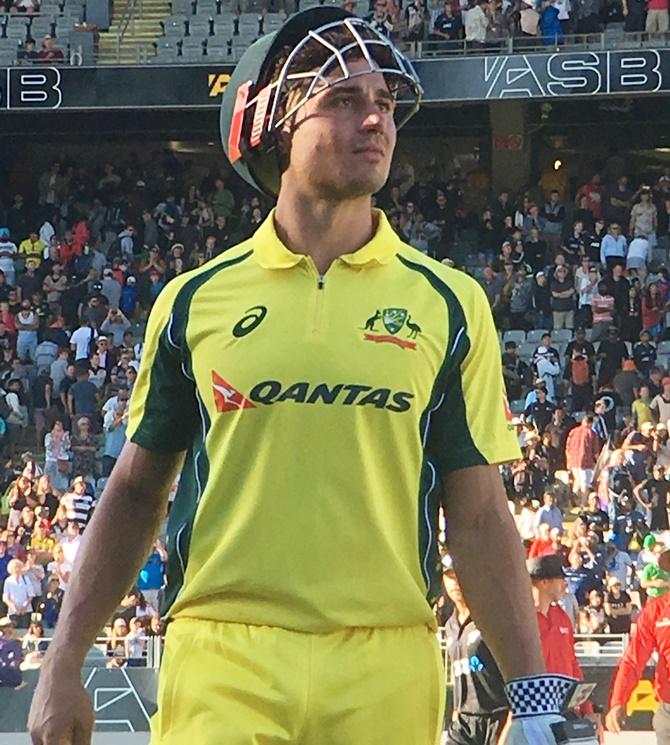 IMAGE: Marcus Stoinis. Photograph: CA/Twitter
Australia all-rounder Marcus Stoinis has been declared fit for next month's Champions Trophy after recovering from a shoulder injury he suffered at the Indian Premier League (IPL) earlier this month.
The 27-year-old Victorian's IPL stint was cut short when he injured his shoulder while training, forcing him to fly home and begin his rehab at the National Cricket Centre in Brisbane.
"He bowled today and medical staff were happy with his progress," a Cricket Australia spokesperson told the CA website.
Twice-champion Australia play warm-up matches against Sri Lanka (May 26) and Pakistan (May 29) before beginning their Group A campaign against trans-Tasman rivals New Zealand at Birmingham on June 2.
England and Bangladesh are the two other teams in the group.
Bouchard lawyers accuse USTA of destroying footage of fall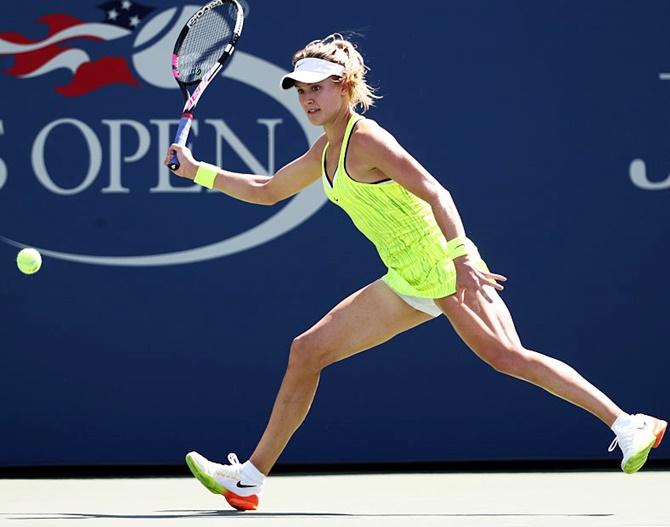 IMAGE: Eugenie Bouchard of Canada returns a shot. Photograph: Al Bello/Getty Images
Attorneys for Eugenie Bouchard accused the United States Tennis Association of erasing security camera footage of her fall in the trainer's room at the 2015 US Open, which resulted in a concussion and a lawsuit against the USTA.
Her lawyers said her fall had been caused by a cleaning substance, with the resulting injury forcing her out of the 2015 US Open and subsequent tournaments.
Her attorney Benedict Morelli said the USTA erased the footage even after being told to preserve it and asked a federal court judge in Brooklyn to instruct the jury that the tape would have reflected badly on the USTA.
"The USTA intentionally destroyed security camera footage in an effort to deprive plaintiff of evidence relevant to her claims in this case," Bouchard's attorneys said in a motion to the court.
"This egregious infraction is the culmination of a pattern and practice by defendants throughout the discovery process during which they have consistently played fast and loose with retaining and divulging critical information," he said.
A lawyer for the USTA did not immediately return a call for comment.
Bouchard, 23, has been playing outstanding tennis lately, beating rival Maria Sharapova in a thrilling second-round match at the Madrid Open earlier this month.
She followed that up by dispatching top-seeded Angelique Kerber two days later before losing to Svetlana Kuznetsova in the quarter-finals.