'Keeping in view all the factors and in the interest of promotion and development of boxing in India, I would urge you to take a very sympathetic view of the matter'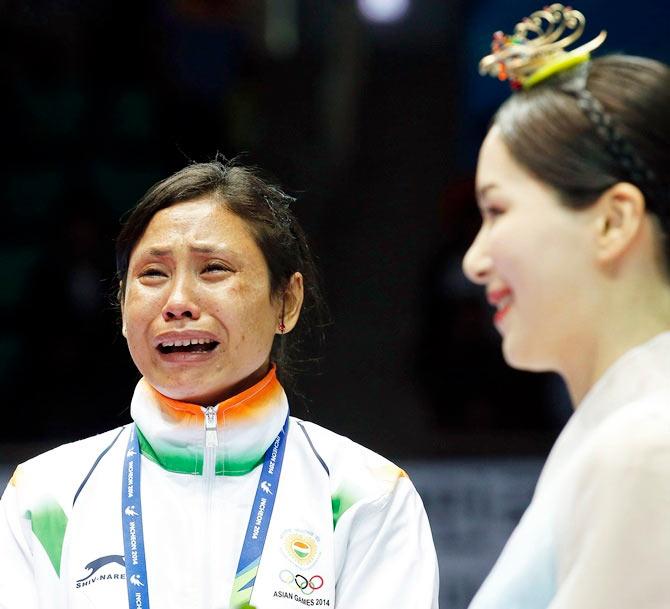 L Sarita Devi
Pleading with the International Boxing Association to revoke the suspension imposed on boxer L Sarita Devi, Sports Minister Sarbananda Sonowal has written a letter to AIBA President Dr Ching Kuo Wu.
- 'Regretful' Sarita Devi offers 'unconditional apology' for medal ceremony row
- Asian Games: Boxing India put onus on IOA to resolve Sarita medal row
- Did boxer Sarita really show lack of sportsmanship? Tell us!
- Robbed of final berth, inconsolable Sarita refuses bronze!
- Boxer Sarita faces AIBA probe for returning bronze medal
- The decision against Sarita was atrocious: Mary Kom
- 'Sarita's behaviour will give wrong ideas to youngsters'
The minister has requested the AIBA to take a sympathetic view given Sarita Devi's humble background.
Sarita was provisionally suspended after she refused to accept her medal following a controversial semi-final loss at this year's Asian Games in Incheon, South Korea.
The AIBA is yet to take a final call on the quantum of Sarita's punishment but Dr Wu has already made it clear that her career is "as good as over" despite the Indian boxer tendering an unconditional apology for her actions.
"I would request you to consider the fact that Ms Sarita Devi comes from a very humble background and has risen in her sport due to her hard work, perseverance and talent. Her suspension has had a demoralising effect on other aspiring sportspersons who would like to emulate her example and achieve sporting excellence," Sonowal said in the letter.
Citing the stern warning issued to Sarita by the Olympic Council of Asia, Sonowal said that she has been punished enough already.
"Keeping in view all the factors and in the interest of promotion and development of boxing in India, I would urge you to take a very sympathetic view of the matter and take no further action against her beyond what has already been done by the OCA," he said.
Along with Sarita, three coaches, including national men's coach Gurbax Singh Sandhu, were also provisionally suspended and AIBA is yet to decide on their fate.
© Copyright 2021 PTI. All rights reserved. Republication or redistribution of PTI content, including by framing or similar means, is expressly prohibited without the prior written consent.