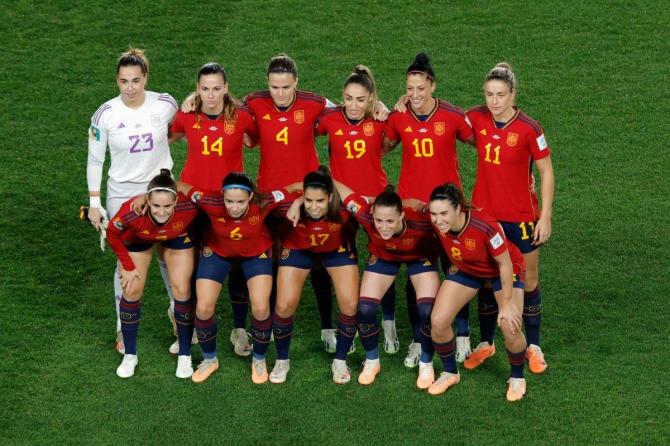 Some of the rebel players from Spain's World Cup-winning women's squad who had threatened to boycott the national team in a push to stamp out sexism and gender inequality on Tuesday reported for training under the threat of being sanctioned.
Misa Rodriguez, Olga Carmona, Oihane Hernandez, Eva Navarro and Tere Abelleira, who had previously said they would not play for the team until further changes were applied at the Spanish football federation (RFEF), arrived at a hotel near Madrid's airport.
The five were named in the squad ahead of a Nations League match against Sweden on Friday by new coach Montse Tome despite signing a statement last week calling for more heads to roll at the RFEF beyond former President Luis Rubiales and former coach Jorge Vilda.
Jenni Hermoso, the player at the centre of the scandal after Rubiales grabbed her head and kissed her on her lips, sparking fury over sexist attitudes toward women footballers, on Monday accused the RFEF of trying to divide and manipulate the players.
She said they did this by threatening them with legal and economic consequences if they refused to play.
Should they refuse the call-up, the players could face fines of up 30,000 euros ($32,000) and the suspension of their federation licence for two to 15 years, according to Spain's Sports Act.
Two sources close to players said they were expecting the whole squad to report in view of the threat of sanctions.
Asked as she arrived at the hotel whether she was happy to have been selected for the team, Misa Rodriguez replied: "No."
Hermoso was not on the squad list announced by new coach Montse Tome on Monday, which included 15 of the 23 cup-winning players.
Twenty of those on Monday's squad list had signed a statement on Friday saying they were not satisfied with the departure of Rubiales and coach Vilda and called for more sackings at the federation.
Hermoso, who according to Tome was not selected in order to protect her, on Monday offered her support to teammates "who have been caught by surprise and forced to react to another unfortunate situation caused by the people who continue to make decisions within the RFEF."
Victor Francos, head of the state-run national sports agency, said on Monday the government would have no option but to apply the sanctions as stipulated in the law.
"If the players do not show up, the government must apply the law. I'm sorry to say so, but we must do what we have to do," Francos told SER radio station.
Sweden's women's team will support Spain players if they boycott match
Sweden's women's team will support their Spain counterparts if they decide to boycott their Nations League fixture this week, midfielder Filippa Angeldahl said on Tuesday.
After most of Spain's World Cup-winning squad were called up on Monday the players said they would continue their boycott of the national team, though some reported for training under the threat of being sanctioned.
The boycott came after Spanish football federation (RFEF) President Luis Rubiales, who has since resigned, kissed player Jenni Hermoso on the lips during the World Cup trophy presentation ceremony in Australia.
Spain play Sweden in Gothenburg on Friday before taking on Switzerland in Cordoba next Tuesday as they make their debut in the Nations League, a competition that will determine which European teams qualify for the 2024 Paris Olympics.
Speaking about the possibility of Spain boycotting the match, Angeldahl told reporters: "It is a very difficult situation.
"They should know that they have all the support they need, that other countries support them in whatever decision they choose to take.
"If they feel they have to stage a boycott so that something gets done, obviously we will support them ... I don't think anyone wants to go through something like this. I think that mentally it takes a lot out of them."
When asked if Sweden would boycott the match, Angeldahl said that was a decision for "other people higher up".
Coach Peter Gerhardsson said the potential boycott had not affected Sweden's preparations for the match.
"Naturally, we'd like to have that information but it isn't anything that I need for this training session or for tomorrow," Gerhardsson said.
"We haven't even talked about it today and are not going to talk about it tomorrow either."