South Korea's Park Jong-woo has been banned for two games by FIFA and fined 3,500 Swiss francs ($3,800) after he inflamed a diplomatic row with Japan at the London Olympic football tournament, the governing body said on Monday.
The 23-year-old midfielder held up a sign referring to a territorial dispute between South Korea and Japan while celebrating a 2-0 win over their fierce rivals in the bronze medal match.
Park was handed the sign, which read "Dokdo is our territory", by a fan but his actions prompted FIFA to open disciplinary proceedings against him.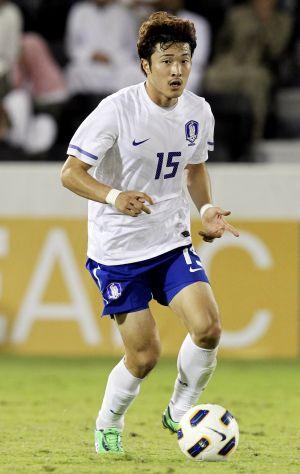 The player was found to have breached "article 57 of the FIFA disciplinary code (offensive behaviour and fair play) and article 18 of the Regulations of the Olympic Football Tournaments London 2012 for displaying unsporting behaviour".
"The Committee took into account that the behaviour of the player, even though it appears not to have been premeditated or intentional, contradicts the principal idea and goal of sportsmanship and fair play, and therefore, cannot be tolerated," FIFA said in a statement.
Park was banned from the medal ceremony but the Korea Football Association (KFA) told the Yonhap news agency last month he had been sent a certificate via the country's Olympic Committee confirming that he would receive his bronze.
FIFA said they had warned the KFA of their obligations to instruct their players of all the rules in order to avoid a similar incident happening again which would warrant 'harsher sanctions'.
Photograph: Fadi Al-Assaad/Reuters