30-year-old Kavita Raut wins gold, becomes fourth Indian to qualify for Rio Games' women's marathon.
Shooter Chain Singh wins second gold.
India's medal tally swells to 248: 146 gold, 79 silver, 23 bronze.
IMAGE: Gold medal winners in the women and men marathon race Kavita Raut and Nitendra Singh Rawat of India shake hands during the South Asian Games in Guwahati. Photohraph: PTI
Long-distance runner Kavita Raut's Olympic qualification was the icing on the cake on yet another impressive day for India at the 12th South Asian Games, in Guwahati, on Friday.
Firmly entrenched atop the overall standings, India increased their medal tally to 248 -- including 146 gold, 79 silver and 23 bronze.
Following the hosts at the distant second was Sri Lanka, with 157 medals, including 25 gold, 53 silver and 79 bronze medals.
Pakistan are in the third place with 73 medals (7 gold, 23 silver and 43 bronze).
On the last day of competition in athletics, Raut made it special by qualifying for the Rio Olympics in the women's marathon.
The 30-year-old easily won the gold in 2 hours 38 minutes and 38 seconds to become the fourth Indian women to have qualified for Rio Games' women's marathon.
The Rio Games women's marathon qualification standard is 2:42:00 seconds.
O P Jaisha, Lalita Babbar and Sudha Singh had already qualified.
Sri Lankans N G Rajasekara (2:50:47.00) and B Anuradhi (2:52:15.00) took the silver and bronze respectively.
Nashik girl Raut is the lone athlete to qualify for the Olympics from the 12th South Asian Games.
Nitender Singh Rawat, another Rio-bound athlete, won the men's marathon in 2:15:18 seconds after a close finish in a star-studded field.
He emerged triumphant by being a second ahead of Indrajith Cooray of Sri Lanka, who also qualified for the Games.
The men's race had a dramatic ending and there was apparently some confusion over the finishing line inside the Indira Gandhi Athletics Stadium.
"Both Rawat and Cooray were not sure of the finishing line and they thought they would finish after running a lap inside the stadium. That was why there was a difference of just one second in the timings of gold and silver winner," a technical committee member said.
Cooray took the silver in 2:15:19 seconds while another Indian, Kheta Ram, the third competitor to have booked a Rio Games berth, got bronze in 2 hours 21 minutes and 14 seconds.
With Friday's two gold and one bronze, India ended the athletics competition with 28 gold, 22 silver and 9 bronze medals, thereby establishing their unrivalled superiority in the South Asian region.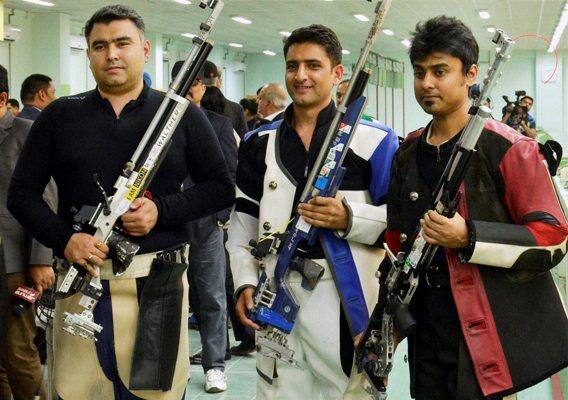 IMAGE: Gold medalist Chain Singh (centre) of India, and bronze medalist Gagan Narang (left) after the men's 10m Air Rifle individual event. Photograph: PTI
A similar script unfolded at the shooting ranges with Rio Olympics-bound Chain Singh stealing the limelight by grabbing his second gold. In fact, Indians ran away with all the four gold medals on offer in yet another dominating performance.
The 26-year-old Chain upstaged senior team-mate Gagan Narang to win the men's 10m air rifle event with a total score of 204.6 to add to his 50m rifle prone gold at the Kahilipara Shooting Range.
Gagan, who had won a bronze in the event in 2012 London Olympics, had to be content with a bronze. He had also lost the gold to Chain in the 50m rifle prone event on Thursday.
Mohd Sovon Chowdhury of Bangladesh won the silver with a total score of 203.6.
The trio of Chain, Narang and Imran Khan won the gold in the team event with a total score of 1863.4, while Bangladesh (1845.8) and Sri Lanka (1827.2) bagged the silver and bronze respectively.
In the men's individual 20m standard pistol, Indians ran away with all the medals on offer.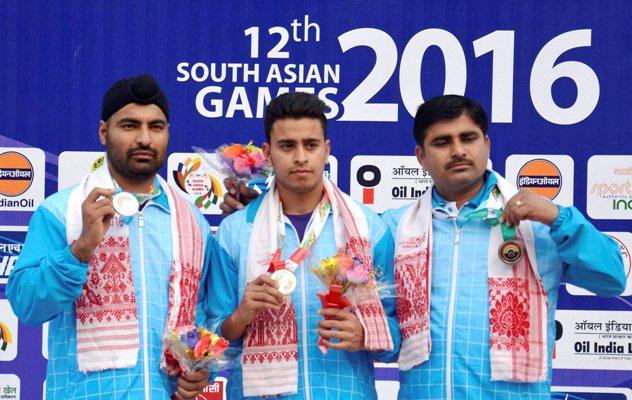 IMAGE: Gold medalist Neeraj Kumar, silver winner Gurpeet Singh and bronze medalist Mahender Singh of India after the Men's 25m Standard Pistol event at the SAG in Guwahati. Photograph: PTI
Neeraj Kumar bagged the gold with a total shot of 569 while compatriots Gurpreet Singh (566) and Mahender Singh (563) took the silver and bronze respectively.
The trio of Neeraj, Gurpreet and Mahender then won the team gold with a total score of 1698, while Pakistan (1663) and Sri Lanka (1603) took the silver and bronze respectively.
After a relatively lean day, the Indian contingent can expect some exciting action in the boxing arena from on Saturday.
With seasoned campaigners such as M C Mary Kom and Shiva Thapa leading the charge, India will fancy all 10 gold medals up for grabs when the boxing competition gets underway.
India have fielded a star-studded team of seven men and three women -- including Olympic, Commonwealth and Asian Games medallists -- in 10 weight categories.
The South Asian Games may not offer them much in terms of tough competition but it is certainly a decent build-up before the Indians head to the Asia/Oceania Olympic Qualification tournament in Qian'an, China from March 23.
So far, none of the Indian boxers have booked an Olympics berth.
The much-celebrated Mary Kom (51kg) will be the cynosure of all eyes in event.
The five-time World champion and London Olympics bronze-medallist is easily among the most successful sporting talent to come out of the North East and the Manipuri will attract fans to the SAI Campus in the North Eastern Hill University on the outskirts of the city.
In her return from an injury lay-off following her gold medal win at the 2014 Asian Games in Incheon, Mary Kom had lost in the semi-finals of an Olympic test event in December last year.
Another Manipuri boxer who will be keenly watched is L Sarita Devi (60kg), the Asian Games bronze-medallist, who is also on a comeback trail after completing a one-year ban for an infamous emotional meltdown following her semi-final loss in Incheon.
Pooja Rani (75kg), another Asiad bronze-winner, makes the third member of the women's squad.
The men's team is equally star-studded, featuring, among others, World Championships bronze-medallist Shiva (56kg), Commonwealth Games silver winners L Devendro Singh (49kg) and Mandeep Jangra (69kg) and Asian Championships silver-medallist Vikas Krishan (75kg).
The quartet can be considered sure-shot gold contenders in their respective categories. Shiva and Devendro, in fact, will be the crowd-pullers too given that the former hails from Guwahati and the latter is a Manipuri.
Also there in the team are former national champion Madan Lal (52kg) and World Military Games silver-winner Dheeraj Rangi (60kg).
India have another experienced boxer in Manoj Kumar (64kg), the 2010 Commonwealth Games gold-medallist and 2012 London Olympics quarter-finalist.