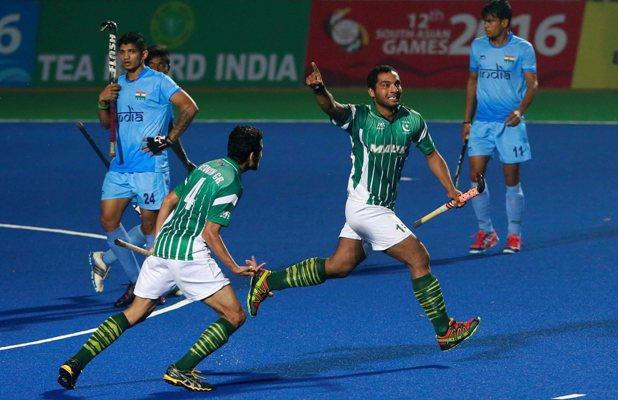 IMAGE: Pakistan's Awais-ur-Rehman (second right) celebrates after scoring against India during the hockey final at the South Asian Games in Guwahati. Photograph: PTI
India produced a disappointing performance to lose to arch-rivals Pakistan 0-1 in a lacklustre summit clash of men's hockey at the 12th South Asian Games in Guwahati on Friday.
Awais-ur-Rehman scored the lone goal of the match in added time of the first half as Pakistan clinched the gold medal and notched up a hat-trick of titles in the South Asian Games.
The Indians, who could create very few goal-scoring chances and were left to defend the citadel for most part of the match, thus continued their gold medal drought in the tournament at the Moullanna Tayebullah Stadium.
Pakistan had won the hockey gold in 2006 and 2010 editions, beating India in the final on both occasions. India had also lost 1-2 to Pakistan in the group stage of the ongoing Games.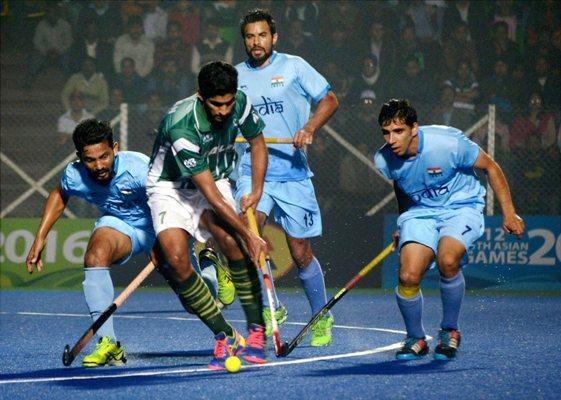 IMAGE: India and Pakistan men's hockey team players in action during 12th South Asian Games in Guwahati. Photograph: PTI
There was excitement ahead of the much-awaited match with the near capacity crowd cheering the home players, but it did not rise to any great heights, except for a short spell in the second half.
Pakistan completely dominated the first half, leading 1-0, and though India pressed for an equaliser with several raids into the opposition post towards the end of the match, the goal did not come for the home country.
With at least half a dozen Olympians in their ranks as against India's one in Gurbaj Singh, Pakistan dominated for most part of the match.
Lacking in experience, the Indians played their hearts out with captain Mandeep Antil and seniormost player Gurbaj taking the extra load. Gurbaj played deep at times to help the defenders while also pushing himself to shore up the attack.
The inexperienced Indians did not get the combination right and were poor in trapping at times.