'Media really paint a bad picture of the tensions. It's all political, why single out Pakistan?'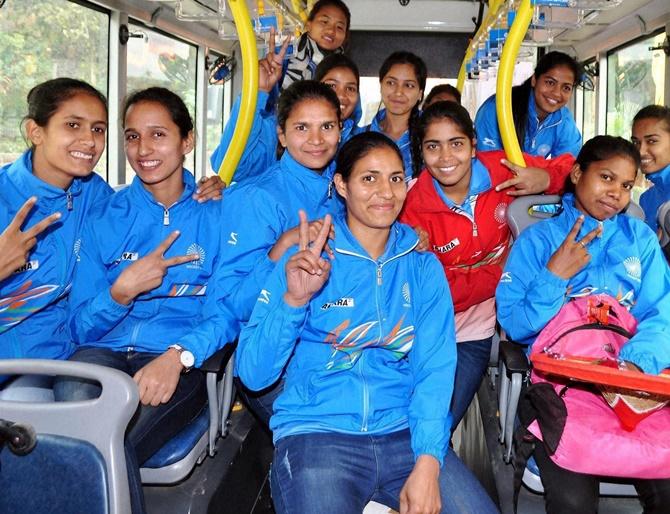 IMAGE: Indian women's hockey team arrive in Guwahati. Photograph: PTI
Postponed several times due to a variety of reasons, the much-delayed but the biggest South Asian Games ever begin, in Guwahati, on Friday, with hosts India expected to stamp their superiority in the regional spectacle.
The 12-day Games, featuring 2,500 athletes from eight South Asian Association for Regional Cooperation (SAARC) countries, will be declared open by Prime Minister Narendra Modi at a glittering inaugural ceremony at the Indira Gandhi Athletics Stadium.
The multi-sporting event, being held under the aegis of South Asian Olympics Council, is taking place after a delay of four years.
The 12th edition of the Games was to be held in 2012 in New Delhi but was postponed due to Assembly elections in the national capital.
After that, the Indian Olympic Association was suspended by the International Olympic Committee between December 2012 and February 2014, leading to further delay.
After the IOA's suspension was revoked by the IOC, Kerala was tipped to host the Games but the event was handed to Guwahati and Shillong last year before another round of postponement.
The two cities thus got the opportunity to host India's third South Asian Games -- after Kolkata (1987) and Chennai (1995) -- and the biggest sporting spectacle ever in the North Eastern part of the country.
Bangladesh capital Dhaka had hosted the last edition in 2010 and India had run away with a tally of a whopping 175 medals out of 528 on offer, including 90 gold out of 157, to hold on to regional superpower status.
Pakistan had finished a distant second with 80 medals, including 19 gold, in the Games competed among countries considered minnows in Olympic sports at the global stage despite being over 20 per cent of the global population.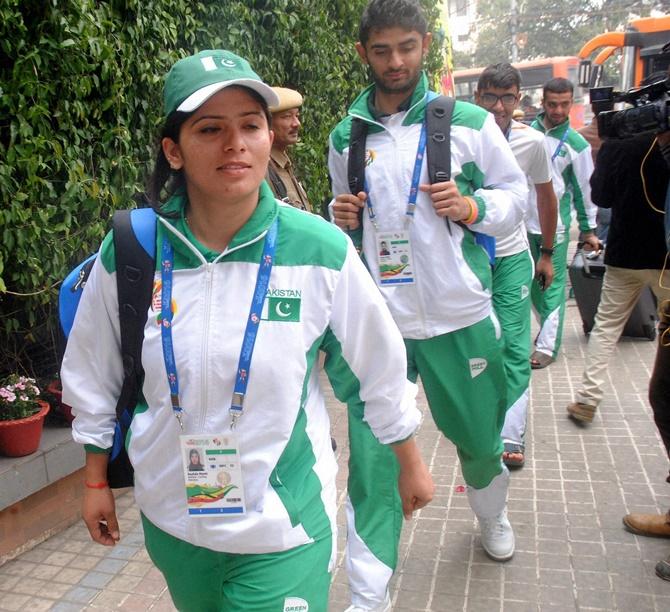 IMAGE: Pakistani contingent reach in Guwahati. Photograph: PTI
Tired after their arduous 30-hour-long travel from Lahore, Pakistani athletes Sobia Ghafoor and Bismah Idrees were seen relaxing at the lounge of Lokpriya Gopinath Bordoloi International Airport, in Guwahati, on Thursday morning.
The swimming contingent was accompanied by the vice-president of Pakistan Women's Swimming Association Nargis Rahimtoola, a Burmese settled in Pakistan since birth.
"Pakistan is my home. I've seen the country since birth and I see the country progress. Media really paint a bad picture of the tensions. It's all political, why single out Pakistan? -- violence har ek sehar mein hota hai."
"Let's not get into all this. We're here to promote sport which after all is unity. All South Asian countries are together fighting for sportsmanship glory and not bombs!," she summed up.
The women's volleyball duo, who travelled along with another teammate, found themselves at 'home' as they kept waiting for hours for their 12 other teammates who're slated to arrive in batches from Kolkata for the 12th South Asian Games beginning in Guwahati and Shillong.
"We're coming here for the first time here and already we're overwhelmed by the warmth and hospitality. Win or not, I'm sure we'll go back with a lot of memories -- of friendship and peace," the duo clad in green baize said.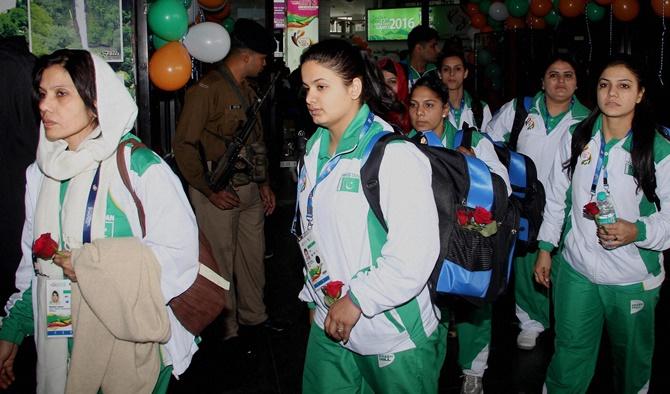 IMAGE: Pakistani contingent. Photograph: PTI
Elaborating their 'touchdown' experience in a country where political relations are always entangled, Sobia said: "We had issues with tickets and people in Kolkata really helped us."
It is history in the making for the Pakistani women's volleyball team who will be returning to the SA Games after two decades -- for the first time after their participation in Madras, 1995 where they had finished with a bronze medal.
The women's volleyball team were camping in Lahore and they travelled via Doha to Kolkata taking them more than 24 hours to reach the northeastern hub of Guwahati.
Fascinated by the Indian sarees and bindi, Sobia hopes to do some shopping, while her teammate Bisma wants to experience the food and watch few Hindi films.
Also a cricketer at domestic level, Bisma further said "India-Pakistan should resume their cricketing ties. I'm sure the cricketers want to play and we fans are desperate to see them in action. At least they can take some of our players in Indian Premier League."
A 456-strong Pakistani contingent is participating in the February 5-16 Games in Guwahati and Shillong that has a motto of 'Play For Peace Progress and Prosperity'.
IMAGE: The Sri Lankan contingent arrive at Lokopriyo Gopinath Bordoloi International airport in Guwahati. Photograph: PTI
Just as the women's volleyball trio sat in a corner waiting for their teammates, a big men's and women's swimming contingent arrived as they were welcomed by traditional Assamese drum beats inside the airport all decked up for the SA Games.
Director of sport board Punjab, Hafeez Bhatti, who's here as a technical official in swimming, said there has been no anxiety or apprehension among any of their athletes despite the recent call-off of India Pakistan series.
"It's really unfortunate that India don't want to play cricket with Pakistan. But as for us, we've been preparing for this Games for more than a year in advance. We're here to compete with full sportsman spirit," he said.
"I don't see any difference between the two countries, we speak the same language here food is also similar. Hope the relations improve and we see the resumption of cricketing ties."
© Copyright 2021 PTI. All rights reserved. Republication or redistribution of PTI content, including by framing or similar means, is expressly prohibited without the prior written consent.