Where stalwarts like M C Mary Kom failed, Sonia Lather brought home a medal from the World Championships.
The 24 year old spoke with Laxmi Negi/Rediff.com soon after winning the silver medal.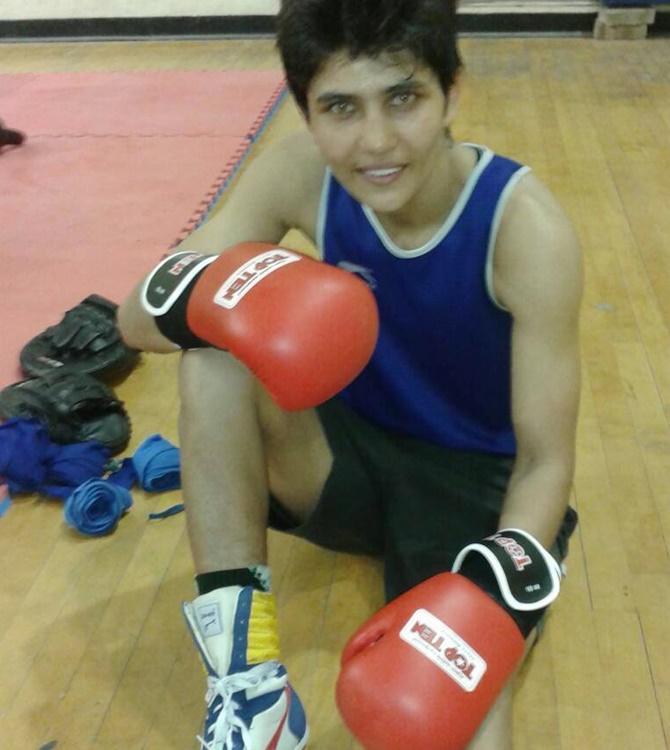 IMAGE: Sonia Lather, World Championships silver medalist.
Sonia Lather has been boxing since 2009, but she only declared herself on a huge platform like the Women's Boxing World Championships this week.
Where stalwarts like M C Mary Kom failed, the Haryana girl brought home a medal.
She threw some precise jabs and used her favourite combination -- the right jab-left hook -- to make sure the Indian contingent did not return empty handed from Astana, Kazakhstan.
Assured of a medal on Thursday, May 26, after beating Kazakhstan's Aizhan Khojabekova 3-0 in the semi-final, Sonia came up with a superb showing against Italy's Mesiano Alessia in the final on Friday, May 27, but alas! it was only good enough for a silver in the 57 kg category.
A silver medalist in the Asian Championships in 2012, Sonia fought in various weight categories, -- 51 kg, 54 kg and 60 kg -- before settling for the 57 kg.
"She is a very strong girl," says India's chief coach Anoop Kumar. "Her body posture is perfect for a good boxer and, above all, she is tough."
Problems were aplenty for the Indian squad after it landed in Astana.
"Since we are not represented by a federation," says Amanpreet Kaur, another coach, "it has impacted the outcome of our boxers. The attitude of the ring officials is also different. I am sure if we had a federation the performance of our boxers would have been better."
"It was tough for us," Amanpreet adds.
The soft-spoken 24 year old spoke with Laxmi Negi/Rediff.com soon after Friday's bout.
Are you disappointed? Are you taking this defeat in a positive way?
I am a little disappointed, but I am taking this performance as motivation for the future.
I fought for gold but, sadly, could not realise my dream.
This is my best performance so far and I would like to improve further.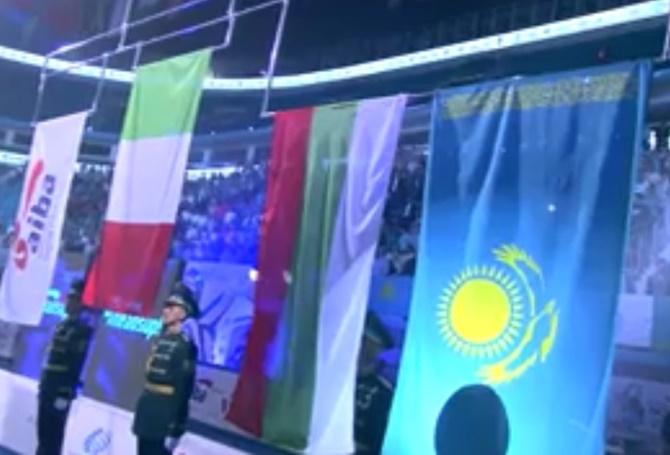 IMAGE: The 57 kg weight category medal ceremony in Astana.
How did it feel during the medal ceremony when the AIBA flag was raised instead of India's?
How will a true Indian feel? Bad! I fought for India and not the AIBA.
Your performance was Rio Olympics worth. Feeling sad that you missed the bus?
Malaal toh hai Olympics na khel pane ka (Regret not getting to fight in the Olympics).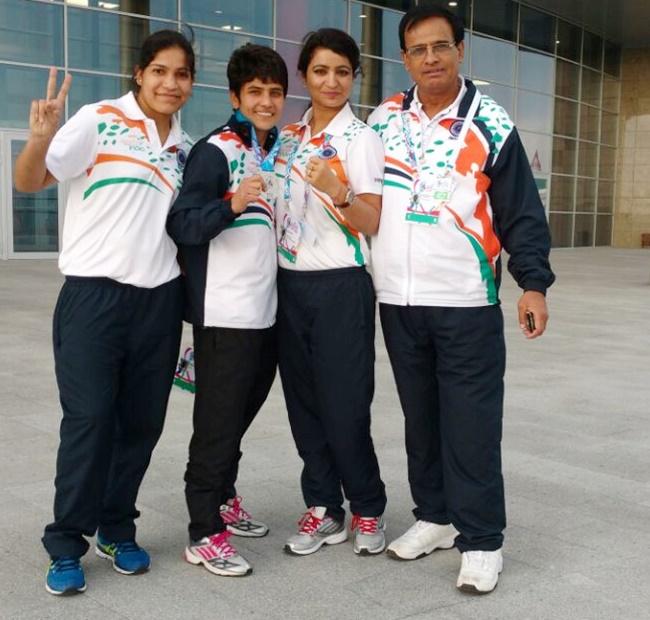 IMAGE: Sonia Lather, second from left, with her coaches.
You have done well in the 57 kg category, will you stake claim for the 60 kg?
In India I gave the trials for 60 kg, but the result was not in my favour. Things will be different now.
You are not very expressive in the ring.
I just follow my heart and don't believe in showing off.
I am quite simple and just believe in my performance.
I want to be known for my boxing and hard work and not for any fake style.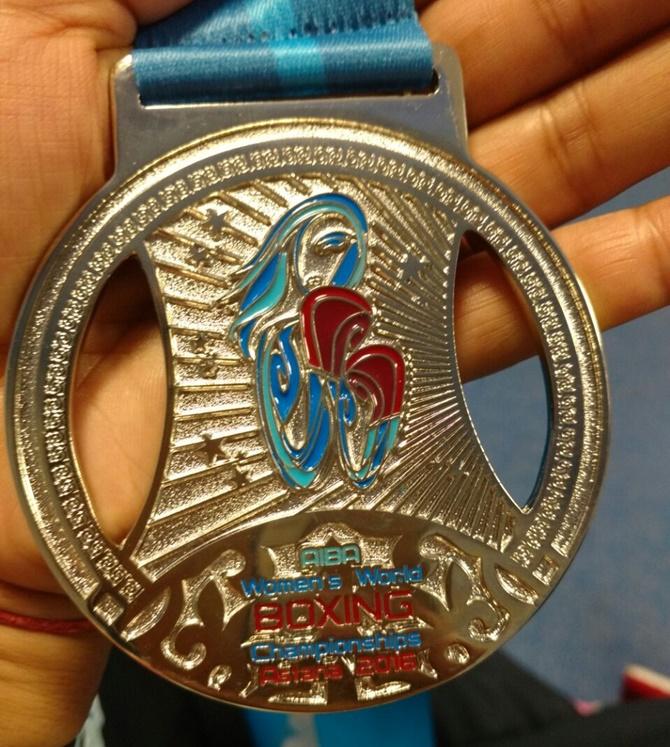 IMAGE: Sonia shows her silver medal. Photograph: Preeti Sudan
You have been performing well for a while now, yet not many people know about you.
One day, people will definitely know about me. My performance will speak.
Who will you dedicate this silver medal to?
Pinki Jhangra (the 2014 Commonwealth Games bronze medallist who defeated Mary Kom in the National Championships in the 51 kg weight category). She has been constantly supporting me in my game.
Who is your idol in boxing?
I am mentally very strong and believe in myself.