'Their speed is good, endurance in good. They are looking really sharp at the moment'
'I don't think we are the fittest side at the moment. It's hard to compare. Australia and New Zealand are always physically good sides'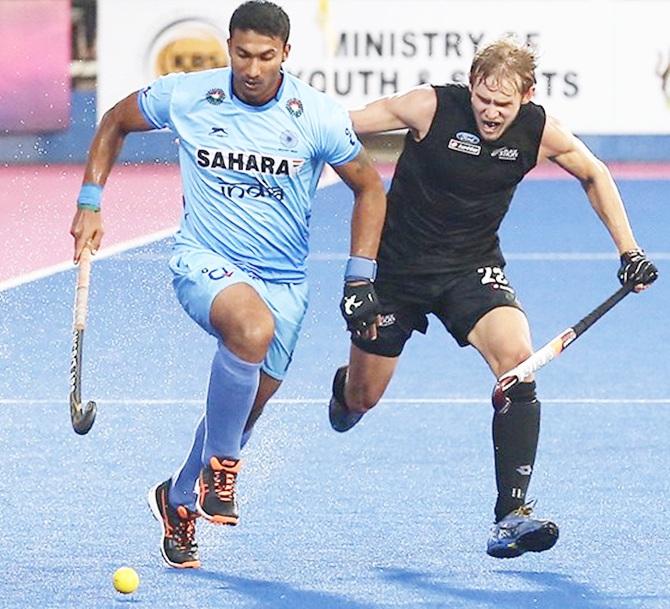 VR Raghunath, left, in action. Photograph: Hockey India
Fitness is key to any team's success in fast-paced modern-day hockey and the Indian men's national team can be rated among the top five fittest sides in the world currently, said the country's Australian physical trainer Matthew Eyles.
Eyles, who took over as India's scientific advisor (strength and conditioning) 18 months ago from countrymate Jason Conrath, feels even though there is still room for improvement, India can now match the fitness levels of teams like Australia and New Zealand on the turf.
"Physically they (Indian players) have improved a lot. When I got here 18 months ago, they were good, lot of them were very good natural athletes but now they have developed a good base. I think any strength and conditioning coach can't feel content, they always want more from their athletes," Eyles said.
"Their speed is good, endurance in good. They are looking really sharp at the moment. So I am happy with them."
Asked where India currently stands in the world map in terms of fitness, Eyles said: "I don't think we are the fittest side at the moment. It's hard to compare. Australia and New Zealand are always physically good sides. But I think we can definitely match any team now.
"In my opinion definitely we can consider India among top five nations on fitness front in world hockey."
But the transformation really started four years back when Michael Nobbs was appointed as India coach and soon after taking charge he roped in fellow Australian David John as the team's trainer.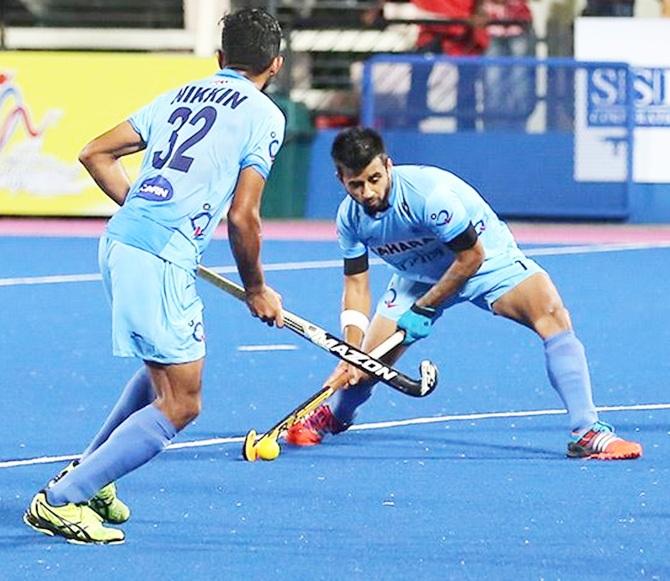 Manpreet Singh, right, with team mate. Photograph: Hockey India
Eyles said since joining the team he did not do anything magical but just focused on the basics.
"When I arrived here I first assessed the fitness level of the players and then followed standard process. I just tried to develop their base and then build them up from there.
"I did just progressive things. We built a good base early on and then managed to just keep topping that up. We focused more on the speed and agility, and that got better and better. We have done a lot of work on the pitch and they are getting stronger. They have got a decent strength base.
"There is always room for improvement but currently we are in a very good place," he said.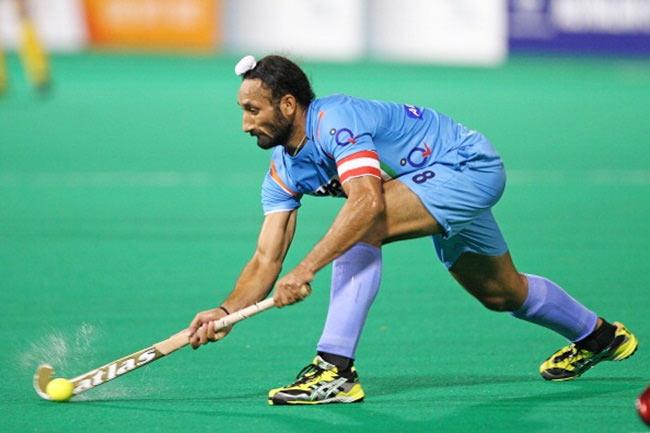 Skipper Sardar Singh, who is considered one of the fittest players in the team, has been playing non-stop hockey for the last three to four years, but Eyles feels he has been managed well and there is no need to give him a break before next year's Rio Olympics.
"Rating players is hard but he (Sardar) is one of the better players on fitness front. There will only be a few who can be best. He has a lot of match fitness, considering the amount of hockey he plays. He is just about managing and pushing hard when he can and backing him when he needs to be," Eyles said.
"I don't think we need to rest him now because I think we have managed him pretty well. At the same time he hasn't played any more than others. They have all basically played the same amount of hockey," the trainer added.
Eyles feels striker Dharamvir Singh is presently the fittest player in the Indian team.
"If I have to put a name, Dharamvir is probably one of the best fitness wise. There are also players like Manpreet (Singh), Kothajit (Singh) and Akashdeep (Singh) who have great pace on the turf," he said.