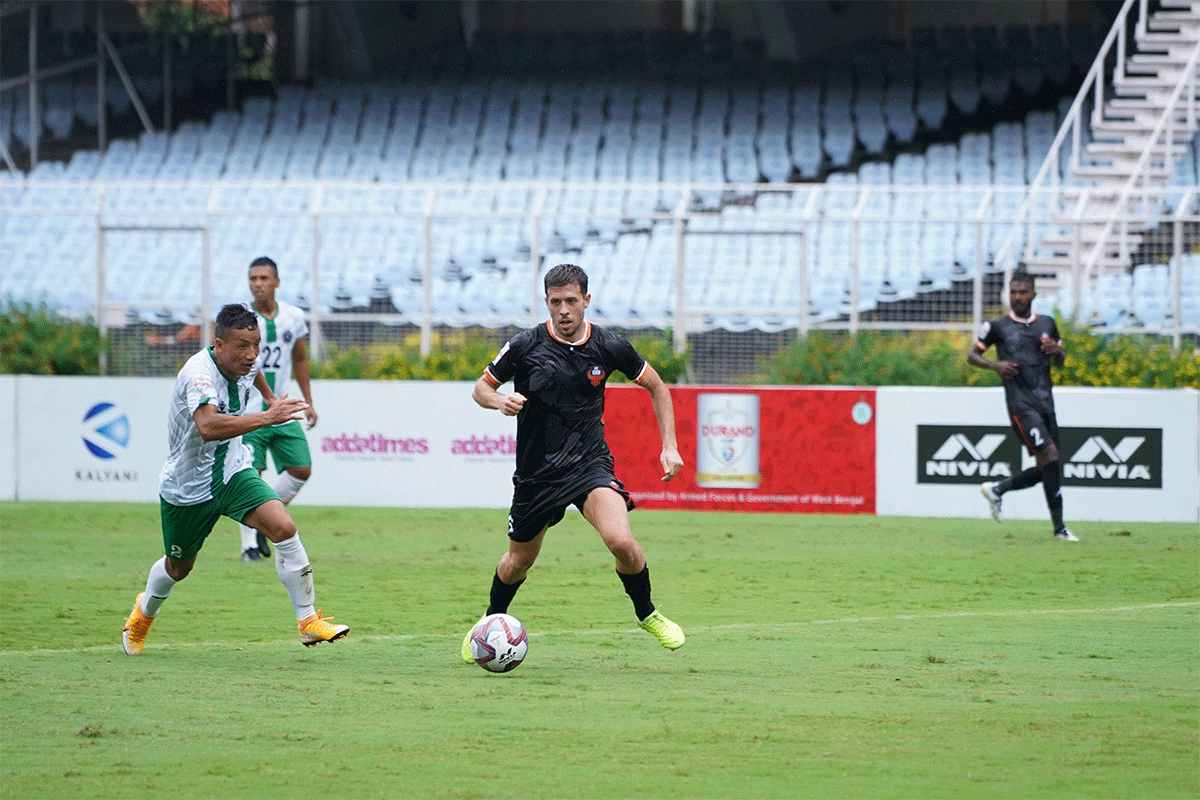 FC Goa survived some anxious moments before prevailing 2-0 against regimental side Army Green at the Saltlake Stadium in a Durand Cup match in Kolkata on Tuesday.
Goals from Alberto Noguera Ripoll (35') and Devendra Dhaku Murgaokar (59') sealed the deal for the Gaurs on a rainy afternoon even as Army Green squandered many opportunities.
The team in white and green almost caused a huge upset in the 15th minute, when a cross from Vikas Zanje took a wicked deflection and almost caught Goa keeper Naveen Kumar off-guard. Luckily for him, the woodwork saved him the blushes.
As the match went on, Juan Ferrando boys started playing more clinically when opportunities presented themselves.
In the 35th minute, a beautiful through-ball from Goa's Makan Winkle Chote put Alberto Noguera through on goal.
When it came to beating the onrushing Army keeper, the Spaniard slotted home without much fuss.
In the 59th minute, Devendra made it 2-0 for the Gaurs after Romario Jesuraj had found him inside the box with a great delivery.
Ten minutes later, forward Lallawmkima had the best chance of the game when the ball landed at his feet following a comedy of errors inside the Goa box. He had all the time in the world to settle himself, which he did, but got too cheeky while taking the shot, by taking an extra touch and going around the keeper. However, Naveen Kumar preserved his clean-sheet by making a fine save.
Lallawmkima, in fact, had a couple of chances in the game from where he could have scored but did not make them count.
Durand Cup Groups
Group A – Indian Air Force Football Team, Bengaluru United, CRPF, Mohammedan Sporting Club
Group B – Army Green Football Team, FC Goa, Jamshedpur FC, Sudeva Delhi FC
Group C – Bengaluru FC, Delhi FC, Indian Navy Football Team, Kerala Blasters FC
Group D – Assam Rifles Football Team, Army Red Football Team, Gokulam Kerala Football Club, Hyderabad FC
Barca president Laporta insists Super League still alive
Barca president Joan Laporta has insisted that the Super League project is still alive, despite the withdrawal earlier this year of the majority of founding clubs.
The Catalans, along with Real Madrid and Juventus are the only three clubs remaining in the seemingly doomed breakaway competition, which was announced in April with 12 founding clubs.
The other nine have all withdrawn and signed agreements with UEFA prohibiting them from repeating their actions, but Laporta said Barca were still moving forwards with the plans.
"The project is alive. The three clubs who are defending the project are winning all the court cases," Laporta told television channel Esport 3.
"UEFA cannot stop it, and the pressure on English clubs, who were those behind the plans, hasn't had any effect. Granted, it could have been presented in a better way."
Surprisingly given Barca's dire financial situation, Laporta said that when he became Barca president he spoke to Paris St Germain forward Neymar about the prospect of returning to Barca, with the player trying to instigate the move.
"We tried to sign Neymar. He contacted us, and he wanted to come - he was crazy to come back to the club," Laporta said.
"However, back then we interpreted (LaLiga's) Financial Fair Play in another way. If we hadn't have done so, we wouldn't have made him an offer."
La Liga: Barca game at Sevilla, Villarreal v Alaves postponed
Spain's High Council for Sports (CSD) has postponed Barcelona's game at Sevilla and Villarreal v Alaves on Saturday following an appeal by the Spanish football league, LaLiga.
The league had asked the Spanish FA (RFEF) to postpone the matches given the extended South American World Cup qualifying window put in place by FIFA to compensate for COVID-19 postponements this year.
This meant that a number of players would not return to their clubs until Friday, 24 hours before they were due to play in LaLiga matches.
As both Barca and Villarreal are in Champions League action on Tuesday, they were required to play their domestic fixtures on Saturday.
However, the RFEF rejected LaLiga's request, meaning the league was forced to appeal to the CSD to get the two games postponed, with the governmental agency accepting the arguments and ruling in its favour.
Spurs' Son likely to miss Crystal Palace game after injury on international duty
Tottenham Hotspur forward Son Heung-min will play no part in South Korea's World Cup qualifier against Lebanon on Tuesday due to a calf injury, the Korea Football Association (KFA) said hours before the game.
The Korean skipper played the full 90 minutes in the goalless draw against Iraq on Thursday but has since strained his right calf.
"Heung-min felt uncomfortable in his right calf after training on the 6th, and as a result of the test, he was excluded in order to protect the player," the KFA said in a statement.
If Son doesn't recover in time, he is likely to miss Spurs' trip to Crystal Palace on Saturday.
The 29-year-old is a key player for Spurs boss Nuno Espirito Santo, having started all three of the side's Premier League games so far, which they have won.