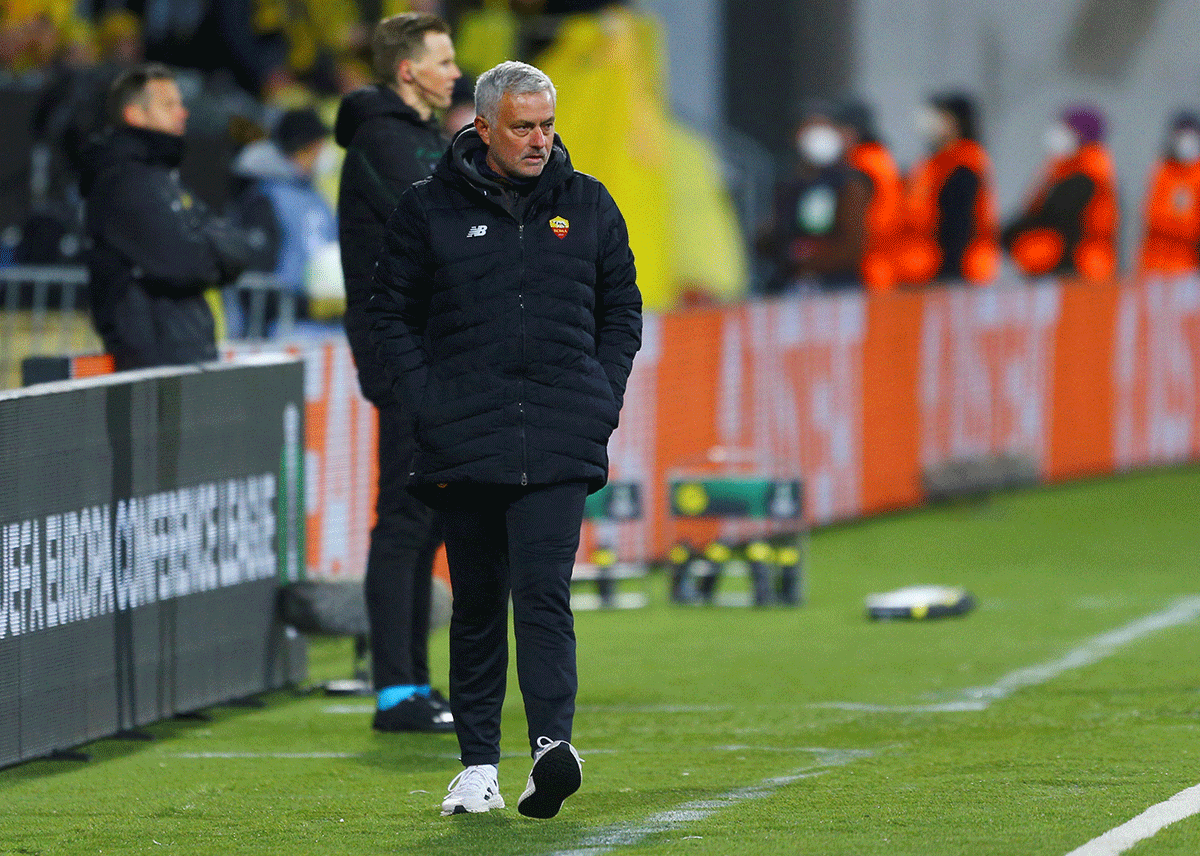 Norwegian side Bodo/Glimt's manager Kjetil Knutsen has accused an AS Roma goalkeeping coach of grabbing him by the throat after an ill-tempered Europa Conference League match in Norway on Thursday.
After their 2-1 quarter final first-leg defeat, on the ground where Roma suffered an humiliating 6-1 loss in the group stages back in October, the Italian side's captain Lorenzo Pellegrini said goalkeeping coach Nuno Santos had been attacked.
In a statement released on Friday, the Norwegian team insisted it was Roma who were the aggressors.
"A proven violation of the rules of the game is that the goalkeeping coach of Roma positioned himself illegally outside the coaching staff, where he continuously verbally and gesturingly harassed Knutsen," the statement read.
"Glimt made the fourth referee and UEFA's delegate aware of this on several occasions. The complaints were not heeded and Roma's goalkeeping coach was allowed to continue his behaviour unhindered."
Knutsen added in the statement: "Everything culminated in a physical attack on me in the tunnel. Usually I'm so calm by nature that I would withdraw. In this case, I was physically attacked. He (Santos) grabbed me by the throat and pushed me into the wall. It is only natural that I then had to defend myself."
Pellegrini had a different version of events on Thursday.
"Even their coach attacked our goalkeeper coach Nuno Santos," he told Sky Sport Italia. "I think this is an insult to the competition. I think it is an insult also to Rome and to the Romans.
"I am honestly still shaken by what I just saw, it's absolutely shameful. Now we want to send Bodo home, also because of what happened off the field."
European soccer's governing body UEFA said that it will wait on reports from the game and then the disciplinary body will assess if any action is to be taken.
Bodo, however, want more to be done.
"Roma is bombarding the media with untruths, in an attempt to hide the unsportsmanlike behaviour," they added. "Glimt knows that there is a video of the incident, which shows the attack on Knutsen from representatives of Roma's support staff.
"The club has seen this video. We demand that the public have access to this video owned by UEFA."
Bodo added they plan to report the incident to the police, but the local authorities said they were yet to receive anything.
Roma coach Jose Mourinho was also unhappy with the artificial pitch in Norway, blaming the synthetic surface for defender Gianluca Mancini's injury that forced him to be substituted on Thursday.
"It's a pity that we had an important injury, which I call the injuries of the plastic pitches," Mourinho told BT Sport.
"It's out of our control. People decided that European competitions can be played on plastic pitches, so we have to play."
The teams meet again next week in the second leg in the Italian capital.
German FA rejects Freiburg appeal over Bayern substitution mix-up
The German Football Association (DFB) on Friday rejected Freiburg's appeal following a substitution mix-up by Bayern Munich in their Bundesliga match last week, protecting the Bavarians' nine-point lead going into the final six matches.
The Court ruled it was not Bayern's fault that they played with 12 players for several seconds late in the game, but that of the match officials.
Bayern won the game 4-1 but in the 86th minute due to a mixup between club officials and the fourth official during a double substitution, the wrong number for Kingsley Coman was shown on the substitution board.
The winger did not leave the pitch until about 16 seconds later.
Under German FA rules if a team is found to have introduced a non-eligible player then the opponents are awarded the game by a 2-0 scoreline.
"The DFB sports court has decided that Bayern Munich cannot be blamed for the introduction of a non-eligible player," the DFB said in a statement.
"It is more down to the mistaken behaviour of the officials that a 12th man was introduced and the game continued."
Freiburg can appeal the decision within one working day of its publication.
The decision is a big boost for Bayern, who followed up last week's substitution blunder with their first Champions League loss of the season at Villarreal in midweek.
"I am obviously happy that we get to keep the points (from the Freiburg game)," Bayern coach Julian Nagelsmann told a news conference. "I would also like to make it clear that I am not disappointed at all by Freiburg or coach Christian Streich for (appealing) it."
Nagelsmann had said he would not have appealed the result given that there was no impact on the game itself.
The Bavarians, on course for a record 10th straight league crown, are on 66 points with Borussia Dortmund in second place on 57. Dortmund are in action at VfB Stuttgart on Friday before Bayern take on Augsburg a day later.
Freiburg, battling for a Champions League spot, remain in fifth place on 45.
Ben Arfa's future at Lille in doubt after incident with coach
Hatem Ben Arfa's future at Lille appeared in doubt after he said the club's coach and president were 'twisted' following a post-match incident last weekend.
The mercurial forward, who is at Lille on a six-month contract, displayed "inappropriate behaviour", according to coach Jocelyn Gourvennec, after a 0-0 draw against strugglers Girondins de Bordeaux last Saturday.
"We had an incident. A player behaved inappropriately in the dressing room just after the game. It was difficult for me to understand because I have a lot of affection for this player," Gourvennec told a news conference on Friday.
"The president has a rule: you don't touch the club, the team, the coach. From my position as a coach, it is obvious that it was impossible to let something happen that could alter the unity of the team, the group, the dressing room.
"On this basis, the club has initiated a procedure, which is underway... Some twisted things can happen. That's not a reason to be twisted."
Gourvennec would not name the player involved, but he was identified by French sports daily L'Equipe as former France international Ben Arfa, who subsequently reacted on Instagram.
L'Equipe reported that the incident occurred over the way Lille, the French champions, were playing.
"You talk about twisted? When you and your president are the most twisted. Your problem is incompetence #allezlelosc," Ben Arfa wrote.
Lille were not reachable for comment.
Atlético charged by UEFA for fan's alleged Nazi salutes
Atlético Madrid was charged by UEFA on Friday after a fan was filmed apparently making Nazi salutes at a Champions League game.
The club was charged with "discriminatory behaviour" and for fans throwing objects during Atlético's 1-0 loss at Manchester City on Tuesday.
UEFA disciplinary rules hold clubs responsible for fan misconduct inside stadiums. No timetable was given for a verdict.
Atlético hosts the second leg of the quarterfinals on Wednesday.
UEFA allocates 240 million euros for clubs in 2020-24 benefits programme
UEFA has allocated 240 million euros ($260 million) to pay clubs for releasing their players for national team competitions in the 2020-24 cycle as part of its benefits programme, European soccer's governing body said on Friday.
The club benefits programme is based on the amount generated by the European Championship final tournament and paid to clubs that have contributed to the successful staging of all of UEFA's national team competitions.
Following Euro 2020, a sum of 200 million euros was paid to 697 clubs from all 55 member associations, UEFA said.
The allocated sum for the new cycle was approved in UEFA's executive committee meeting on Thursday.
UEFA added 100 million euros will be given for the release of players to the UEFA Nations League 2020-21 and 2022-23, as well as the European qualifiers for Euro 2024.
"This represents an increase of 30 million euros from Euro 2020 and will ensure more solidarity to a very large number of European clubs," UEFA said in a statement.
"The amount secured for the release of players to the Euro 2024 final tournament will also be increased from 130 million euros to 140 million euros."
EURO 2024 will be held in Germany.
($1 = 0.9221 euros)
Liga MX, MLS and NWSL teams unite in bid to eliminate homophobia
Teams from Liga MX, Major League Soccer (MLS) and the National Women's Soccer League (NWSL) and others have formed a coalition to eliminate homophobia from soccer, the group said on Friday.
Play Proud United will bring together Angel City FC, Chicago Fire, Philadelphia Union, San Diego Wave FC and Tigres to a five-day residential training program in Los Angeles on April 11, under the auspices of the "Common Goal" soccer movement.
A second training is expected in December with Tigres hosting, with the goal to make stadiums and the soccer community a safer place for the LGBTQ+ community.
Homophobic abuse has persisted in the sport and FIFA sanctioned the Mexican Football Federation (FMF) 12 times for homophobic chanting during their 2018 World Cup qualifying campaign.
Liga MX in July last year said it would remove fans from stadiums for making homophobic chants.
A month later, a joint All-Star game between MLS and Liga MX was put on hold because of anti-gay chants.
In the Premier League, Everton condemned supporters for anti-gay chants against a Chelsea player in December and in January Adelaide United's Josh Cavallo called out homophobic abuse he faced in a game against Melbourne Victory.
"We're focused on what the soccer industry has the potential to become, and we are creating tangible ways to facilitate this positive transformation," Play Proud founder Lilli Barrett-O'Keefe said in a statement.
Clubs will send travel delegations that include one team representative and a leader of their supporters' group, as well as a "community-based" soccer coach from their home city.
"We have seen the evolution of LGBTQ+ visibility on the global and national stage and we are excited to implement this groundbreaking curriculum in our community," said Wave FC President Jill Ellis, who coached the United States to two World Cup titles.