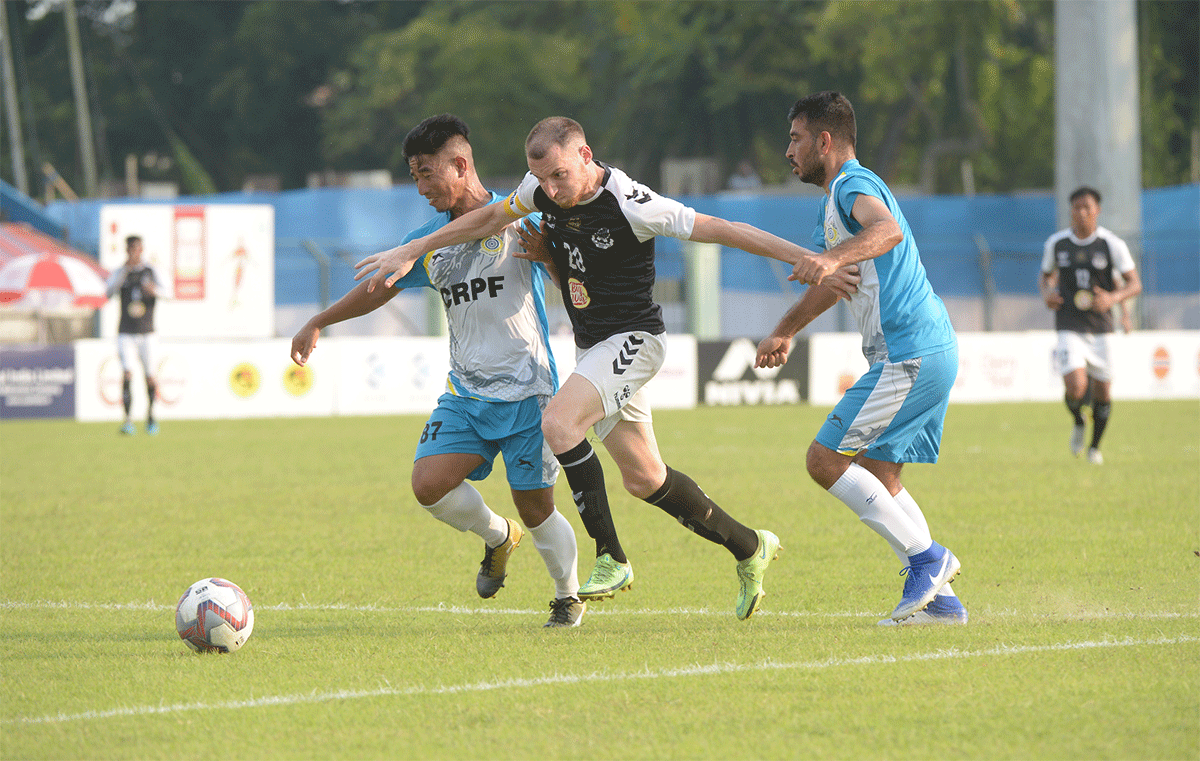 Two-time former champions Mohammedan Sporting overwhelmed Central Reserve Police Force 5-1 in a Group A match to qualify for the quarterfinals of the 130th Durand Cup at the Kalyani Stadium in Kolkata on Friday.
Azharuddin Mallick gave the Black and White's an early lead in the first-half and then scored a second goal just minutes from close, while Trinidadian striker Marcus Joseph, last edition's top scorer, got two in two minutes in the second, to ensure a smooth passage for their team into the last eight.
Dashpreet got one back for the Central Reserve Policemen in added time, while substitute Brandon added a fifth for MDSP a minute later.
FC Bengaluru United (FCBU) were the first team from the group to qualify for the knockouts when they logged six points from two games after beating Indian Air Force 4-2 at the same venue on Thursday.
MDSP did the same, after having won 4-1 against the Airmen in the tournament opener.
The two teams will clash in their third and final game to determine group standings on Tuesday.
Azharuddin Mallick for his two goals and an assist got the Man of the Match award.
In another match, Deepak Singh scored a brace as Army Green football team earned three valuable points and kept their hopes alive with a 3-1 win over Jamshedpur FC in a Group B game at the Mohun Bagan ground.
Deepak Singh (43rd, 48th) and Sochin Chhetri (57th) were the goalscorers for Army Green, while Jitendra Singh (61st) sounded the board for Jamshedpur FC.
ISL side Kerala Blasters Football Club and the Indian Navy Football Team will meet on Saturday in a Group C match.
Aguero has no Barca regrets despite Messi exit
Forward Sergio Aguero said he has no regrets over signing for Barcelona despite the fact that close friend Lionel Messi left the club in the same transfer window.
The Argentine, who arrived on a free transfer from Manchester City, said he was happy with the decision he had made -- even if it meant taking a paycut.
"No doubt I'd sign for Barca again. Just for the name of the club, many players are open to giving up money in order to come," Aguero told Spanish radio station RAC1.
"When we spoke to Barca we knew about their finances, but I told my agent that I didn't care about money -- all I wanted was to sign for Barca, even if it meant not earning what I was at City.
Aguero admitted he did speak with Messi about his situation, however, he denied media reports he had a clause in his contract allowing him to walk away if his countryman left.
"He told me at the Copa America that it looked like the deal was done, but that's all we spoke about the situation," Aguero said.
"When we came back he said they were still trying to come to an agreement but then the famous Thursday happened and I was left in shock, like everyone.
"Someone invented that I had a clause that allowed me to leave if Leo (Messi) did. What actually happened was I was injured when I was due to be presented and it happened just a couple of days after Messi left."
Man City defender Mendy remanded in custody until trial in January
Manchester City defender Benjamin Mendy will stand trial on rape and sexual assault charges on Jan. 24 after the Chester Crown Court set a trial date on Friday, British media reported.
The 27-year-old, who was denied bail last week after he was charged with four counts of rape and one count of sexual assault, has been remanded in custody.
The BBC reported that Eleanor Laws, who is defending Mendy, said there would be an application to dismiss the charges at a hearing on Nov. 15. A co-defendant Louis Saha Matturie, 40, has also been accused of four counts of rape.
The charges against Mendy, who has been suspended by the Premier League club, relate to three complainants and are alleged to have taken place between October 2020 and August 2021.
Mendy, who has played for France 10 times and won the World Cup in 2018, was signed by City from AS Monaco in 2017 for a fee in the region of 52 million pounds ($72.04 million). He has won the Premier League three times with City.
Guardiola in the dark over availability of Brazilian players
Manchester City are still waiting for a decision from governing body FIFA and the Premier League on whether they can play Brazil internationals Ederson and Gabriel Jesus in Saturday's game against Leicester City, manager Pep Guardiola said.
City are among the English clubs who did not release Brazilian players for the international break as they would have had to quarantine for 10 days on their return.
The Brazilian Football Confederation (CBF) invoked a five-day ban which stops clubs from picking players who have not been released to play in this weekend's Premier League games.
"Hopefully (Ederson and Jesus) can play, we'll wait and see if there is good news, the club didn't inform me anything. The problem is I don't understand the situation for the fact that I don't know what we have to do," Guardiola told reporters.
"Argentina players can travel and they can't play the game. Brazil asked to ban players who can not travel. They cannot play there and they cannot play here. It's crazy.
"Right now I think they are going to play because I don't have other instructions... We will wait for FIFA and the Premier League and after tomorrow we are going to decide."
Guardiola cannot pick second-choice goalkeeper Zack Steffen either after the U.S. international tested positive for COVID-19 and was forced to isolate in the United States, with Scott Carson in line for a start.
When asked whether all English clubs would go ahead and play their Brazil internationals without clarity from FIFA, Guardiola was unsure if they would take a stand together.
"This kind of situation, I am not a big fan of that, everyone thinks for themselves. From my experience... people go for what is the best for themselves," he added.
Juventus without five South Americans for Napoli trip: Allegri
Five South American Juventus players will stay at home and rest instead of travelling to face Napoli in Serie A this weekend, the Italian club's coach Massimiliano Allegri said on Friday.
Argentina's Paulo Dybala, Uruguay's Rodrigo Bentancur, Colombian Juan Cuadrado and Brazilian pair Alex Sandro and Danilo were involved in World Cup qualifiers in the early hours of Friday morning.
The fixture schedule has left them with little time to travel back to Italy and be ready for a 1800 local time kickoff in Naples on Saturday, a fixture that may well turn out to be between two rivals for the league title.
"Choosing the team won't be difficult because I have so few players. I have decided to leave the South Americans at home, they will get back between tonight and tomorrow morning," Allegri told a news conference.
"Cuadrado is the only one who could have come, but he has a stomach bug and was unable to get back to Italy.
"This must not create excuses, tomorrow the players who will go out on the pitch will be capable of putting in a great performance."
Allegri also confirmed that Federico Chiesa will not be risked after picking up a muscular problem on Italy duty, leaving him with restricted options following an international break packed with three fixtures per team.
"This is the calendar and we must accept it. We have 13 or 14 players, and three kids. The guys who played earlier today will arrive in Italy on Saturday morning, bringing them to Naples would make little sense considering the risks," Allegri added.
"They will stay at home and rest, then on Tuesday we have an important match (at Malmo), our first in the Champions League and the most important one of the group stage."
Juventus, who surrendered the league title to Inter Milan last season as they finished fourth, have suffered a difficult start to the new campaign since Allegri returned for a second spell as coach over the summer.
A 2-2 opening day draw against Udinese was followed by a shock 1-0 defeat at home to Empoli, and star striker Cristiano Ronaldo then left at the end of the transfer window.
"Cristiano did not want to play for Juventus any more, he is gone and in any case it would have been his last year." Allegri said.
"I wish him all the best, but life goes on. I am not interested in talking about what happened. Juve have always won as a group, it is in our DNA."
Tuchel excited by Saul signing, says midfielder was Chelsea target for years
Chelsea have had their eyes on Saul Niguez for many years and jumped at the opportunity to sign him on loan as the Premier League club needed to reinforce its midfield, manager Thomas Tuchel said on Friday.
Chelsea secured the late deadline-day loan signing of the highly-rated Spaniard with local media reporting the London club had an option to buy the 26-year-old for 40 million euros ($47.29 million) included in the deal.
"I was concerned going into the season with only Jorginho, Mateo (Kovacic) and N'Golo (Kante). Not because of a lack of quality or character... but things are unpredictable," Tuchel told reporters.
"The Club World Cup is in December and nobody knows how many games (we will play). If you have one injured, one suspended, you're in danger to overload players. So we were looking for an alternative and Saul was on Chelsea's radar for many years.
"I was fighting for him at other clubs but it wasn't possible. So when it was possible to have a loan, we were excited. He was the type of profile we need to give Jorginho and N'Golo the break they need."
With Kante sidelined due to a foot injury, Saul could be involved when Chelsea host Aston Villa on Saturday while Tuchel confirmed Christian Pulisic is ruled out for 10 days with an ankle injury.
"We will try for N'Golo on Tuesday (in the Champions League), that looks good. Christian came yesterday on crutches," Tuchel said.
Tuchel is another Premier League manager who could be without a Brazil international with defender Thiago Silva -- who skipped World Cup qualifiers to avoid having to quarantine on return to England -- ineligible to play after the country's FA stepped in.
But the German boss said they were still waiting to learn if Silva, who has played 45 minutes this season, can play.
"Thiago isn't officially out. The chairman is still in talks," Tuchel added.
"I'm waiting for the final decision. We will take the latest decision tomorrow morning.
"I don't understand it and it makes no sense from whatever side you look. Did it make sense for Brazil? No. Did it make sense for us? No, because he may not be able to play two matches."
Tuchel also hinted at a strike partnership of new signing Romelu Lukaku and Timo Werner, who struggled for goals last season.
"Timo likes to play alongside a reference and Romelu is our reference," Tuchel said.
"The most important thing is he finds his confidence and joy. The players are in charge to take their position and fight for their position."