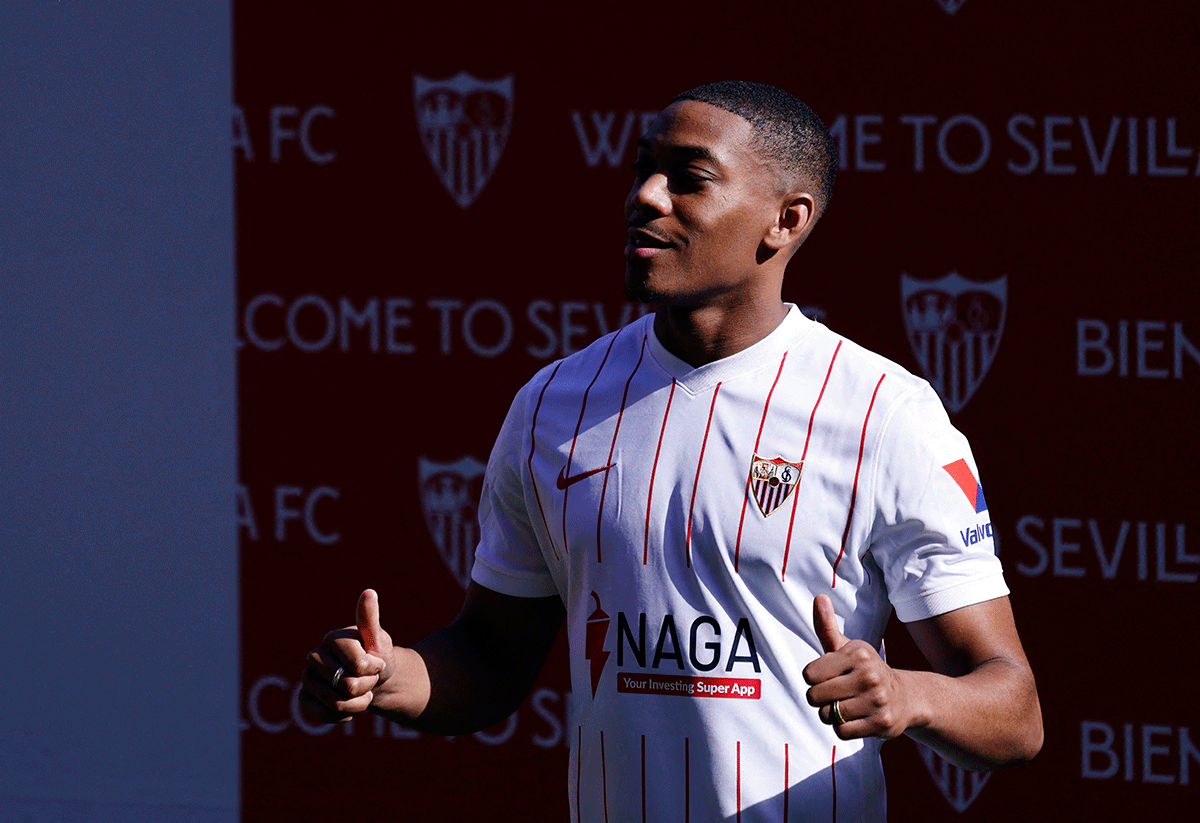 French striker Anthony Martial said he moved from Manchester United to Sevilla on a loan deal because he felt wanted by manager Julen Lopetegui and sports director Monchi.
"What convinced me to come is ... the sporting director and the coach, they showed me that they wanted me," Martial, who has joined the LaLiga club until the end of the season, told a news conference at his unveiling on Wednesday.
"I wanted to come so I could play and show what I can do in the team."
The 26-year-old forward, who joined United in 2015 but asked to leave Old Trafford in December after struggling for opportunities this season, feels he is ready to help out straight away.
"In the last few months I have been training a lot. I hope to be able to train soon with my team mates and work well with them to fight for the competitions we're still in," Martial said, explaining that he does not care in which position Lopetegui plays him.
"I trained hard to be ready and if the coach wants me to play, I'll do it now. The most important thing for me is to play, it doesn't matter where. I want to bring my experience and help the team to keep winning."
The focus for the French striker will be to help Sevilla win a fifth Europa League title since 2014, and seventh overall. They will face Dinamo Zagreb in the last 16 next month.
"Winning a seventh title is a big aim. Also, the final is here (in Ramon Sanchez Pizjuan Stadium) so we'll do everything possible to win the cup," he added.
"My aim is to play, help the team and that means enjoying myself on the pitch, and scoring and assisting."
Rashford, Lingard condemn anti-Semitism after picture with UK rapper
Manchester United's Marcus Rashford and Jesse Lingard have said they do not condone any form of discrimination after a photo of them with controversial British rap artist Wiley drew criticism.
Wiley, who had his Twitter account suspended after posting a string of anti-Semitic comments on his social media accounts in 2020, posted the photo on Instagram before deleting it.
The Jewish Chronicle newspaper published the picture, which it said was taken in Dubai on an unconfirmed date.
"I'd like to reinforce that I do not and will not condone discriminative language or behaviour of any kind aimed at the Jewish community or any other community," Rashford tweeted.
"I truly believe that tackling anti-Semitism in and outside of the game requires a greater level of attention and should very much form part of the game's anti-racism stance."
Wiley had apologised for his actions two years ago and said he was not a racist.
Watford appoint former England coach Hodgson as manager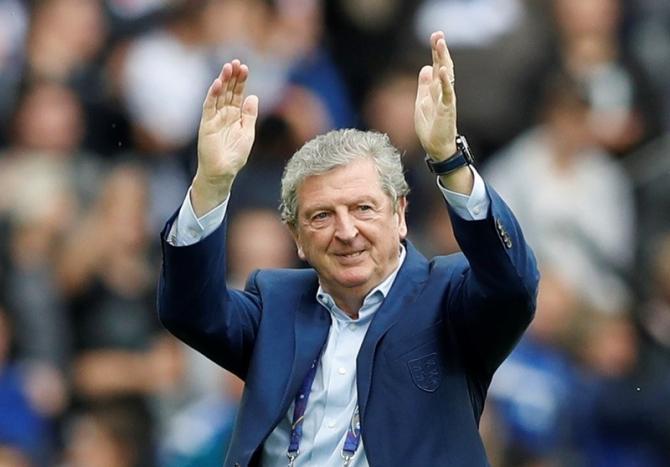 Watford have named former England and Liverpool coach Roy Hodgson as manager the day after sacking Claudio Ranieri following Friday's 3-0 home drubbing by fellow strugglers Norwich City, the Premier League club said.
Hodgson has been brought in to keep Watford in the top flight, a task he achieved for four seasons in a row with Crystal Palace, the last team he managed.
"Watford FC is delighted to confirm the appointment of Roy Hodgson as the club's manager," the club said in a statement on Tuesday.
"The ex-England national team boss is joined by his trusted assistant Ray Lewington, who managed the Hornets so admirably from 2002 until 2005.
"Hodgson and Lewington begin preparations immediately for Watford's next Premier League fixture, away to Burnley on Saturday February 5."
Ranieri was sacked on Monday after just over three months in charge following a dreadful run of results which has left the club in the Premier League's relegation zone.
The 70-year-old Ranieri took charge in October after Xisco Munoz parted ways with the club just seven league games into the season and with the team in 14th place.
Watford, promoted to the top flight last season, are now second-bottom on 14 points from 20 games after seven defeats and a draw in their last eight matches. They are two points behind Norwich in the safety zone, albeit with two games in hand.
Watford are the well-travelled Hodgson's 17th club in a 46-year coaching career. He has also managed four national teams, including England.
Hodgson's coaching career began in 1976 in Sweden and he has since managed the likes of Inter Milan, Malmo, Blackburn Rovers, Liverpool, West Bromwich Albion, Fulham and Switzerland.
The 74-year-old led England to the Euro 2012 Championship and the 2014 World Cup, but left after they were knocked out of Euro 2016 by Iceland in the first knockout round.
While Hodgson has not won any silverware in England, he took Fulham to the Europa League final in 2010.
Denmark's Eriksen training with Ajax reserves to build up fitness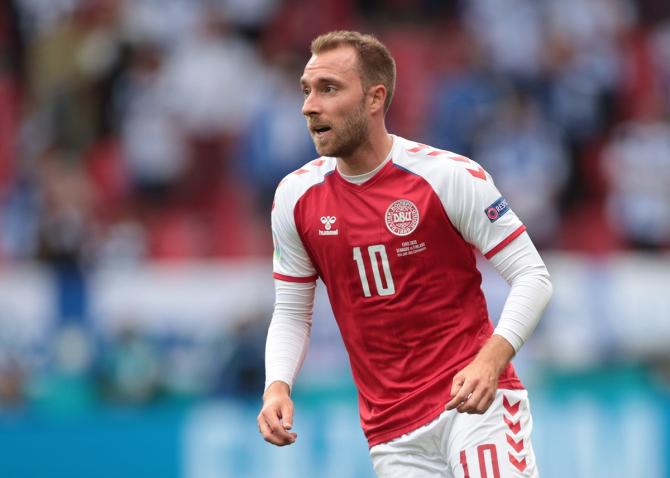 Denmark international Christian Eriksen has started training with former team Ajax Amsterdam as he continues his search for a new club following a cardiac arrest on the pitch during last year's European Championship.
The 29-year-old midfielder received life-saving treatment on the pitch in Denmark's opening match against Finland in June and has not played since.
Eriksen's former club Inter Milan terminated his contract in December because the heart starter device that he had implanted is not permitted in Serie A. He has been linked with a move to Premier League side Brentford.
"I'm very happy to be here. At Ajax I know the people, it feels like coming home because I was here for so long," Eriksen, who played for Ajax between 2010-13 after coming through their youth team, told the club website.
"All facilities are available here and with Jong Ajax I can train at a high level in a group. That's the perfect foundation for me at the moment.
"I want to be at my best again as soon as possible so that when I find a new club, I can perform well there as quickly as possible."
Former Tottenham Hotspur player Eriksen was given the green light by doctors last month to resume his playing career.
Wolves make forward Hwang's loan move from RB Leipzig permanent
Wolverhampton Wanderers have exercised their option to sign on-loan South Korea forward Hwang Hee-chan on a permanent deal from RB Leipzig until 2026, the Premier League club announced on Wednesday.
British media reported that Wolves paid a fee in the region of 12 million pounds ($16.21 million) for Hwang, who moved to England on a season-long loan in August.
Hwang, 26, has made 15 appearances in all competitions for Wolves this season, scoring four times.
"He's been a fantastic addition... he's not had the experiences he would have liked at Leipzig and he wanted a change, and he's grabbed his opportunity here in the Premier League," said Wolves technical director Scott Sellars.
Wolves next play Norwich City in the fourth round of the FA Cup on February 5.
Serie A on the verge of financial ruin, says Inter CEO Marotta
Italy's Serie A is at the risk of insolvency and needs more financial support from the government during the pandemic and stadiums at higher capacity, according to Inter Milan chief executive Giuseppe Marotta.
In an interview with Italian newspaper Il Sole 24 Ore, Marotta said: "Serie A and more in general Italian soccer are at risk of insolvency. The government and political institutions cannot ignore this anymore.
"It is a system at the edge of the abyss, which without a doubt had already issues before COVID but which has received virtually no support in these two years in the pandemic."
Serie A clubs had unanimously agreed earlier this month to cut stadium capacity to 5,000 for two rounds of matches to help curb COVID-19 cases, but Marotta urged all stakeholders to now allow more spectators.
Italy, hit initially the worst by COVID-19, put off matches and closed stadiums soon after the outbreak reached the country at the start of 2020 and has kept stadiums at a limited capacity of up to 50% ever since it started lifting restrictions.
"Outdoor facilities are without a doubt safe with FFP2 masks, super green pass and capacity reduced to 50%. Cutting tickets to 5,000 spectators has been further proof of taking things seriously and another sacrifice for us," he said.
"If France is getting ready to welcome 100% supporters, like it is already happening in England, does it make sense for us to stick to a lower number (of spectators)?"
The Italian football association (FIGC) could not be reached for a comment.
The former Juventus CEO added that the football industry does not get as much financial aid as other industries because it is not taken seriously.
"Football is still considered the world of 'rich and stupid' presidents who waste money away for fun," he said. "Our world struggles to be recognised for what it is but how can you ignore the fact that professional soccer is an industry like any other?"