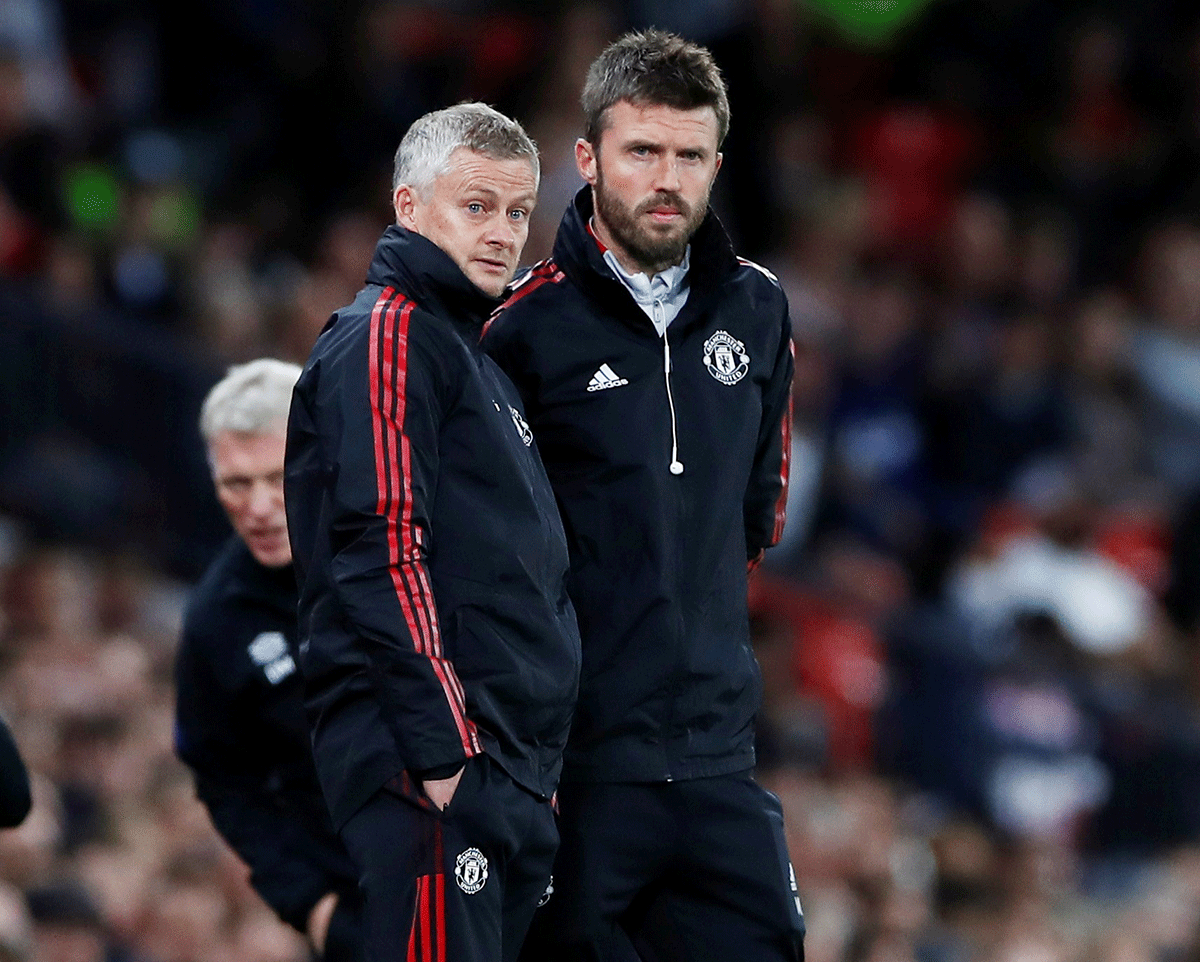 Manchester United should appoint Michael Carrick as interim manager until the end of the season but also target Mauricio Pochettino to become their long-term manager, according to the club's former striker Dimitar Berbatov.
Berbatov's former Manchester United team mate Carrick has been put in temporary charge at Old Trafford in the wake of Ole Gunnar Solskjaer's sacking.
United coach Carrick, 40, appears to be just holding the fort while the club seek an interim manager to take them through to the end of the season -- a strange situation brought about by a lack of obvious candidates not contracted to other teams.
Former Tottenham Hotspur manager Pochettino, 49, is long-admired by Manchester United but it seems unlikely that Paris St Germain would entertain allowing him to leave this season.
Former Bulgaria striker Berbatov believes Carrick, who will take the team for Tuesday's crucial Champions League tie at Villarreal, is the ideal man to steady the ship.
"If United want to appoint an interim coach for the remainder of the season then Michael Carrick is the guy," Berbatov said.
"He's been at the club for a long time, first as player then as a coach under Jose Mourinho and Solskjaer.
"I know Carrick well and, across his career, he's learned from some of the best managers. He is an experienced leader and an excellent communicator who has earned the respect of his fellow professionals.
"The United players will listen to him and play for him."
Pochettino is under contract at PSG until 2023 but has been widely-touted as the perfect fit for United, with their former defender Gary Neville suggesting the Argentine would jump at the chance to revive the fortunes of the club.
Berbatov shares that opinion, although offered former United defender Laurent Blanc as another strong candidate.
"United have long admired Mauricio Pochettino but, as he is currently the manager of Paris Saint-Germain, it is difficult to see how he could be appointed at Old Trafford any time soon," the Bulgarian said in an interview with betting firm Betfair.
"The only solution I can see would be if (former Real Madrid manager) Zinedine Zidane were to go to PSG. If he is open to that then I could see a switch for Pochettino happening soon.
"Many United fans would be pleased to see Pochettino in charge and I can understand why after his success at Tottenham and his commitment to team-building."
Pochettino failed to win a trophy at Spurs but developed their young squad and took them to the Champions League final.
Berbatov expressed sympathy for Solskjaer, saying he had continually had to prove he was the right appointment.
"From day one people were questioning whether Solskjaer was the right man for the job and that was always going to take its toll," he said of the 48-year-old Norwegian.
"It will have affected his confidence and the team's performances. We are all human beings in football and when people are constantly doubting you, it gets to you."
Players share responsibility for Solskjaer exit: Maguire
Manchester United captain Harry Maguire said the players must share a "big responsibility" for manager Ole Gunnar Solskajer's sacking following a dreadful run of results.
The Norwegian parted company with the club on Sunday after nearly three years as permanent manager -- a shambolic 4-1 Premier League defeat at Watford proving the final straw.
Solskjaer's former assistant Michel Carrick has been put in temporary charge while an interim manager is chosen.
Speaking ahead of Tuesday's crucial Champions League clash away to Spanish club Villarreal, Maguire said Solskjaer's dismissal had been an emotional day for the squad.
"It has been a very hard time as players. The amount of respect we had for the boss. We've been on a journey together," Maguire, who was sent off in the defeat at Watford that left United eighth in the Premier League, told reporters.
"The players need to take a big responsibility. Ultimately the manager has paid the price, we're all so disappointed by that. We know we haven't been good enough. We've spoken about that. The lads want to succeed."
After a bright start to the season, following the arrival of signings such as Jadon Sancho and Cristiano Ronaldo, United have slumped alarmingly and have lost four of their last five league games, shipping 15 goals in the process.
"It hasn't been good enough, not delivering individually or collectively. It snowballed from one thing to another," Maguire said. "We have to find something within ourselves to find that focus and mentality.
"The manager came in and spoke to us (yesterday), it was an emotional day. He was a legend, he'll remain one."
Carrick, who worked with Solskjaer for three years, also said it had been an emotional farewell to the former striker but added his priority now was gaining the win against Villarreal that could all but seal United's place in the last 16.
Giving little away about the club's plans to replace Solskjaer, former midfielder Carrick said he would give his best whether it is one game, two games or a stretch longer in charge.
"It's not the time to look back now, I know what I could have done in my own mind better," he said.
"It's easy to look elsewhere, as a player I was exactly the same. For me what's next is a flight to Spain and preparing for tomorrow. All I've been thinking about is the game.
"We have a big game on the weekend (against Chelsea) but we will address that whenever we need to. As long as club want me I will give my best."
United lost to Villarreal on penalties in last season's Europa League final but avenged that with a 2-1 home victory in September -- when Ronaldo scored a stoppage-time winner.
Group F is extremely tight though with United and Villarreal both on seven points from four games and Italian club Atalanta on five points and Young Boys of Switzerland on three.
Xavi looking forward to Benfica clash as Barca seek revenge
Barcelona boss Xavi Hernandez said on Monday he is relishing the challenge of facing Benfica in the Champions League as they look to avenge their defeat by the Portuguese side in Lisbon earlier in the campaign.
A win on Tuesday will ensure Barcelona reach the last 16 of Europe's elite club competition with a match in hand, despite a difficult start to the campaign following 3-0 defeats by both Bayern Munich and Benfica.
"I see an opportunity, no pressure. Soccer always give you a rematch. We're Barca and we'll go for it. I love challenges like this," Xavi, who guided Barca to a 1-0 LaLiga win over Espanyol in his first game in charge of them on Saturday, told reporters.
"Talking is easy, we need to show it on the pitch. Against Espanyol we were better. Barca aren't in a situation to show off but we have reasons to be optimistic.
"If we win, we'll qualify. We need to be brave and try."
Former Barca midfielder Xavi, who enjoyed a trophy-laden spell with the team, hailed fans for showing up in good numbers at Camp Nou on Saturday and issued another rallying cry for support against Benfica.
Attendance figures at Camp Nou have been poor amid a tough start to the campaign in which Dutchman Ronald Koeman was sacked as manager before Xavi's appointment this month.
"What I saw on Saturday in Camp Nou I've never seen in my life," Xavi said. "It was spectacular. On Tuesday we need our fans again. They're part of us. The atmosphere in Barca must give people goosebumps."
Benfica boss Jorge Jesus said his team was looking forward to playing at Camp Nou.
"The atmosphere in their stadium is great for them but it's also good for us... great players like to play in a beautiful stadium full of supporters," Jesus said.
Bale, Hazard out of Real squad for Sheriff match
Real Madrid forwards Eden Hazard and Gareth Bale have been left out of the squad for Wednesday's Champions League group match at Sheriff Tiraspol, the LaLiga club said.
Manager Carlo Ancelotti said on Saturday Hazard was suffering from gastroenteritis, while Bale picked up a knock last week while on international duty with Wales.
Both players missed Sunday's 4-1 league win at Granada, which moved them a point clear at the top.
Real named forwards Karim Benzema, Luka Jovic, Vinicius Jr, Rodrygo and Mariano Diaz in their 23-man travelling squad for the match against Moldovans Sheriff, who stunned Real 2-1 at Santiago Bernabeu in September.
Real top Group D on nine points after four matches, two points above Inter Milan with Sheriff a point further back.
Roma teenager Afena-Gyan plays down apparent racist remark
The heart-warming moment AS Roma manager Jose Mourinho gifted Felix Afena-Gyan a new pair of trainers after his two goals as a substitute at Genoa in Serie A on Sunday was overshadowed by an apparent racist remark made by somebody in the room.
In a video posted online by the Ghanaian forward on Monday, an unidentified man off-camera can be heard saying in Italian "there are bananas inside" as the 18-year-old unpacked the box given to him by Mourinho.
Neither Mourinho nor Afena-Gyan, who were speaking in English, reacted to the remark which was made while the striker was unpacking his gift.
The club were not immediately available to comment but Afena-Gyan posted a message on Monday playing down the incident, saying it was a joke about him eating lots of bananas.
"I have been reading a lot of comments about the video I published earlier today of a special moment for me with the coach," he said on Instagram.
"I want to assure you all that I was not offended by the background comment made in the video in any way -- and that I truly believe there was no racist intent.
"Since the first day I arrived at the club I have been welcomed into the family by everyone, who have joked with me like they do all members of the family.
"Because they see that I eat bananas a lot that has become a thing we laugh about sometimes -- and I believe the comment was another example of that."
The video, which was widely shared online, came after Afena-Gyan came off the bench to score two superb goals in Roma's 2-0 Serie A win over Genoa on Sunday.
After the match, Mourinho said that he had "promised to buy him (Afena-Gyan) a pair of shoes he likes that cost 800 euros ($899.20)" and the Portuguese coach kept his word.
The teenager, who arrived in Rome from his native Ghana to join the club's Under-19 team in January, only made his senior debut last month and has yet to start a first-team match.
He was brought on for the final 15 minutes against Genoa and made a huge impact, sliding in the opener before firing home a superb long-range strike in stoppage time to send Mourinho's side up to fifth place in the standings.
"Mourinho is teaching me a lot and I am learning a lot from him. He is someone who has achieved a lot during his career and he is a great person. I am glad to be working with him," Afena-Gyan told the Roma website.
FC Porto offices searched in corruption probe
Portuguese prosecutors investigating 20 million euros ($22.48 million) in illegal payments relating to football transfer deals executed 33 search warrants mainly in Lisbon and Porto on Monday, including one at the offices of FC Porto.
The Public Prosecutor's Office of the Central Department of Investigation and Criminal Action said the searches had been carried out on business premises, including a bank and a sports club, as well as several residences.
"The steps were made to collect evidence in an investigation of suspected crimes of tax fraud, fraud, breach of trust and money laundering, related to transfers of football players and financial circuits involving intermediaries in these businesses," the office said in a statement.
"At issue are incidents that occurred from at least 2017 to the present, with a strong international dimension and involving commission payments of more than 20 million euros."
FC Porto released a statement confirming the club offices had been searched.
"FC Porto collaborated with the team of investigators whose work aimed to seize documents that could be of interest to the investigation," the statement read.
Luis Filipe Vieira resigned as president of Lisbon club Benfica in July after being detained as part of an investigation into alleged tax fraud and money laundering.