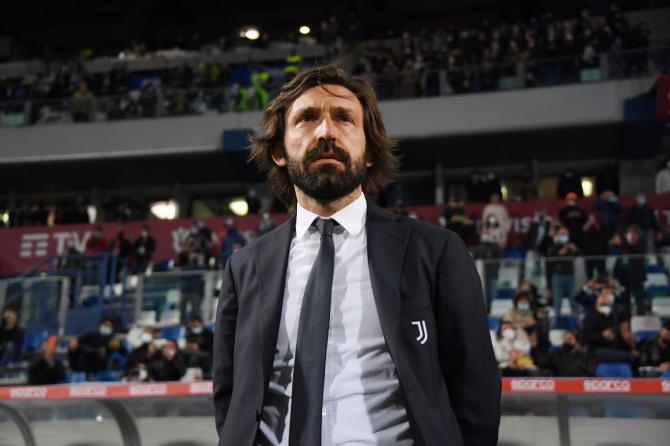 Juventus have sacked coach Andrea Pirlo after one season in charge, the Serie A club said in a statement on Friday.
Pirlo was appointed last summer with no prior coaching experience and could only lead reigning Serie A champions Juventus to fourth place this season, with Massimiliano Allegri expected to return for a second spell as manager.
"For the courage, the dedication, the passion with which he demonstrated every day, our thanks go to the Maestro, the Coach and to Andrea, that really comes from the heart," the statement read.
"As well as our good luck for the future that will surely be a wonderful one. These are the first words that all of us need to say at the end of this special experience together."
Pirlo started his first season in charge of a senior side looking to make it 10 successive Serie A titles for Juve, but the rookie coach struggled.
Juve even headed into the final day of the season facing the prospect of failing to qualify for the Champions League for the first time since 2011-12, but victory over Bologna, and other results going their way, saw them scrape in.
While Pirlo did manage to win the Coppa Italia by beating Atalanta earlier this month, Juve's league position, coupled with a second-successive Champions League last-16 exit, put the coach's job in danger.
Allegri won five Serie A titles in a row in his first spell in Turin between 2014 and 2019, as well as lifting the Coppa Italia four times and finishing as Champions League runners-up twice, but he has not coached since.
FIFA Rankings: Belgium stay on top as India retain 105th spot
While recent months have seen a raft of league championships build to a climax, it has been a quiet period for international football -- something mirrored in the latest FIFA Men's World Ranking.
With only one match played since the last edition was published -- a Ukraine-Bahrain friendly that ended all square (1-1) -- the Top 50 remains unchanged, with Belgium leading the way from France and Brazil, as per fifa.com. The Indian team has retained its 105th spot ahead of the 2022 World Cup qualifiers in June.
Bahrain's one-place gain (98, +1) is the only movement among the 210 national teams that make up the ranking. Ukraine remain 24th but, having dropped points, nearest pursuers Serbia have closed the gap on them.
However, while things are presently calm in the standings, that is all expected to change in the coming weeks, when a host of international competitions take place around the globe.
Among them are FIFA World Cup qualifiers in Asia, as well as qualifiers for the FIFA Arab Cup 2021 involving teams from Africa and Asia in mid-June.
Europe will also see its share of action, with UEFA EURO 2020 running from June 11 to July 11. Finally, across the Atlantic, the Copa America will keep CONMEBOL's sides busy, while their Concacaf counterparts have the Gold Cup glory to chase. With a total of 26 national teams in those two tournaments alone, there is bound to be considerable movement in the next edition.
The next FIFA Men's World Ranking will be published on August 12, 2021.
Court sets Jan. 24 trial date for former Man Utd player Giggs
Former Manchester United soccer player and Wales national team manager Ryan Giggs will stand trial on January 24 next year accused of deliberately headbutting his ex-girlfriend and controlling behaviour, a court ruled on Friday.
The 47-year-old has pleaded not guilty.
A plea and trial preparation hearing will be held on July 23, which Giggs must attend. He will remain on conditional bail until then.
The prosecution must detail the particulars of the coercive and controlling behaviour charge by July 9, with the court hearing the relationship had been 'tempestuous'.
Giggs faces two other charges of causing actual bodily harm to ex-girlfriend Kate Greville and common assault of her younger sister Emma.
The former Manchester United winger, flanked by his lawyers, attended the 15-minute long preparation hearing before Judge Nicholas Dean at Manchester Crown Court on Friday.
The judge regretted that the trial date was set so far in the future but said that was "the best we can do in the circumstances."
Giggs was charged in April when a magistrates court heard a prosecutor read out a summary of charges including that he struck Kate Greville with a "deliberate headbutt".
"There was fear of violence on many occasions," the prosecution added then, saying Giggs had subjected his partner to "degrading treatment" and isolation from friends and colleagues.
He was first arrested in the case and released on bail in November. He has been replaced as Wales manager for this summer's Euro 2020 tournament.
Giggs made 963 appearances over 23 years for Manchester United as a player, a club record, winning a haul of honours including 13 Premier League winner's medals and two UEFA Champions League winner's medals.
He represented Wales as a player 64 times between 1991 and 2007 and took over as national coach in 2018.
The judge said the selected trial jurors would have to recognise the case had "nothing to do with football or an allegiance to any team."