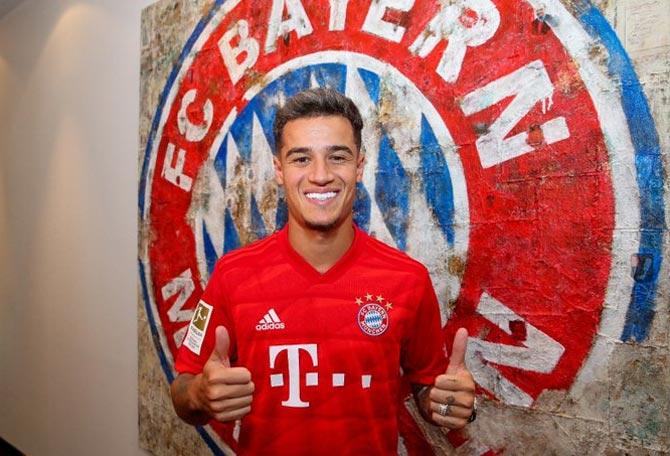 Bundesliga champions Bayern Munich have signed Barcelona midfielder Philippe Coutinho on loan for the season, the two clubs confirmed on Monday.
Bayern will pay a loan fee of 8.5 million euros ($9.44 million) and pay his wages. They have the option of making the deal permanent for a fee of 120 million euros.

Coutinho, who joined Barcelona in January last year for approximately 142 million pounds ($172.25 million), was the third most expensive transfer in history but he failed to hit the same heights at the Camp Nou as he did with Liverpool.

"FC Barcelona and Bayern Munich have reached an agreement for the loan of the player Philippe Coutinho to the German club for the 2019/20 season," Barcelona said in a statement.

"Barcelona would like to thank to publicly thank Philippe Coutinho for his commitment and dedication wishes him all the best in this new stage of his career."

Coutinho will wear the number 10 shirt previously worn by Dutchman Arjen Robben, who retired at the end of last season.

"We've been working on bringing in Philippe Coutinho for quite some time and we're very happy that we've been able to complete this transfer," Bayern CEO Karl-Heinz Rummenigge said.

"Our thanks go to FC Barcelona for agreeing to the transfer. With his creativity and outstanding skills, Philippe is a player who will immediately strengthen our attack."

Bayern, who drew their first league game 2-2 with Hertha Berlin last weekend, play away at Schalke on Saturday.
Why David Luiz moved to Arsenal
Defender David Luiz said he decided to move from Chelsea to Premier League rivals Arsenal for a different challenge after an "honest conversation" with manager Frank Lampard about the Stamford Bridge club's new direction.
Luiz, 32, made a deadline day move across London to Arsenal where he signed a two-year contract after spending three seasons in a second stint with Chelsea. He made his Arsenal debut last weekend in a 2-1 home win over Burnley.
With Chelsea operating under a FIFA transfer ban, Lampard's policy has been to build the side with younger players, choosing to start Andreas Christensen and Kurt Zouma in central defence in his first two league games.
"Everyone knows I was so happy in Chelsea and won many trophies there. I had a real honest conversation with Lamps and Lamps had different ideas for his plans for the year," Luiz told reporters.
"So the best way for me to respect the club where I can was to move on, try a new challenge and give him the opportunity to do his job.
"I'm so happy here as since the first day I felt welcome. This is a big club and I want to be here and see it shine on the pitch and outside."
Luiz said he could have remained at Stamford Bridge, where he had signed a new two-year contract extension at the end of last season after helping the club finish third in the league, but chose to seek a new challenge.
"I am a guy with ambition and that is why I moved," Luiz added. "I could have chosen a comfortable zone and got money and be cool and that is it.
"But I like a new a challenge and new things in my life."
Balotelli joins hometown club Brescia on free transfer
Italian striker Mario Balotelli has joined his hometown club Brescia on a free transfer, the Serie A side said on Sunday.
Balotelli, who was released by Marseille at the end of last season, returns to Italy for his third stint after playing for Inter, where he won three league titles, and AC Milan.
The 29-year-old Italy international would be presented at the Stadio Mario Rigamonti later on Monday, with media reporting he had signed a three-year deal with the club, who are back in the top flight for the first time since 2011.
The new league season begins this weekend but Balotelli must wait to make his debut as he serves a four-match ban after getting a straight red card in his final game for Marseille against Montpellier in May.
Spurs boss Pochettino wants Premier League to extend transfer deadline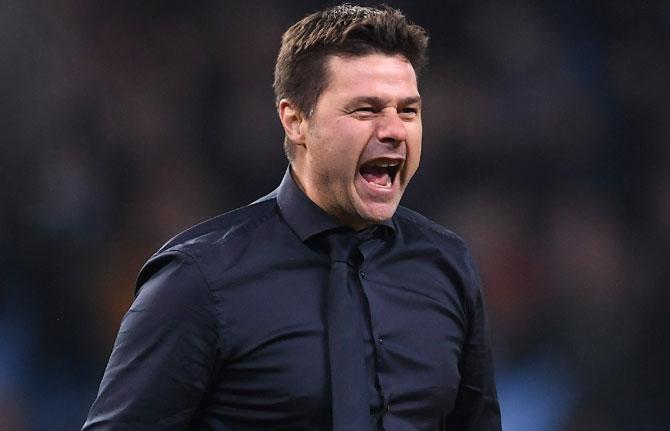 Closing the Premier League transfer window before the season begins is a "massive mistake" as key players can still be prised away by other European clubs before their window shuts next month, Tottenham Hotspur manager Mauricio Pochettino has said.
The Premier League window for incoming transfers closed on Aug. 8, a day before the season began, but players are still allowed to move to other major leagues — including Spain, Germany and Italy — until the European window shuts on September 2.
It is a matter of concern for Pochettino who is unsure if pivotal playmaker Christian Eriksen will stay at the London club, with Spanish media linking him with a move to Real Madrid before the deadline.
"I wasn't in agreement (with the decision) but at that moment they believed that was best for the clubs," Pochettino told reporters. "But I think (club chairman Daniel Levy) and a lot of people now realise it was a massive mistake.
"I hope that we fix the problem for the next season. We need to go back and operate in the same way that they operate in Europe because I think it's massive when you go to compete in the Europa League or Champions League.
"Champions League teams can create a problem for a team like us and it's so clear that I cannot be happy as a coach that in the last three weeks clubs from Europe can unsettle your team. For me, it's not common sense and we need to go back quick."
It is a sentiment echoed by Barcelona boss Ernesto Valverde, who said it was an "inconvenience" not to have a finalised squad before the league season begins, and Atletico Madrid's Diego Simeone.
Belgium joins race to host women's World Cup in 2023
The Belgian Football Association has expressed interest in hosting the 2023 edition of the women's World Cup to join nine other member associations in the bidding process, the sport's world governing body FIFA said on Monday.
Belgium's decision follows the FIFA Council agreeing to increase the number of participating teams for the 2023 event from 24 to 32 and the subsequent reopening of the bidding process.
By registering interest, Belgium joins the race alongside Argentina, Australia, Bolivia, Brazil, Colombia, Japan, New Zealand, South Africa and South Korea which is interested in a joint bid with its North Korean counterpart.
"All ten MAs (member associations) have received the overview of the bidding process (including updated high-level hosting requirements) and will have until Sept. 2, 2019 to confirm their participation," FIFA said in a statement.
"Furthermore, up until the deadline for bid submissions, any member association wishing to join an existing bid will be permitted to do so provided that it also submits a bidding registration to FIFA."
The tournament's expansion was pledged by FIFA president Gianni Infantino at the close of this year's edition in France, which was won for a record-extending fourth time by the United States.
Interest in the women's game has arguably never been higher, with broadcast records broken all over the globe in the June-July showpiece. Almost 59 million people watched France beat potential 2023 hosts Brazil in the last 16, becoming the most viewed women's soccer match of all time.
FIFA will dispatch bidding and hosting documents next month and the deadline for bid submission is December 13. The hosts are expected to be appointed in May next year.