News of all that's transpired on and off the football field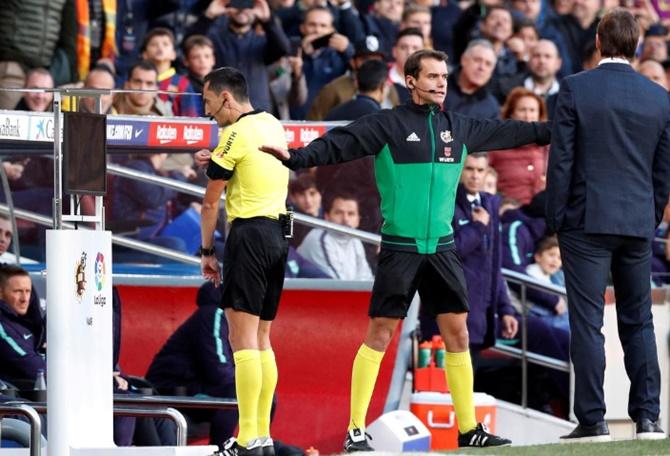 The Spanish Referee's Committee (CTA) has said Video Assistant Refereeing (VAR) in La Liga has helped in all aspects of the game after their first season with the new system.
VAR checked 4,293 actions - an average of 12 per match - in the 380-game La Liga season, intervening a total of 121 times (3.14 per game) and leading to 114 changed decisions.
This included the awarding of seven red cards that on-field officials missed, with 60 goals awarded by video technology.
The CTA also said player protests were down 17.3 per cent, while simulation dropped by 68% following the introduction of VAR.
"Our officials have adapted very well to the changes, but so have the fans and media, too. It's like we've always played with VAR," said CTA president Carlos Velasco Carballo.
Spain was the country most represented in European competition by its officials, with 34 designated for matches across the continent throughout the season, ahead of Italy (33), Germany (32) and England (23),
Two Spanish referees were used in the Champions League last 16 and quarter-finals, while Antonio Miguel Mateu Lahoz, who is the fourth official at the final, took charge of Tottenham Hotspur's semi-final first-leg home defeat by Ajax Amsterdam.
Spurs face fellow Premier League side Liverpool in the June 1 showpiece at the Wanda Metropolitano stadium in Madrid.
Simeone pledges future to Atletico despite player exodus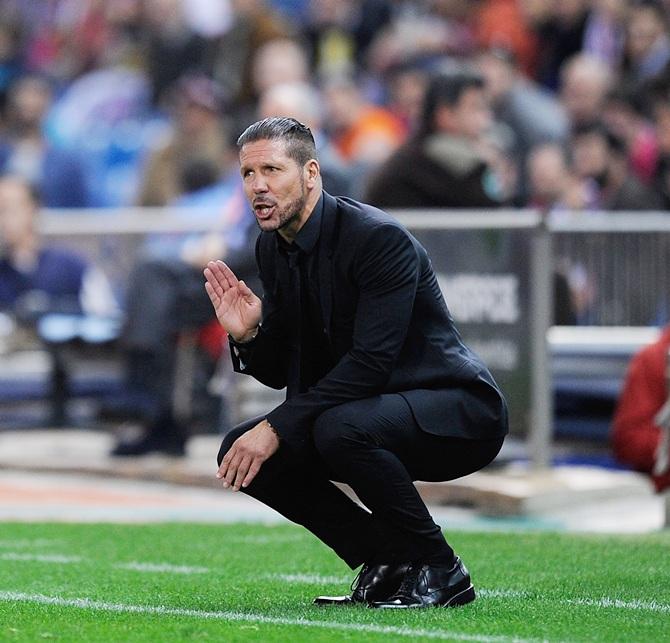 Atletico Madrid coach Diego Simeone has pledged his future to the Liga club despite an expected exodus of senior players from the Estadio Metropolitano in the close season.
Argentine Simeone, 49, has said he will oversee the changing of the guard as he looks to rebuild the 2014 La Liga winners, who came second this term behind runaway champions Barcelona.
"I like my job, I feel very identified and committed to the club. I know that year-on-year it's always more difficult and that makes us see our real selves and generate enthusiasm," he told a news conference after a friendly with Beitar Jerusalem.
"Next season we'll bring in players with great enthusiasm and hopefully adapt to the responsibility that means being at Atletico. We'll need a new defence with a lot of new pieces," he added after Tuesday's 2-1 defeat at Teddy Stadium in Jerusalem.
His squad faces a major overhaul including the departure of the first-choice back four, with Juanfran, Diego Godin and Filipe Luis leaving on free transfers, while Lucas Hernandez is joining Bayern Munich for 80 million euros ($89.33 million).
The club's talisman, France forward Antoine Griezmann, also announced last week that he will leave the club, with Spanish champions Barcelona his likely destination.
Midfielder Rodrigo has also been heavily linked to English champions Manchester City in the British media, while there has been speculation about Spain forward Diego Costa's future.
"Griezmann's departure means a lot, not only for his talent but also it means we'll lose a lot of goals, which will be tough and hard to replace. We've got the midfield in place and the rest of it will be down to work, work and more work."
In February, former Argentina midfielder Simeone, who spent two separate spells at Atleti as a player, renewed his contract until 2022, meaning he is headed for a decade in charge.
He has won seven trophies with the club, including two Europa League titles, one Copa del Rey and one La Liga title, and has taken them to two Champions League finals, losing in 2014 and 2016 to Real Madrid.
Europa win would cap wonderful season says Chelsea's Sarri
Chelsea manager Maurizio Sarri has said victory over Arsenal in next week's Europa League final would complete a wonderful season for the club, despite speculation about his future.
The Italian came in for fierce criticism from the Stamford Bridge fans during his first campaign but ended up steering Chelsea to a third-place finish in the Premier League.
Asked whether he would still be in charge next season, Sarri said his future was the Europa League final but after that he would speak to the club's hierarchy.
"I have two years of my contract here," the former Napoli boss told reporters on Wednesday as he looked ahead to next week's clash with Arsenal in the Azerbaijan capital Baku.
"I have to speak with my club after the final. I want to know if they are happy with me."
Chelsea also reached the League Cup final this term, losing to eventual domestic treble winners Manchester City, and Sarri said his team deserved some silverware.
"I think we had a good season with a lot of problems of course. We lost two or three matches very badly but we had a good season in the end," he said.
"Now we have the Europa League final so the season is a good season and if we can win it would be a wonderful season."
Sarri rejected any notion that he would be judged on whether Chelsea beat Arsenal.
"If the situation is like that I want to go immediately because you cannot after 10 months of work have to play everything in 90 minutes," he said.
"You are either happy with my work or not happy."
N'Golo Kante is expected to be fit for the final, the midfielder having returned to training following a hamstring injury, but defender Antonio Rudiger is out injured.
Chelsea's England midfielder Ruben Loftus-Cheek is also sidelined after suffering an Achilles tendon injury during a Holocaust Memorial friendly match in Boston last week.
"We are trying to recover Kante, he had part of the training yesterday with the group so we are optimistic that he will be able to play in the final," Sarri said.
Marseille coach Garcia to leave at end of season
Olympique de Marseille coach Rudi Garcia said on Wednesday he had decided to leave the Ligue 1 club at the end of the season.
Frenchman Garcia, 55, who took Marseille to a Europa League final last term, has struggled to deliver results this season and they stand sixth in Ligue 1 after missing a European spot.
"I've decided to leave. I proposed this solution to my president (Jacques-Henri Eyraud), who accepted it," Garcia, who joined the club in Oct. 2016 from AS Roma, told a news conference.
"If I only listened to my determination and my ego, I would stay but if I listen to my commonsense and my reason, I have to stop. Why? Because I believe enormously in this project.
"In two and a half years, I was part of this project and, for the sake of it, I think it's better that I leave now. It has been a great pleasure to coach OM."
After a lukewarm start to the season, Marseille's form got worse and they finished bottom of their Europa League group.
Marseille's nightmare run continued on the domestic front as were knocked out of the French Cup by fourth division Andrezieux in January, with Garcia attracting widespread criticism.
A 3-0 home league defeat by Olympique Lyonnais earlier this month ended Marseille's hopes of playing in European competition next season as they could not longer finish in the top four.
"There are few jobs as difficult as coaching. It is a job that requires an exceptional character," Eyraud said.
"I have a lot of respect for Rudi. He will remain forever as the coach who brought Marseille to the European final."
Garcia's final game in charge of Marseille will be a league encounter at home to Montpellier on Friday.
Ito double takes Kashima into knockout rounds
Kashima Antlers' Sho Ito scored a rapid-fire double to salvage their Asian Champions League title defence as the J-League side fought back to beat Shandong Luneng 2-1 on Wednesday and book their place in the last 16.
Five minutes after coming off the bench, Ito cancelled out Marouane Fellaini's early header and the 30-year-old striker put his side's qualification beyond doubt less than two minutes later when he showed composure to score the winner.
Kashima, who finished second in the group behind Shandong, had needed to avoid defeat to qualify for the next phase of the competition, ahead of Group E rivals Gyeongnam FC, of South Korea, and Johor Darul Ta'zim (JDT) from Malaysia.
The victory set up a round of 16 meeting with fellow J-League side Sanfrecce Hiroshima next month.
Gyeongnam beat JDT 2-0 in the other game in Group E, but the three points were not enough for them to reach the next round after Kashima's victory left the South Koreans in third place.
"We lost our shape and our combinations after we conceded, so that is something we need to go over," said Kashima coach Go Oiwa.
"What matters today is that we advanced to the next round. I'm proud of us for coming from behind to win. But we do have a lot to work on for the next round."
Hiroshima had already secured first place in Group F and claimed a fifth straight victory with a comfortable 3-1 win over Melbourne Victory in what was Kevin Muscat's final game in charge of the Australian side.
Shandong will take on fellow Chinese Super League side Guangzhou Evergrande in the next phase of the competition after Fabio Cannavaro's side edged past Daegu FC from South Korea with a 1-0 win to take second place in Group F.
In the west of the continent, Al Wahda of the United Arab Emirates secured top spot in Group B despite being held to a 1-1 draw by Saudi Arabia's Al Ittihad, who also advanced to the next round by finishing in second.
Neither side, however, knows who they will face in the round of 16 after the top-of-the-table clash in Group A between Iran's Zobahan and Al Nassr from Saudi Arabia - due to be played in a neutral venue in Karbala in Iraq - was postponed.
Both teams have booked their places in the round of 16, with Zobahan needing only a draw to finish in first place.
The Asian Football Confederation is yet to announce a date for the rescheduled fixture, with the round of 16 matches in the west to be played in August. Games between teams in the east will be played on June 18 and 25.
Man City's Sterling wants to meet FA, league about racism
Manchester City forward Raheem Sterling, who is leading the fight against racism in soccer, said on Tuesday he hoped to talk to officials at England's Football Association and the Premier League about combating the menace.
Sterling told a conference in New York that the hectic nature of a footballer's schedule was the only thing that had kept him from meeting them already.
"In football you can get caught up with training every day and games every two, three days so you don't really have a lot of time to be out and speaking to people," Sterling said during a moderated discussion at the Wall Street Journal's Future of Everything conference.
"But for sure on my off time and holidays if I can get around and speak to the FA and the people in the Premier league and see how we can go about doing things better in the future for sure I'll be there in person to try and do that."
Sterling, named Footballer of the Year by the Football Writers' Association last month, scored two goals on Saturday as City crushed Watford 6-0 to become the first team to win the English domestic treble of league championship and both domestic cups on Saturday.
He re-iterated his hope to see clubs slapped with automatic nine-point deductions if their supporters indulged in racist behaviour.
"If I go to a football game and I support Manchester United, for example, I don't want to be the person that lets my team down by saying silly remarks in a stadium," said Sterling.
"If you know your team is going to get deducted nine points from them winning the league you are not going to say these racist remarks even though you shouldn't have it in your head."
Last season, Sterling accused sections of the British media of fuelling racism with negative portrayals of young black players.
Sterling also encountered racist abuse during England's Euro 2020 qualifier in Montenegro in March, while there have been many other cases in European soccer in recent months.
Despite that, Sterling felt there had been some encouraging signs with regard to fan behaviour.
"Ten years ago it was a lot, lot worse than it is now. It's starting to get better and people are understanding that they can't say certain things," he said.
"But I think it's partly English culture on a Saturday to go out early and get ready for the game and start drinking. So a lot of these people are kind of drunk by the time they get (to the stadium). But it's getting lot better than it used to be."