News of all that's transpired on and off the football field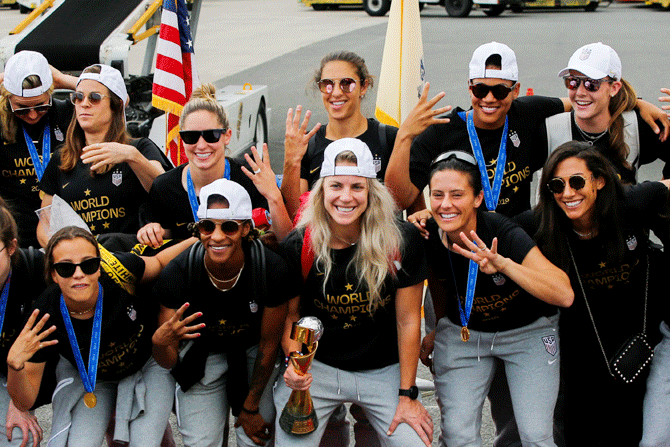 The US women's soccer team, fresh from its second-consecutive World Cup victory over the weekend, will return to Manhattan's "Canyon of Heroes" on Wednesday to be honored by New Yorkers with a traditional ticker tape parade.
The squad's 2-0 win over Netherlands in the final match on Sunday capped a World Cup campaign that attracted huge television audiences and bestowed celebrity status on Megan Rapinoe, the tournament's top scorer and an outspoken team leader.
The victory also called attention to the team's fight for equal pay with their counterparts on the US men's national team, and by extension, the issue of equal pay for equal work for women in general.
In March, all 28 players on the women's team filed a gender discrimination lawsuit against the US Soccer Federation, demanding their compensation equal that of their male counterparts.
"The level of interest and excitement is much higher from four years ago," said Jessica Lappin, president of the parade's organizers, Alliance of Downtown New York, referring to the 2015 parade for the team after its last World Cup victory.
"That's partly because they're women's rights icons now."
The lawsuit alleges that women players each earn a maximum of $99,000 total for a season, compared with an average of $263,320 for male players.
As Sunday's game came to a close in Lyon, France, the grandstands erupted with chants of "equal pay, equal pay."
Parade organisers said they expected to hear a similar sentiment expressed loudly by the tens of thousands of people expected to line the parade route on Wednesday.
The parade will travel up Broadway through the heart of Manhattan's financial district, from Battery Park to City Hall, a path dubbed "the Canyon of Heroes."
At the end of the route, Mayor Bill de Blasio and other politicians will pay tribute to the team, while some of the players are likely to address the crowd.
Past honorees have included John F Kennedy after his nomination as Democratic presidential candidate; Neil Armstrong and other Apollo 11 astronauts after their mission to the moon; and Queen Elizabeth II.
In recent decades, the city has hosted a much smaller number of parades and most of them have honored championship sports teams, including the New York Yankees and New York Giants.
Despite the name, today's "ticker tape" parades are missing the real stuff - the ubiquitous strips of paper that ran through stock tickers that once provided price quotes for Wall Street traders.
Instead of ticker tape, about a ton of confetti made from shredded paper, tossed from about 20 buildings, will rain down on the team as they ride in open vehicles up Broadway, according to the Alliance of Downtown New York. Unlike in years past, most of the office towers along the route lack windows that can open.
There's an 'agenda' against Pogba: Solskjaer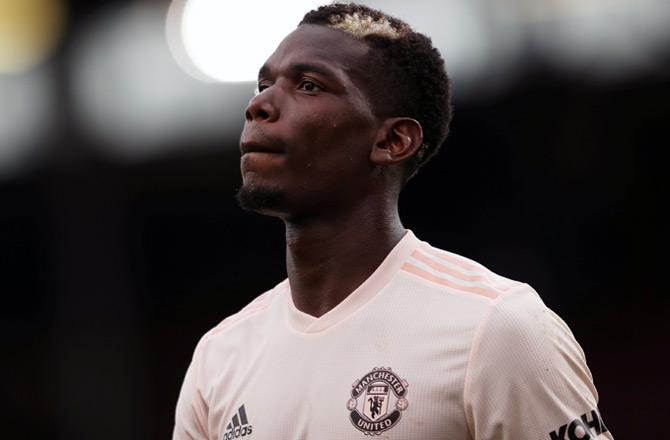 Manchester United boss Ole Gunnar Solskjaer has moved to hose down speculation that Paul Pogba is unhappy and set to leave the club, declaring the media have an "agenda" against the French World Cup winner.
Pogba's agent recently told The Times that the troubled 26-year-old intends to leave United, while the player, himself, said in Tokyo last month that he thought it might be time for a "new challenge somewhere else". [nL8N2470FG]
Serie A club Juventus and La Liga giants Real Madrid have been linked with Pogba, and the speculation has followed United to Australia on their pre-season tour ahead of a match against A-League side Perth Glory on Saturday.
Pogba has two years left on his contract, with the option for a third, however, and Solskjaer hit out at media for indulging in the transfer talk.
"Agents talk all the time. As I said, we've not had any bids from any clubs," he told reporters in Perth on Wednesday.
"That's all I can say about this matter.
"There is an agenda against Paul, he's a top, top bloke. A great professional, there's never been any problems and he's got a heart of gold."
Pogba, who moved to Old Trafford from Juventus for a then-world record transfer fee of 89.3 million pounds ($112.43 million) in August 2016, was named in last season's PFA Premier League Team of the Year and has scored 31 goals in 142 appearances in all competitions.
But he has frustrated fans with his inconsistency, and a series of low-key performances last season culminated in clashes with angry supporters in the final-day home defeat by relegated Cardiff.
Manchester United posted a video of the team taking a stroll through Perth on its social media accounts earlier in the week but the upbeat soundtrack of electronic music could not disguise what appeared to be a heated exchange between Pogba and team mate Jesse Lingard.
Grinning defender Victor Lindelof came between the pair and threw an arm around Pogba as they continued walking but the moment sparked speculation of a rift in the camp.
Solskjaer said there was nothing in it.
"For example, Jesse and Paul walking around and it's been portrayed as a fight between the two boys," he said.
"I know you're here to sell papers and sell stories but that's nothing, no problems between the boys at all. They're all professional. Pre-season has been very, very good so far."
United kick off their new league campaign against Chelsea at Old Trafford on August 11.
Women's football team striker Sanju draws inspiration from Chhetri
An ardent Sunil Chhetri fan, Indian women's football team striker Sanju Yadav says the men's team skipper is an inspiration for a generation of players who took up the sport in the country.
Sanju is amongst the generation of Indian footballers who have spent a considerable part of their formative years watching and learning from Chhetri.
At a young age of 21, Sanju has gone on to become one of the regulars in the Indian women's national team.
"I am a big fan of Sunil Chhetri. I used to watch him play when I was younger, and I still try to watch his matches whenever I can, be it for club or for the country," said Sanju.
"The dedication with which he plays his football is equal to none."
She further went on to explain the big role that Chhetri, who was named the AIFF Men's Footballer of the Year 2018-19 earlier this week, has played in improving the sport in the country.
"He's done so much for Indian football. He's been playing for the national team for such a long time now, that an entire generation has grown up idolising him. He is certainly an inspiration to all of us who want to move Indian football ahead," Sanju said.
The senior women's national team is currently training in New Delhi under head coach Maymol Rocky, as a part of the side's preparation for the upcoming COTIF Cup in Spain, and the AFC Women's Championship Qualifiers later this year.
Being one of the fastest players in the team, Sanju is a natural winger for the side. However she wants to use the camp to sharpen her other skills in order to become a complete footballer.
"Speed is one of the stronger points in my game. I've always been fast, even when I was a kid. But I do not want to be a one-trick pony. That is why such camps are so instrumental for us. I am working on the other aspects of my game as well, in order to improve my overall play," Sanju signed off.