News of all that's transpired on and off the football field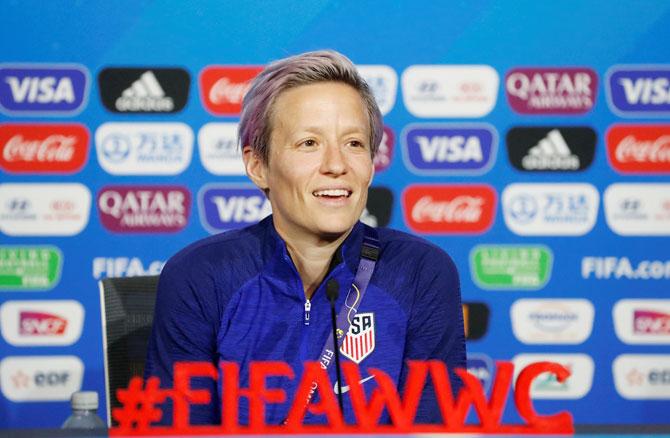 United States co-captain Megan Rapinoe launched a scathing attack on world soccer's governing body FIFA, on the eve of the women's World Cup final, saying the organisation did not respect the female game.
Rapinoe said FIFA's decision to allow the Copa America final and the Gold Cup final to take place on the same day as the women's final was "unbelievable".
"It is terrible scheduling for everyone. As people who work in football, play in football, that is a terrible idea to put everything on the same day. In every way," she said during the pre-final news conference.
"Obviously there are two other finals going on but this is the World Cup final -- this is like, cancel everything day. So no, I don't know how it happened. I read somewhere that they said they just didn't think about it -- that's a bit of a problem."
The Copa America final between Brazil and Argentina will be held in Rio on Sunday while CONCACAF's Gold Cup, featuring the United States and Mexico is in Chicago. Neither game's timing clashes with the women's World Cup final, being held in Lyon between the United States and the Netherlands.
"The World Cup final is set so far in advance it is actually unbelievable. So no I don't think that we feel the same level of respect, certainly that FIFA has for the men and just in general," said Rapinoe.
In a statement to Reuters, a FIFA spokesperson said: "The scheduling of the different events has gone through a comprehensive consultancy process that has involved all key stakeholders and taken into account different aspects of both the women's and men's international match calendars."
"FIFA and the confederations have discussed the respective match schedules in general to minimise any potential timing clashes," the spokesperson added.
Rapinoe also took aim at FIFA over the financial prize on offer for the women's World Cup.
On Friday FIFA president Gianni Infantino proposed doubling the total prize money of the World Cup to $60 million. The men's edition in Russia last year, featuring 32 teams, had a total prize money pot of $400 million. That amount for the men will rise to $440 million for the Qatar World Cup in 2022.
"It certainly is not fair," said Rapinoe.
"We should double it now and then use that number to double it or quadruple it for the next time. That's what I mean when I talk about do we feel respected?
"If you really care about each game in the same way, are you letting the gap grow? I'm not saying the prize money is 450m this time or next time around, I understand that for a lot of different reasons, the men's game financially is far advanced than the women's game.
"If you really care are you letting the gap grow, are you scheduling three finals on the same day? No, you're not," said the American.
Atletico hit out at Griezmann for negotiating transfer to Barca
Atletico Madrid have ordered Antoine Griezmann to report for pre-season training despite him declaring two months ago he was leaving the club, as they accused the France striker of showing them a lack of respect for negotiating a move to Barcelona.
Atletico released a strongly-worded statement on their website on Friday after Barca president Josep Maria Bartomeu revealed the club's CEO had held a meeting with Atletico chief Miguel Angel Gil Marin over Griezmann.
Atletico claimed that Griezmann and Barcelona had began discussing a move to the Nou Camp in February and agreed a deal in March, in the middle of their Champions League last-16 tie with Juventus which they lost 3-2 on aggregate.
"Atletico Madrid wishes to express its strongest disapproval of the behaviour of both, especially FC Barcelona, for prompting the player to break his contractual relationship with Atletico Madrid..." the statement said.
Atletico also said Barca had violated the protected periods of negotiation with players, altered the basic rules of integrity in any sporting competition and caused "enormous damage to our club and its millions of fans".
The statement added that Atletico had rejected Barca's request to negotiate a transfer fee for Griezmann rather than paying his 120-million-euro release clause.
"Atletico Madrid's response was obviously negative, as we believe that FC Barcelona and the player have disrespected Atletico Madrid and all its fans," the club said.
"As a consequence, today, Atletico Madrid has instructed the player, his sister and agent and his lawyer, that Antoine Griezmann, in compliance with his contractual obligations with our club, must appear next Sunday in the club's facilities in order to start the pre-season with the rest of his team mates."
Griezmann said in a video message in May that he was leaving Atletico without confirming his next destination, having rejected a move to Barca last year during a televised documentary called "The Decision".
Barcelona president Bartomeu declined to comment on the Atletico statement when asked about it on Friday at Frenkie de Jong's presentation at the Nou Camp.
Griezmann's representatives could not be reached for comment.
Chelsea's Morata to make Atletico loan move permanent in 2020
Spain forward Alvaro Morata will join Atletico Madrid on a permanent deal from Premier League Chelsea following the end of his 18-month loan with the La Liga club, both clubs said on Saturday.
Morata, who left Chelsea in January to join Atletico, said in May that he had no plans to return to his parent club where his form had dipped last season.
The 26-year-old rediscovered his touch in Madrid, scoring six goals in 17 games since his move.
"Atletico de Madrid and Chelsea have reached an agreement over the transfer of Alvaro Morata from July 1, 2020," Atletico said in a statement https://en.atleticodemadrid.com/noticias/agreement-with-chelsea-fc-over-the-transfer-of-morata
"The Spanish striker will play at our club on loan this season, as was agreed when he joined Atletico... and the move will become permanent at the beginning of the 2020-21 season."
Morata joined Chelsea from Real Madrid in 2017 and scored 24 times in 72 appearances for the London club.
"We would like to thank Alvaro for his contribution and wish him the best of luck for the future," Chelsea said.
Loftus-Cheek signs new Chelsea contract
Chelsea midfielder Ruben Loftus-Cheek has signed a new contract that will keep him at Stamford Bridge until 2024, the Premier League club said on Saturday.
England international Loftus-Cheek, 23, made 40 appearances in all competitions for Chelsea last season and scored 10 goals as they finished third in the Premier League and won the Europa League.
"I'm really pleased that I get to stay here for another five years. It's the place where I've grown up playing and hopefully I'll be playing here for a lot longer," Loftus-Cheek told the club's website.
"At eight or nine years old, of course you never think you'll be here for so long because you just want to enjoy yourself and play with your friends," he added.
"When I look back and see how the hard work has paid off, it's a good feeling. That only makes me want to work harder to achieve more in the future."
Loftus-Cheek had surgery to repair a ruptured Achilles in May, which forced him out of the Europa League final against London rivals Arsenal which Chelsea won 4-1.
Chelsea, who are under a transfer ban, are preparing for the new season under new manager Frank Lampard after Maurizio Sarri left the club and talismanic playmaker Eden Hazard joined Real Madrid.
They have completed a permanent deal for Croatian midfielder Mateo Kovacic from Real after a season-long loan.
Chelsea begin their league campaign against Manchester United at Old Trafford on August 11.
Mane scores and misses penalty as Senegal end Uganda's run
Senegal forward Sadio Mane continued his hit-and-miss tournament when he scored his third goal of the Africa Cup of Nations but also missed a penalty for the second game running as his side beat Uganda 1-0 to reach the quarter-finals on Friday.
Mane broke the deadlock in the 15th minute of a physical game after Senegal pounced on a mistake by Uganda, who were in the knockout stages for the first time in 41 years.
However, he squandered the chance to give Senegal some breathing space when his spot kick was saved by goalkeeper Denis Onyango in the 61st minute of a game which featured 45 fouls.
Outsiders Uganda, whose players were involved in a pay dispute with their federation in the run-up to the game, gave Senegal a stern test at a near-deserted Cairo International stadium.
Senegal will play rank outsiders Benin in the quarter-finals after the Squirrels earlier beat Morocco on penalties following a 1-1 draw.
Mane has now taken three penalties in the finals, missing one and converting one in the 3-0 win over Kenya where he also scored from open play, before missing again on Friday.
Senegal coach Aliou Cisse said, however, that he remained Senegal's penalty taker.
"As the captain, he has our confidence and he will stay the number one for penalties," Cisse told reporters. "I will have a talk with him about it.
"We had the fortune to get an early goal... it was a very physical game but it's an African match and that is how they are."
Onyango's habit of charging off his line had Ugandan nerves on edge throughout the game.
He first raced out of his area in the fourth minute and felled Ismaila Sarr with a wild lunge, earning a yellow card and leading to a scuffle as Senegal remonstrated.
It was an even game until Godfrey Walusimbi lost possession in the Uganda midfield and Senegal quickly moved the ball to Mane who glided past his marker and planted a left-foot shot past the advancing Onyango.
Unfazed, Uganda had their first real chance after 22nd minutes, a shot on the turn from Emmanuel Okwi which Alfred Gomis did well to turn away.
Shortly afterwards, Onyango made another foray out of his area and was caught as Sarr ran around him but the goalkeeper rescued himself with a last-ditch tackle.
Senegal defender Kalidou Koulibaly had a clear header from a corner but did not make proper contact.
After a scrappy start to the second half, Onyango again charged off his line and this time flattened Mane. But Mane's penalty was saved by the keeper who, at that point, was lucky to still be on the field.
Senegal nearly paid when Allan Kateregga curled a free kick over the Senegal wall but Gomis made another good save and Uganda's dream run was over.
"We conceded an early goal from an individual mistake which is regrettable," said Uganda coach Sebastien Desabre.
"We had some good moves which we could not finish but I am proud of my players."
10-man Benin upset Morocco on penalties in huge Nations Cup shock
Ten-man Benin rode their luck to eliminate heavily fancied Morocco on penalties in an extraordinary upset in the opening match of the knockout stage of the Africa Cup of Nations on Friday.
Benin advanced to quarter-finals, after four successive draws, as they outscored Morocco 4-1 in the shootout after a 1-1 stalemate at the end of extra time in the last-16 tie.
The small west African nation survived a last-gasp stoppage-time penalty missed by Morocco and an extra-time dismissal to create one of the tournament's great upsets.
Defender Moise Adilehou opened the scoring to give Benin a shock 53rd-minute lead before Youssef En-Nesyri equalised after 76 minutes.
Morocco should have wrapped up the game in the last minute of stoppage-time penalty but Hakim Ziyech hit the upright with the last kick before extra time.
Benin played most of the added 30 minutes with 10 men after the dismissal of full back Khaled Adenon but held on to force the game into a shootout where Morocco missed twice, leaving Seibou Mama to convert the winning kick
The game had been a largely unattractive, stop-start affair before the goal from Adilehou woke up proceedings.
The centre back stretched out a foot to meet a corner that landed almost exactly on the penalty spot and squeezed the ball under Morocco goalkeeper Yassine Bounou to give Benin a shock lead.
Benin had only six efforts on target in their three group games, which were all drawn, and managed a solitary effort before the goal as they spent most of the time defending.
After Benin's goal, Morocco brought on Sofiane Boufal to boost the attack and within 60 seconds the substitute went narrowly wide with a diving header.
Benin held out under an onslaught for 23 minutes before a horror error by midfielder Jordan Adeoti, who got caught in possession just outside his own penalty area, allowing Mbark Boussoufa to set up En-Nesyri for the equaliser.
Adeoti then gave away a free kick on the edge of his own box in the 88th minute but Boussoufa's effort was expertly saved by a diving Allagbe.
Benin contrived to try and give away the game again when captain Stephane Sessegnon clumsily fouled Achraf Hakimi to concede a penalty four minutes into stoppage time but Ziyech sent his spot-kick wide.
Adenon was sent off seven minutes into extra-time, reluctantly leaving the field after a long argument and then going towards the Morocco bench in an attempt to confront Morocco coach Herve Renard as tempers frayed on both sides.
With three minutes left in extra time, Ziyech had another gilt-edged chance but blasted wide.
Benin meet the winners of Friday's last-16 tie between Senegal and Uganda in Wednesday's first quarter-final.